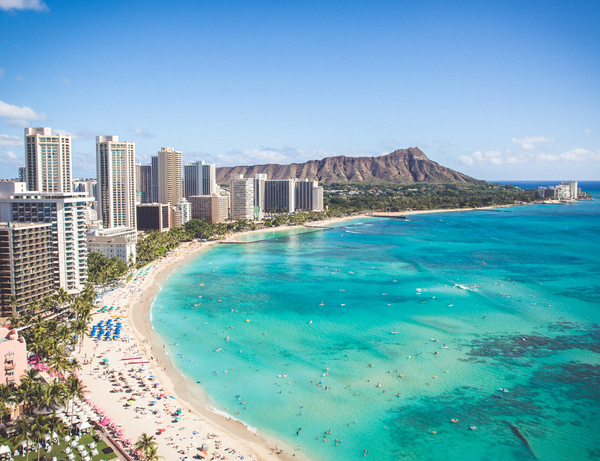 With amazing weather, incredible beaches, and a unique mix of big-city attractions and a wild, exotic landscape, the Hawaiian island of Oahu is a terrific honeymoon choice for newlyweds.
From rainforest hikes leading to gorgeous waterfalls to sunset cocktails under centuries-old banyan trees, the activity options for Hawaii honeymooners are practically endless.
With so much to see and do, we've chosen the most beautiful places to visit on the island. Once you've narrowed down your list of favorites, add them to your honeymoon registry and get ready to embark on the trip of a lifetime.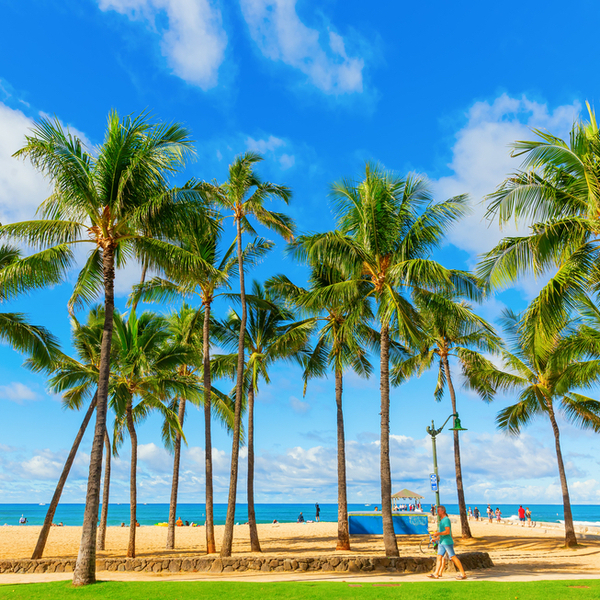 Waikiki Beach
There's no other stretch of beachfront in the United States quite like Waikiki. Whether swimming, sailing, snorkeling or via kayak, catamaran, or outrigger, canoe, honeymooners can soak in incredible views of the glimmering Pacific Ocean, famous Diamond Head crater, breezy palm trees, and gorgeous grounds of towering luxury hotels.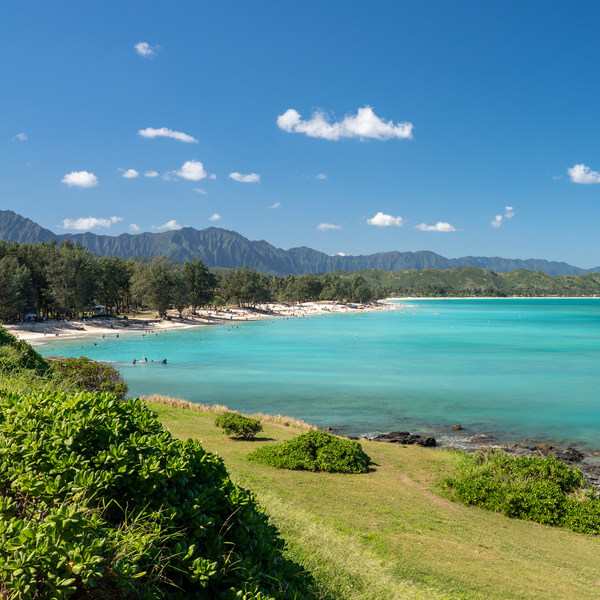 Kailua Beach Park
Close to Lanikai Beach, this gorgeous white-sand beach boasts turquoise waters, lots of parking, showers, picnic tables, and even lifeguard stands. It's also a popular area for kayaking. You can rent equipment through Kailua Beach Adventures or Sun and Salt Adventures.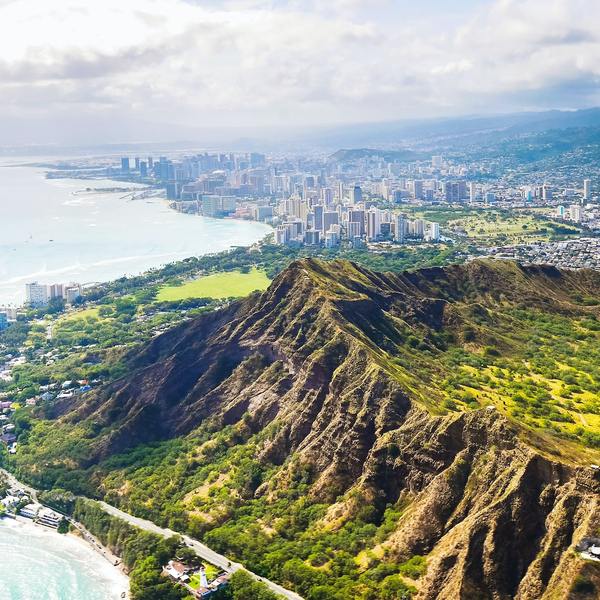 Photo by Cosmin Serban
Diamond Head Crater
Easily Hawaii's most recognizable landmark, Diamond Head crater sits on the eastern edge of Waikiki. Couples can hike to the top and be rewarded with jaw-dropping views of Honolulu, the Pacific Ocean, and beautiful coastline.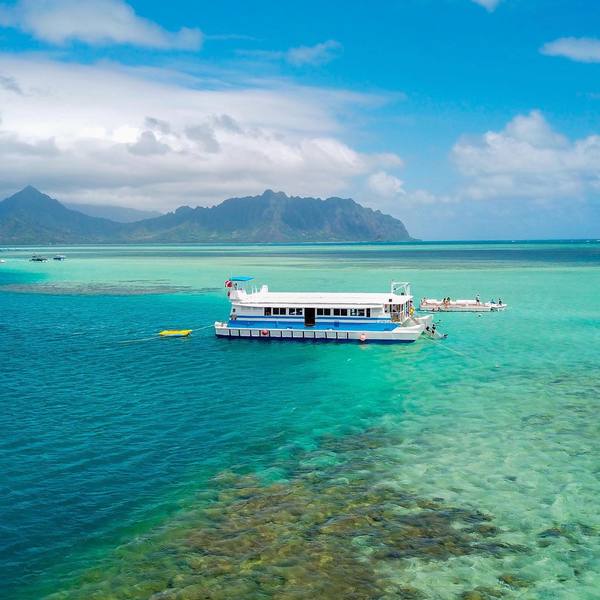 Image courtesy of Kaneohe Bay Ocean Sports
Kaneohe Sandbar
This massive sandbar in the middle of Kaneohe Bay is a wonderful place to visit, no matter if it's low tide or high tide. On top of phenomenal views and the chance to get up close with a variety of sea life, activity options include swimming, snorkeling, kayaking, and even volleyball. Make the most of your experience by booking an all-inclusive catamaran tour.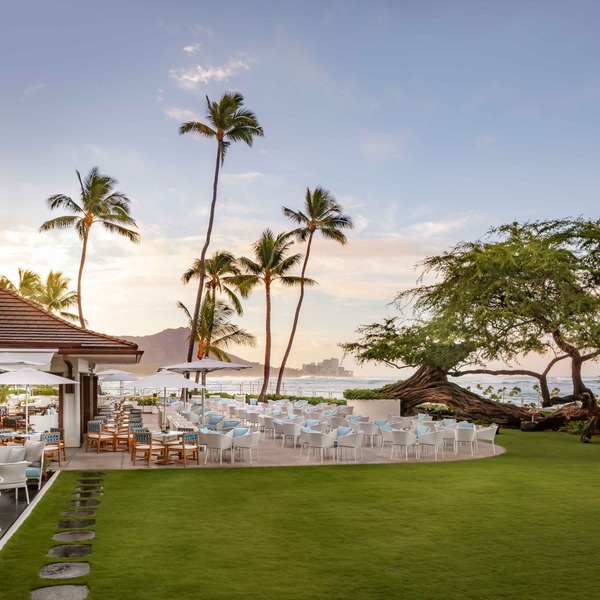 Image courtesy of Halekulani Hotel
House Without a Key
For unforgettable sunset cocktails, head over to Halekulani's House Without a Key. Grab a table under the giant Kiawe tree, order two signature Mai Tais, and enjoy traditional Hawaiian music and dancing as the sun dips below the horizon. Truly an ultimate Oahu experience.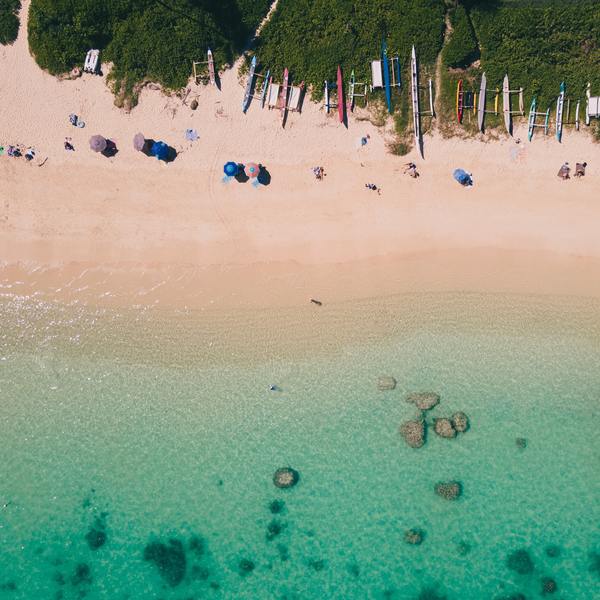 Courtesy of John Ko
Lanikai Beach
One of Hawaii's most scenic beaches, this immaculate strip of sand is situated on Oahu's windward coast in Kailua. The beach features calm, crystal clear blue water, and soft powdery sand.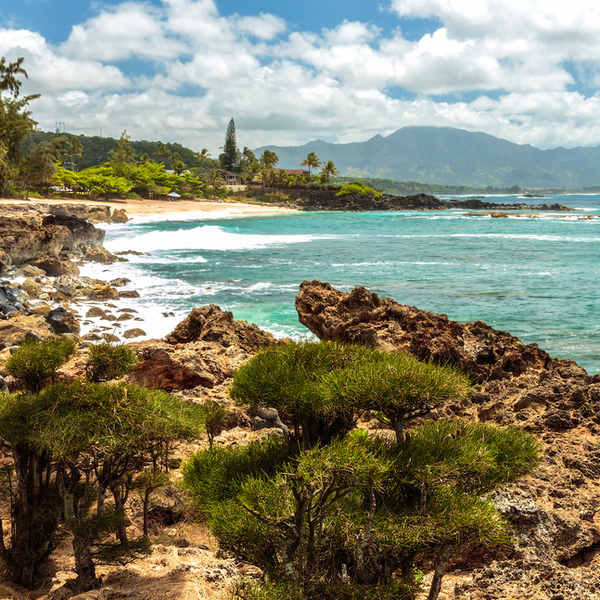 North Shore
This world-famous region of Oahu, which stretches for more than 7 miles on the island's North Shore, is noted for its laid-back atmosphere, gorgeous beaches, and massive waves during the winter months. It also features charming small towns, great restaurants, and some of the best shave ice in Hawaii.
Photo by Benjamin Rascoe
Manoa Falls
Just a short drive from downtown Honolulu, this majestic 150-foot waterfall is worth a detour while on your honeymoon. Enjoy spectacular foliage on the moderate 1.6-mile out-and-back hike, plus tremendous views of the Manoa Valley.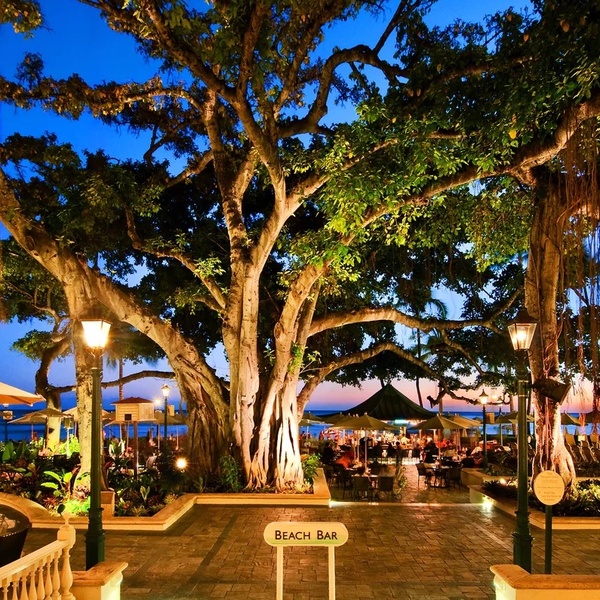 Courtesy of Moana Surfrider, a Westin Resort & Spa
Banyan Courtyard
This lovely setting can be found directly on the grounds of the historic Moana Surfrider Resort in Waikiki. The courtyard is set right along the beach and features an outdoor bar, restaurant, and iconic banyan tree (planted way back in 1904!).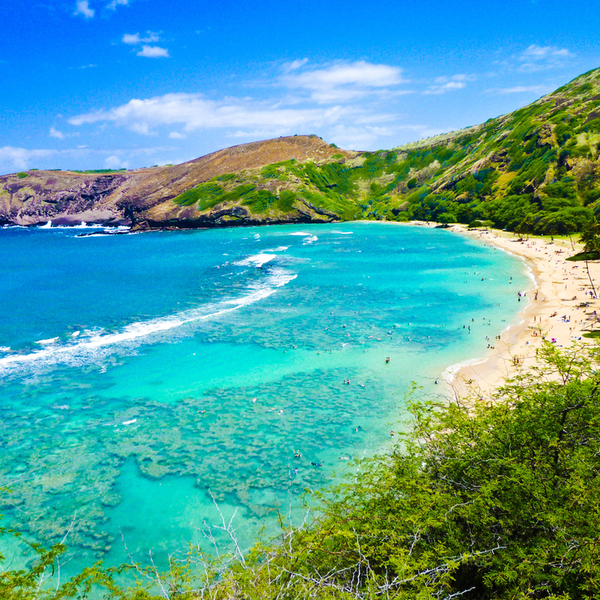 Hanauma Bay
Formed by volcanic activity more than 30,000 years ago, Hanauma Bay Nature Preserve is home to top-notch snorkeling, a pristine white-sand beach, and more than 400 species of fish. Just 10 miles east of Waikiki, honeymooners can easily reach this magnificent preserve via car, shuttle, or bus.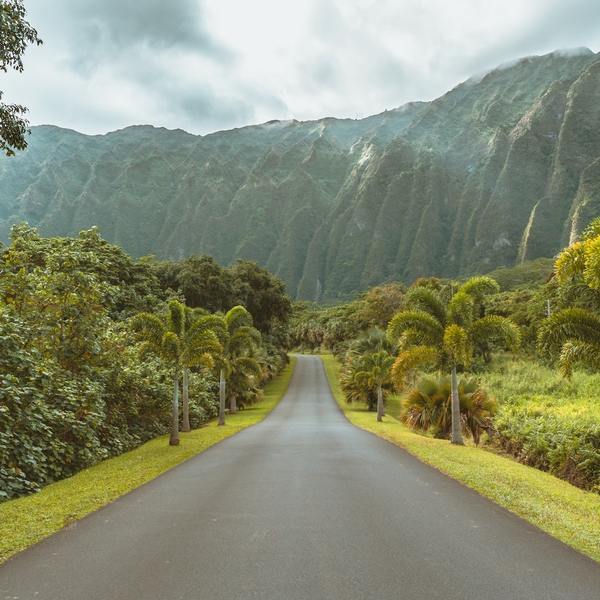 Photo by Darren Lawrence
Ho'omaluhia Botanical Garden
Home to 400 acres of tropical plants, spectacular mountain vistas, a lake, walking trails, and visitor center. About 30 minutes from Honolulu on Oahu's windward side, the garden can be enjoyed within 1 or 2 hours, and can be combined with other East Shore highlights like Kualoa Ranch and Lanikai Beach.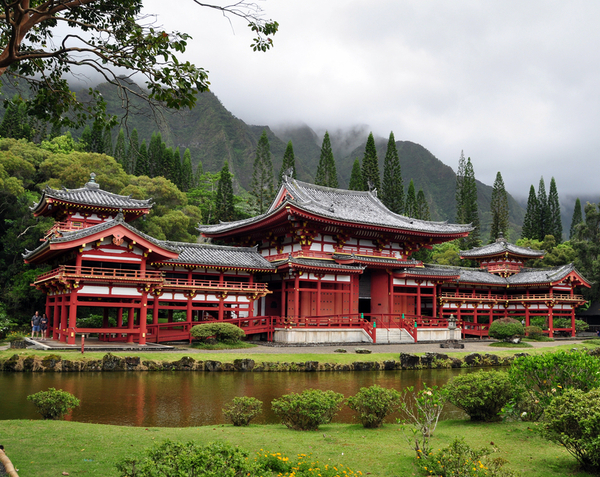 Byodo-In Temple
Established in 1968, the Byodo-In Temple is set amidst lush landscape at the foot of the Ko'olau Mountains in Valley of the Temples Memorial Park. The peaceful grounds feature waterfalls, reflecting ponds, wild peacocks, and a koi pond.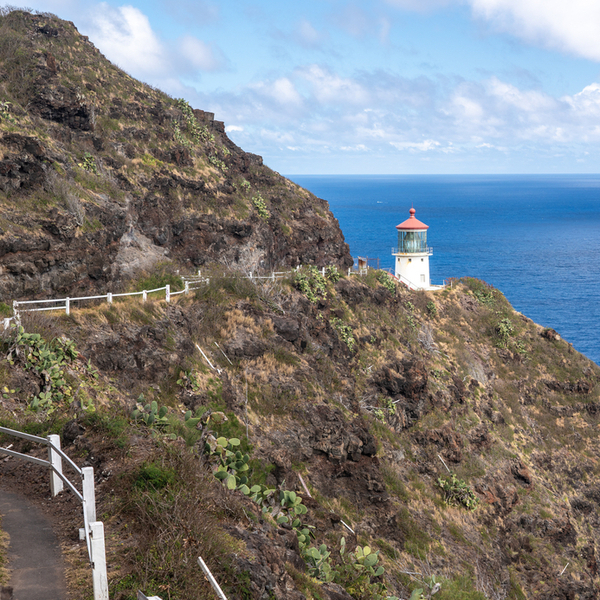 Makapu'u Point
This panoramic viewpoint includes a scenic hiking trail that winds its way to a historic lighthouse perched high on a sea cliff. The views are nothing short of spectacular. When looking out at the Molokai Channel, you might even get a glimpse of migrating humpback whales in season (from December to May).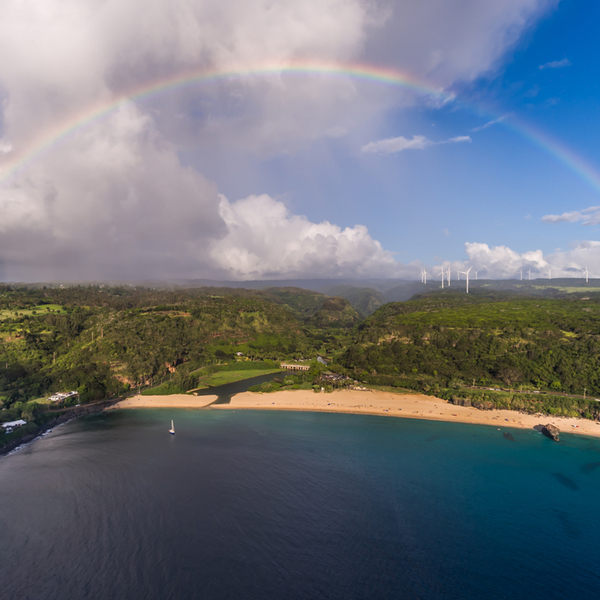 Waimea Valley
This lovely preserved area features a botanical garden, waterfall, hiking trails, and numerous cultural sites. Be sure to check out the area's packed events calendar for unique activities such as farmers markets, festivals, and concerts.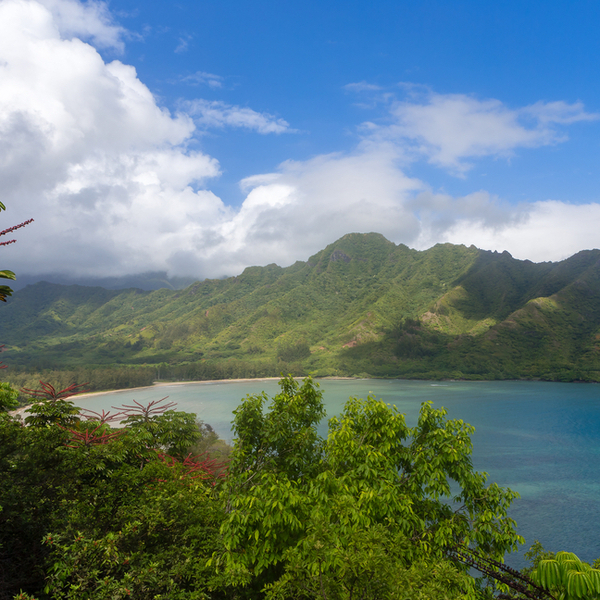 Ahupua'a 'O Kahana State Park
This breathtaking state park is located on the windward side of the island and features everything from mountainous terrain to scenic coastal vistas. Looking for a memorable hike? Be sure to hit the Nakoa Trail, which will take you and your partner through lush tropical rainforest.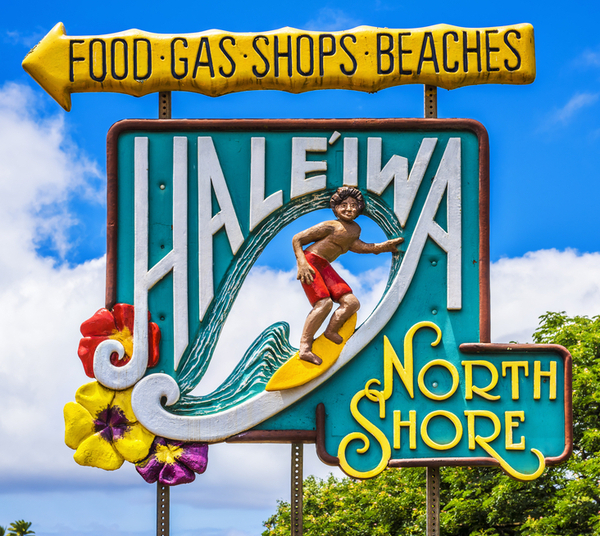 Haleiwa
Only an hour for Honolulu, this historic surf town should be a must-visit destination when visiting the North Shore. The town is filled with cute stores, surf shops, and art galleries, plus a wide range of excellent food options (don't miss Cafe Haleiwa, Haleiwa Beach House, and Giovanni's Shrimp Truck).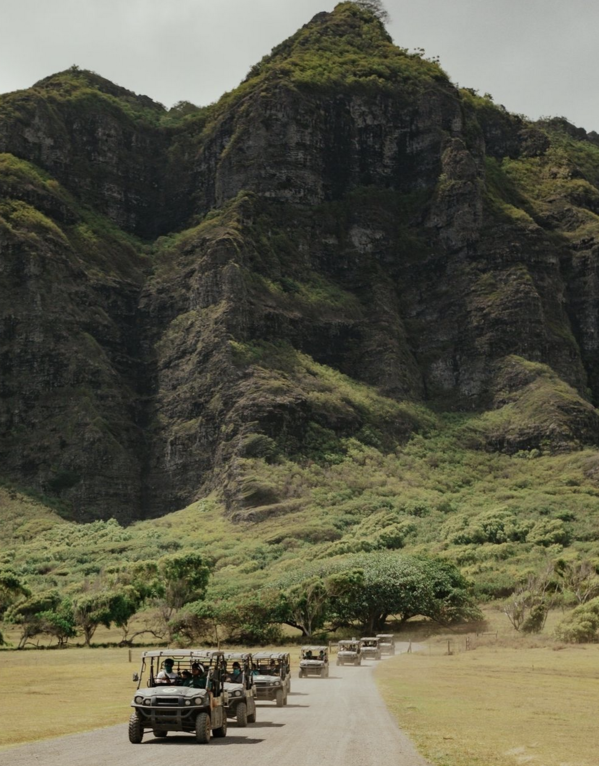 Courtesy of @kualoaranch
Kualoa Ranch
This 4,000-acre private nature reserve is home to award-winning guided tours, from zipline excursions to UTV off-road adventures to tours of famous Hollywood movie filming locations (blockbuster movies such as Jurassic Park, Godzilla, and Jumanji were all filmed here).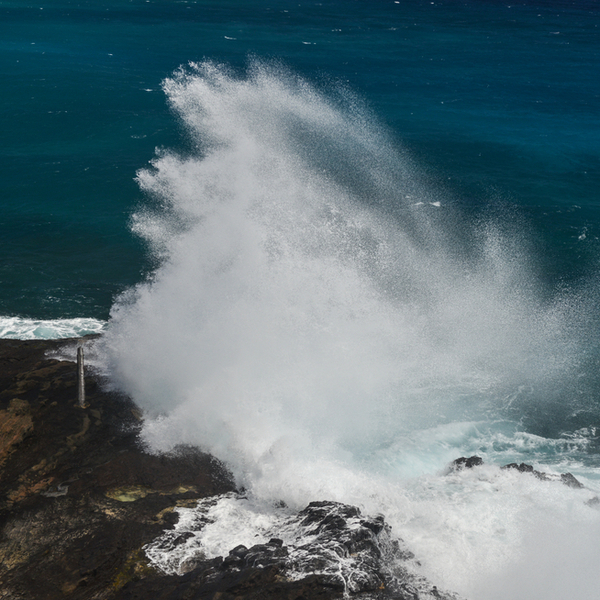 Halona Blowhole
Found on the South Shore of Oahu, this incredible natural wonder comes to life when water from an underground cave spews water high into the air similar to a geyser. It's free to visit and there's a designated parking area for easy access.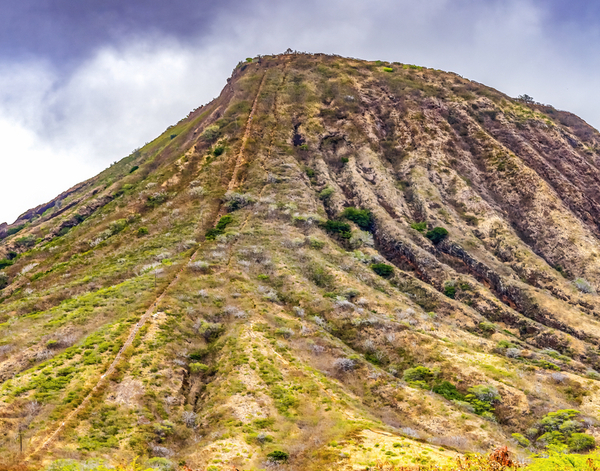 Koko Crater Trail
A short but strenuous climb of 1,048 steps leads you to spectacular views of the South Shore (including Sandy Beach and Hanauma Bay). For a most romantic experience, time your visit just right to enjoy sunrise or sunset from the summit.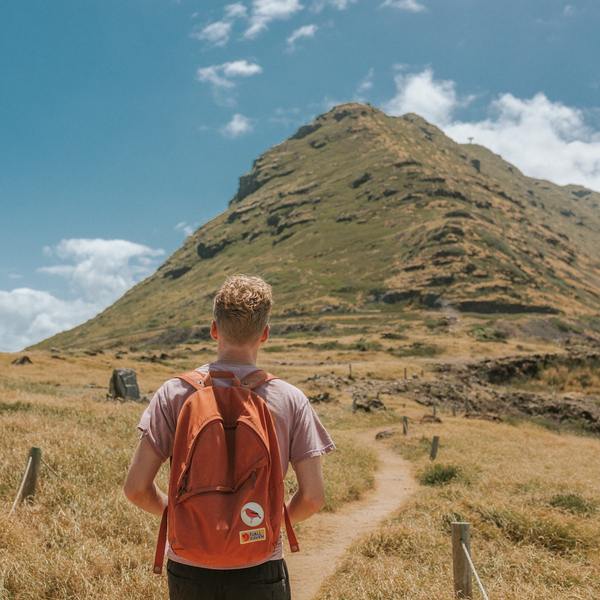 Image by Cole Keister
Ka'ena Point State Park
For a secluded but very memorable excursion, head out to this stunning park on the far northwestern point of Oahu. Very few tourists visit this isolated stretch of land, but the hiking here will reward couples with views of dramatic shoreline and lots of wildlife sightings.
In case you missed it:
The Ultimate Hawaii Honeymoon: Top 30 Things to Do on Your Oahu Getaway
Choosing Which Islands to Visit on Your Hawaii Honeymoon