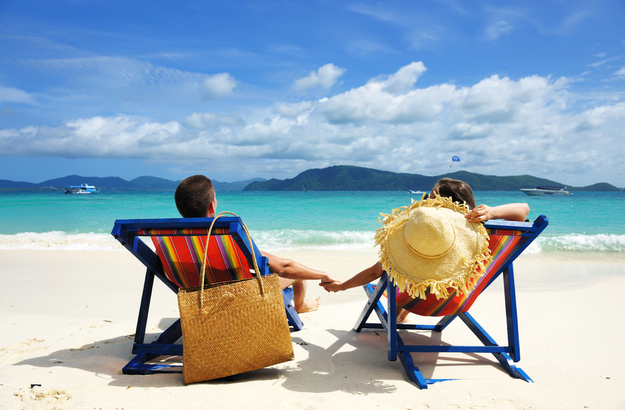 Searching for ways to ensure your honeymoon is more than just a regular vacation?
From important travel upgrades to key itinerary suggestions, read on for 10 of our top tips and strategies to make sure your honeymoon becomes the trip you've always been dreaming about.
Don't think twice about booking that luxurious honeymoon suite or deluxe casita with a private terrace. For a once-in-a-lifetime trip, it's officially time to take things up a notch with once-in-a-lifetime accommodations.
You'll find one of our all-time favorite honeymoon suites at Canaves Oia in Santorini, Greece. The room features stunning architecture, a king bed, spacious living room, and a massive plunge pool with jaw-dropping views of the caldera and Aegean Sea.
Reserve a Table at a Romantic Restaurant
It's no surprise that some of the best honeymoon memories can come from amazing dining experiences. It could be an acclaimed restaurant with outdoor dining and scenic views. Or perhaps it's an award-winning dining spot with ultra-romantic ambiance and top-notch service (plus drinks list!). No matter what, don't forget to book a few romantic restaurant experiences on your trip.
First check out our article on 10 of America's top restaurants for a special honeymoon meal. Then be sure to conduct some additional dining research for your destination on highly-regarded websites like Yelp, OpenTable, and TripAdvisor.
Go Business or First Class for Your Flights
If you're not planning on using miles or credit card points, airline upgrades can be quite expensive. However, if you've got a long plane journey ahead of you before reaching your destination (I'm looking at you Bora Bora honeymooners!), consider upgrading to business class or first class for the trip. The reduced stress, cozy confines, and numerous perks will be well worth it.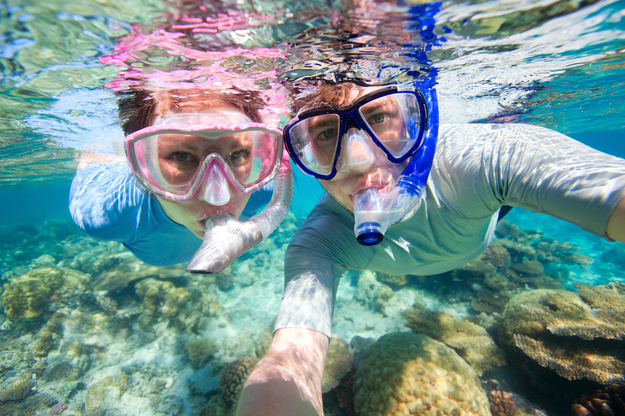 Try a Once-in-a-Lifetime Activity
Always wanted to go skydiving? Been dreaming of a private candlelight dinner on the beach? Your honeymoon is the perfect time to make it happen. You'll get to check off a few items on the bucket list and have incredible memories to share for a lifetime.
Your Traveler's Joy registry is a terrific place to add some of these extraordinary activities. You'll quickly find that friends and family will be VERY enthusiastic to make contributions toward these experiences.
Don't Be Shy
Your honeymoon is the perfect time to share with the world that you are newlyweds. The upside can range everywhere from complimentary roses and champagne to decadent chocolates, room upgrades, a great table at a restaurant, or just a simple smile and congratulations (which is always welcomed!).
Book a Comfortable Car Rental
Planning on some epic road trips or lots of car travel on your trip? Your honeymoon is definitely not the time to settle on a cramped, compact car. Make your getaway extra special by upgrading to a roomy, reliable vehicle that's comfortable and suited for your type of travels.
For example, honeymooners exploring Iceland will want to reserve a sturdy vehicle that can handle some of the rough terrain and potential hazards along the way (think ash, sand, snow and gravel).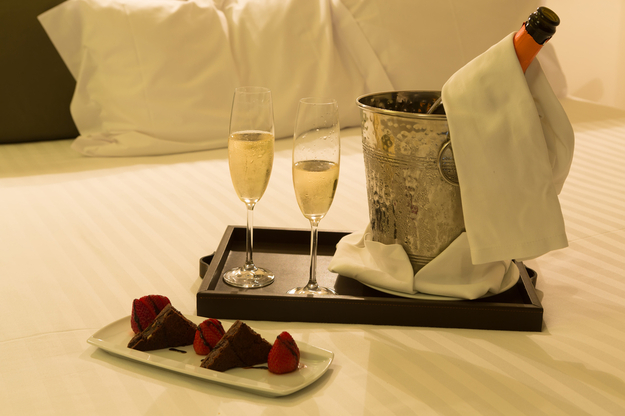 Plan for Lots of Little Treats or Surprises
Even the little things on your trip can add up to a most memorable getaway. This might be fresh flowers delivered to your room, having chilled champagne waiting for you when you arrive, ordering breakfast in bed, or getting late night room service. Think of some easy ways to make your trip anything but ordinary and then make it happen. You'll remember these details long after your trip.
Arrange for Airport Transfers
Get to your hotel in style by arranging transportation to and from the airport. The hotel will handle all of the heavy lifting, while you get to sit back, relax, and enjoy a peaceful journey to your resort.
Stay at Different Accommodations
This is a terrific idea if you'll be traveling around quite a bit or visiting multiple countries, states, or destinations within a country.
For example, honeymooners heading to Portugal might consider booking part of their stay at a relaxing boutique resort like L'and Vineyards Resort based in the Alentejo region. After enjoying the luxury hotel offerings and plenty of excursions in the scenic countryside, couples can switch to an authentic "bed and breakfast"-style option in historic Lisbon (such as Memmo Alfama). This overall variety will lead to a wide range of experiences, amenities, and ambiances - and hopefully paving the way towards a truly special honeymoon getaway.
Don't Overdo It
Instead of racing around and trying to cram in as many activities and experiences as possible, strongly consider adding in some time for rest and relaxation between days of adventure or exploration. This will ensure you have time to just be together and savor the moment.
Whether it's relaxing poolside in a private cabana, booking a couples massage treatment, or ordering room service and dining out on your balcony, there are plenty of unique ways you can avoid honeymoon burnout and maximize romance and relaxation.

In case you missed it:
10 Tips to Make Your Honeymoon Registry a Success
7 Tips, Tricks and Time-Tested Traditions for an Amazing (and Realistic Honeymoon)