Prefer scenic drives and epic hikes in the great outdoors over sitting in a lounge chair by the pool? A national park honeymoon should be the perfect fit for your once-in-a-lifetime trip.
From the mighty peaks of the Grand Tetons to the rocky shores and lighthouses of Acadia, we previously highlighted five spectacular national parks to put at the top of your list. This time we're focusing on five more incredible destinations that guarantee amazing mountain scenery, unique outdoor activities, and endless sightseeing opportunities.
Read on for five of our favorite national park getaways and start planning the honeymoon of your dreams.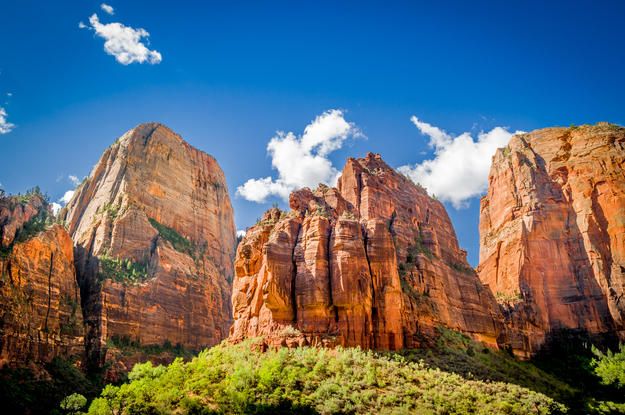 Zion National Park
Location: Zion -- Utah's first National Park -- is located in Southwestern Utah, approximately 160 miles from Las Vegas, Nevada and 300 miles from Salt Lake City.
Why Go: From The Narrows to Angels Landing, Zion is famous for its hiking trails. The trails visit dramatic desert terrain, including sandstone cliffs, pine forests and narrow canyons. The park is also a terrific place for stargazing, rock climbing, canyoneering, horseback riding, and off-road tours. No matter the season, there are so many once-in-a-lifetime things to do.
Note: Zion is one of the most visited parks in the country, so consider visiting in the fall, winter or non-holiday or weekend periods.
Can't Miss Experience: Mount up with Canyon Trail Rides for a relaxing and unforgettable horseback riding experience. Couples can choose between 1-hour and 3-hour excursions, the latter of which takes you on the Sandbench Trail for a spectacular tour of the southern part of Zion National Park.
Where to Stay: Book a stay at Under Canvas Zion, a glamping retreat set on 196 acres bordering Zion National Park. The Stargazer tent should be the ideal choice for honeymooners. This upscale space features a private ensuite bathroom, wood-burning stove, private deck, and king bed with a night sky viewing window.
Resources: https://www.nps.gov/zion/index.htm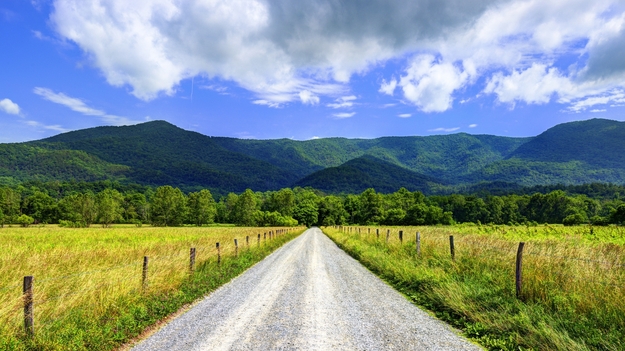 Great Smoky Mountains National Park
Location: The park straddles the border of North Carolina and Tennessee. Asheville, NC and Knoxville, TN are the largest nearby cities and both about an hour away.
Why Go: There's a reason why this is America's most visited national park. Great Smoky Mountains National park boasts dense forests, gorgeous mountain scenery, hiking, wildlife viewing, scenic drives, whitewater rafting, horseback riding, camping, waterfalls, and more.
Can't Miss Experience: The park has 848 miles of well-maintained hiking trails, so there's something for every type of hiker. Clingmans Dome is the highest point in the park and features a number of terrific hiking trails. The Ramsey Cascades hike is another favorite, as it takes you through old growth forest to the park's tallest waterfall. Also, be sure to drive the scenic Cades Cove loop road. You'll be treated to jaw-dropping mountain scenery, a plethora of unique historic sites, and terrific wildlife opportunities.
Where to Stay: Book your honeymoon at The Swag, an acclaimed Smoky Mountain retreat set at 5,000 feet above the clouds. The property offers a wide range of accommodations, from luxurious rooms in its rustic lodge to private cabins featuring mountain views. Looking to really splurge on your honeymoon? Drop your bags at Blackberry Farm, a luxury farm resort located in the foothills of the southern Appalachian mountains.
Resources: https://www.nps.gov/grsm/index.htm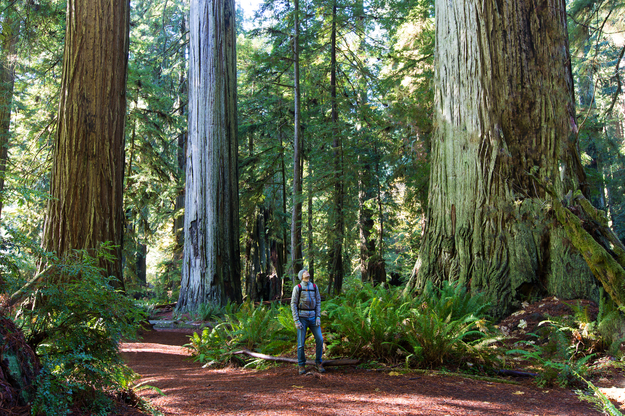 Redwood National Park
Location: North coast of California (though some parts even extend into Josephine County in Oregon).
Why Go: In addition to being amongst the tallest trees on planet Earth, couples can enjoy scenic drives, hiking beneath old growth coast redwoods, camping, and biking.
Can't Miss Experience: For a different perspective, rent an electric bike and tackle some of the park's numerous biking trails, many of which exist in old-growth and second growth forests. Many bike trails now follow old logging roads, though bikers can surround themselves with ancient redwood trees by visiting Lost Man Creek Trail.
Where to Stay: Lost Whale Bed & Breakfast Inn, a cozy and romantic inn nestled on a bluff overlooking the Pacific Ocean. On top of many rooms offering ocean views, the property features a long list of amenities, from spa treatments to afternoon wine gatherings to nightly campfires. The inn is situated about 20 miles south of the national and state parks.
Resources: https://www.nps.gov/redw/index.htm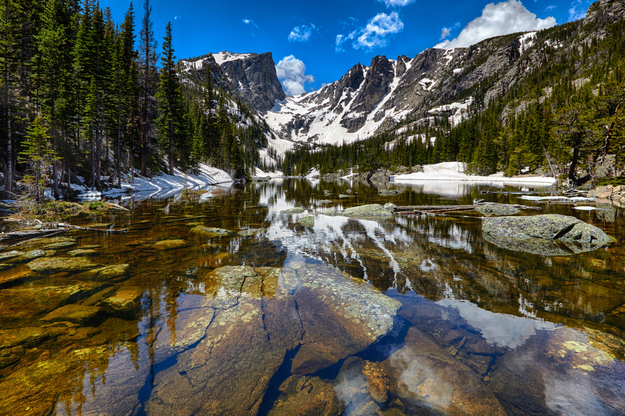 Rocky Mountain National Park
Location: This 415-square-mile park is situated in north-central Colorado, about 90 minutes from downtown Denver and 40 miles from Fort Collins. To reach the park, there are four entrances, three on the park's east side and one on the west. The park features some of the highest mountains in the continental United States and is home to a wide range of mountain environments.
Why Go: For the awesome variety of hiking trails, scenic drives, cool mountain towns, wildlife, camping, lakes and incredible views, of course. Fishing and horseback riding are possibilities as well. There are 355 miles of hiking trails in the park -- from easy lakeside strolls to steep mountain climbs -- and most offer incredible wildlife viewing. Bear Lake trail is a must-do lake stroll, while Alberta Falls is a can't-miss waterfall hike.
Can't Miss Experience: Drive the "Highway to the Sky" (the highest continuous paved road in the country). This scenic section of Highway 34 is called Trail Ridge Road and makes its way from Estes Park to Grand Lake. It reaches an elevation of just over 12,000 feet. Although closed in the winter, it's an extraordinary drive for a summer honeymoon road trip.
Where to Stay: The historic Stanley Hotel. This iconic spot is located in Estes Park on 60 beautiful acres and features four different accommodation options for couples, including boutique lodging at The Lodge. The hotel boasts four restaurants, a new spa, outdoor pool, and rooftop wellness deck.
Resources: https://www.nps.gov/romo/index.htm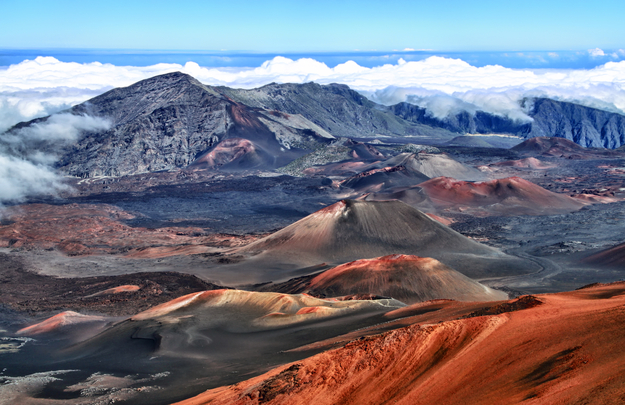 Haleakala National Park
Location: The south-central section of the island of Maui in Hawaii. The drive time to the summit from Wailea is about 3 hours and about 3.5 hours from Lahaina.
Why Go: For its other-worldly volcanic scenery, diverse rainforest terrain, and unique activities like alpine desert hiking and stargazing.
Can't Miss Experience: Spectacular sunrise and volcano bike ride. After soaking in amazing sunrise views at 10,000 feet, couples will hop on bicycles and get to feel a rush of adrenaline as they navigate the switchbacks of the dormant volcano. Within a few hours, you'll bike from the summit to the edge of the sea -- and get to experience extraordinary vistas along the way.
Where to Stay: Paia Inn, a cozy boutique property in the tiny town of Paia. The inn can be found on Maui's North Shore (and fewer than 30 miles from the summit of Haleakala). While the property is in the heart of town, it also comes with private beach access, two restaurants, and chic beachside rooms and suites.
Resources: https://www.nps.gov/hale/index.htm

In case you missed it:
10 Tips to Make Your Honeymoon Registry a Success
Honeymoon Outdoors: America's Best National Park Lodges and Hotels