If you're the type of couple who prefers to get away from it all among the great outdoors, then put a national park honeymoon at the top of your list.
A national park honeymoon offers the chance to experience some of America's greatest natural wonders, while also minimizing any headaches associated with far-flung travel (nothing kills romantic vibes quicker than jet lag!). Whether you decide to deep-dive into a single destination or experience as many places as possible on a multi-stop itinerary, a national park honeymoon guarantees scenic drives, soaring mountain vistas, gorgeous backcountry hikes, and many other once-in-a-lifetime experiences.
Read on for our top five national park honeymoons to start planning your ideal escape.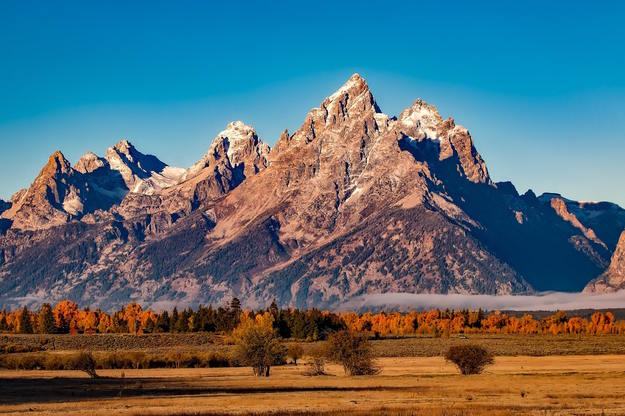 Yellowstone and Grand Teton National Parks
Location: Northwestern Wyoming (though parts of Yellowstone extend into Montana and Idaho).
Why Go: Grand Teton is home to some of the country's most extraordinary alpine terrain. Soak in the mountain vistas via the extensive network of hiking trails, lakes, and rivers. Given the proximity to Yellowstone National Park (it's located just a few miles north), couples can easily pair both parks together. You're pretty much guaranteed wildlife sightings: The region is home to bison, grizzly bears, and wolves, plus natural wonders like geysers, canyons, and waterfalls.
Can't Miss Experience: Grand Teton's Jenny Lake trail is a lovely lakeside trek with stop-you-in-your-tracks views at every turn. In Yellowstone, start with a hike to Mammoth Hot Springs Terraces, colorful geothermal pools with major Insta potential. But save plenty of time for the Grand Canyon of Yellowstone, a jaw-dropping 24-mile-long canyon, with waterfalls, hiking trails, and incredible vistas.
Where to Stay: Those who prefer a buzzy atmosphere can post up in the town of Jackson, where the super chic Anvil Hotel offers designer guest rooms and wood-fired Italian cuisine, while the resort-style Hotel Jackson has mountain vistas in spades.
Resources: http://www.nps.gov/yell/index.htm
http://www.nps.gov/grte/index.htm
Olympic National Park
Location: Washington, about 80 miles west of Seattle.
Why Go: For its variety of scenery, generated by the three distinct ecosystems that exist simultaneously within the park. One day, you can explore a rainforest; on the next, you can scale snowy mountaintops. Cap it off with a stroll on miles of sandy beaches along the jaw-dropping Pacific Northwest coastline.
Can't Miss Experience: A hike in Hoh Rainforest, one of few temperate rainforests in the U.S., where lush, moss-draped terrain meets meandering, glacier-fed rivers.
Where to Stay: There are a number of lodging options in the communities surrounding Olympic (such as Olympic Lodge), but if you want to post up inside the national park, Kalaloch Lodge offers rustic standalone cabins.
Resources: http://www.nps.gov/olym/index.htm
Everglades and Dry Tortugas National Parks
Location: Extreme southern Florida, just west and south of Miami.
Why Go: With over 1.5 million sprawling acres, Everglades National Park offers ample opportunities to view a diverse range of mammals, reptiles, fish, and birds. (It's also home to a long list of rare species, from great blue herons to alligators.) It's easy to couple the journey with a visit to Dry Tortugas National Park, in the Florida Keys. There, you can get up close to thriving marine life on a snorkeling excursion before touring historic sites like Fort Jefferson, a military fortress constructed during the mid-1800s.
Can't Miss Experience: Camping out under the stars at Dry Tortugas, where the stars are so bright, it feels like you can reach out and touch them.
Where to Stay: Dry Tortugas only has basic campsites for overnight visits (advance reservations required), so if you're the type of couple who prefers on-site restaurants and amenities, book a room at Key Largo's brand-new Baker's Cay Resort.
Resources: http://www.nps.gov/ever/index.htm
http://www.nps.gov/drto/index.htm
Acadia National Park
Location: Coastal Maine, about midway between Portland and the Canadian border.
Why Go: For its breathtaking rocky coastline, bordered by granite peaks and dense woodlands. Couples can summit towering peaks, get wet on ocean sea kayaking excursions, or drive the scenic 27-mile Park Loop Road, stopping at unique spots like Thunder Hole and Jordan Pond.
Can't Miss Experience: A trek to the top of Cadillac Mountain, the highest point on the East Coast, perched above the charming bayside town of Bar Harbor. Your reward once you reach the summit: sweeping views of the Cranberry Islands, spruce forests, and Frenchman Bay. (Pro tip: Hike just before sunset to double down on romantic vibes.)
Where to Stay: There's no lodging within the park itself, but there are a number of nearby inns and boutique hotels, like the seasonal Bluenose Inn.
Resources: http://www.nps.gov/acad/index.htm
Glacier National Park
Location: Northwestern Montana, stretching north to the Canadian border and south toward Missoula.
Why Go: For its soaring, snow-capped mountains and wide range of activities. Glacier National Park is an outdoorsy couple's paradise, so take advantage of the extensive biking, boating, fishing, and hiking opportunities. As you traverse over 700 miles of hiking trails, keep an eye out for everything from mountain goats to grizzly bears.
Can't Miss Experience: Going to the Sun Road is a feat of modern engineering that winds its way through 50 miles of rugged park interior. Take your time as you meander to remarkable sites like Logan Pass and Lake McDonald.
Where to Stay: The Swiss-chalet-style Lake McDonald Lodge is located just 10 miles from the park's west entrance, on the eastern shore of Lake McDonald. The historic lodge, built in 1913, offers a range of accommodations within the main building, standalone cabins, Cobb House, and Snyder Hall.
Resources: http://www.nps.gov/glac/index.htm

In case you missed it:
Honeymoon Outdoors: America's Best National Park Lodges & Hotels
Editor's Note -- Updated version by Katie James Watkinson, March 14, 2019