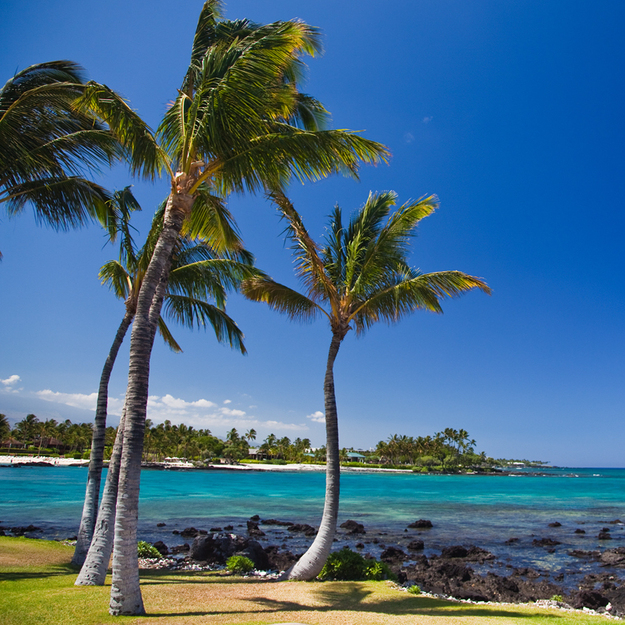 Credit: Hawaii Tourism Authority (HTA) / Tor Johnson
When it comes to Hawaii honeymoons, most newlyweds opt for Oahu or Maui as their destination of choice.
It's completely understandable as Oahu is home to iconic places like Waikiki Beach, the North Shore, and Diamond Head Crater, while Maui is a haven for top-notch hotels and resorts.
But few destinations (in Hawaii and across the globe) offer the all-around package that the island of Hawaii can. On top of world-class accommodations, the island is home to out-of-this-world natural attractions and one-of-a-kind experiences.
For couples who seek a mixture of exploration and relaxation on their honeymoon, it doesn't get much better than Hawaii's Big Island. Read on for our top reasons why this should be your ultimate honeymoon destination.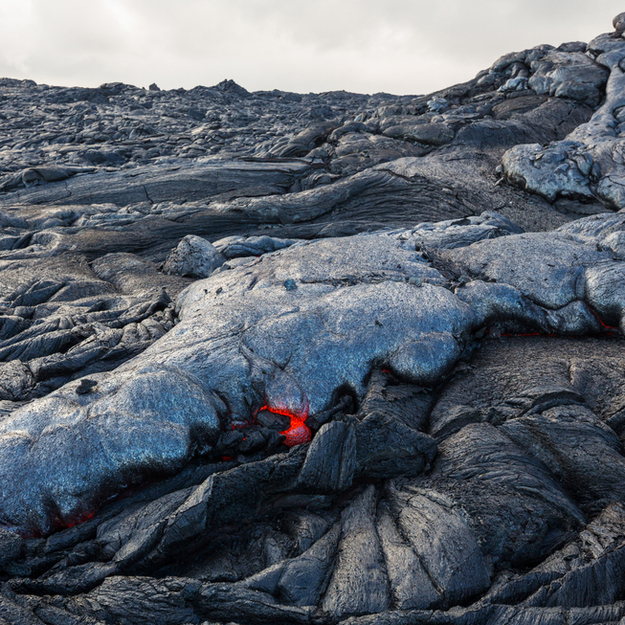 Expect prime volcano viewing when Kilauea volcano is erupting.
Amazing Natural Attractions
From awe-inspiring waterfalls to snowy mountaintops to lava-spewing volcanoes, the Big Island boasts an impressive array of natural sites and attractions.
Created from five volcanoes, the island still grows even today as lava from active Kilauea continues to erupt from a vent in the western wall of Halemaumau crater. Couples can get up close with a visit to Hawaii Volcanoes National Park. In addition to prime eruption viewing, newlyweds will want to plan for some scenic drives through the park and venture out on some day hikes on popular trails like Crater Rim Trail and Thurston Lava Tube.
After your active volcano exploration, be sure to visit the snowy summit of Mauna Kea, now an extinct volcano and considered the world's tallest mountain. It's actually 33,476 feet as measured from the base of the Pacific Ocean. Once there, you'll be in the midst of one of the world's most notable astronomical sites, the Mauna Kea Observatory. If timed just right, you can even take part in an unforgettable sunset and stargazing tour.
And don't forget to explore the lush tropical landscape on the eastern side of the island. Must-see spots include Akaka Falls State Park, which is home to breathtaking Akaka Falls, and Hawaii Tropical Botanical Gardens, which is just a few miles north of Hilo. Taking a few days for some scenic road trips around the island? Be sure to consult our Big Island Destination Guide for more tips and can't-miss attractions.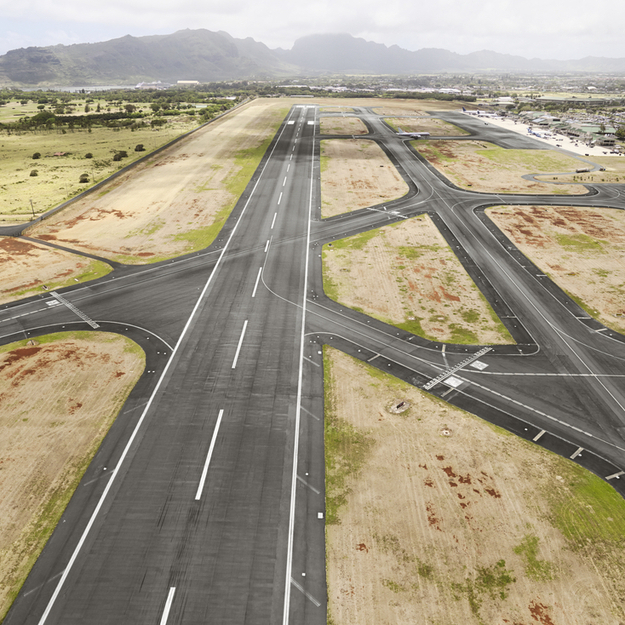 The Big Island is only a quick half-hour flight from Honolulu.
Easy to Reach
It's never been easier to visit the Big Island thanks to daily direct flights into Kona International Airport. In fact, some of the biggest airlines fly into Kona from the U.S. and Canada, including West Coast destinations like San Francisco, Los Angeles, San Jose, Portland, Seattle, Denver, Anchorage, Vancouver, and Phoenix. And if you end up touching down in Honolulu first, the Big Island is only a 30-minute flight away.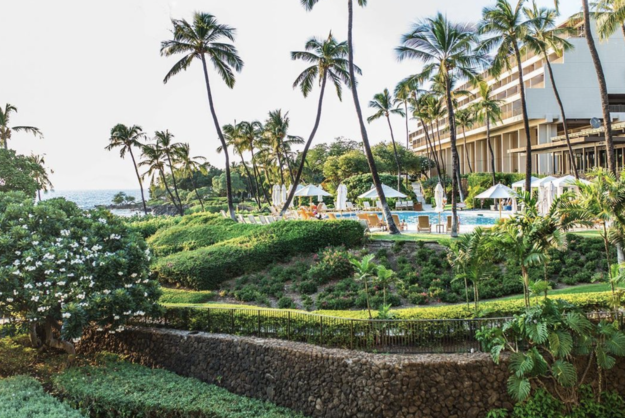 Courtesy of @MaunaKeaHotel




A tropical paradise awaits newlyweds at the Mauna Kea Beach Hotel.
World-Class Resorts and Accommodations
From upscale beachfront resorts to romantic bed and breakfasts, the Big Island is home to a wide range of honeymoon-worthy hotels and accommodations. With so much to explore on the island, honeymooners may want to consider booking at a luxe hotel along the Kohala Coast before making reservations at a romantic B&B or inn near Volcanoes National Park or in Hilo.
Along the western coast, consider top options like Mauna Kea Beach Hotel and the Fairmont Orchid. These luxury oceanfront resorts have everything a honeymooner could desire for their stay, including award-winning spas, cozy accommodations, beach clubs with ample activities, and even traditional luaus.
Prefer a little more privacy on your getaway? Drop your bags at Aolani House. This resort-style home features immaculate grounds with breathtaking Pacific views, a heated infinity pool, spa services, and private chef services.
When you're set to explore the interior of the island, book a stay at Volcano Village Lodge, an elegant bed and breakfast located just two miles from Hawaii Volcanoes National Park.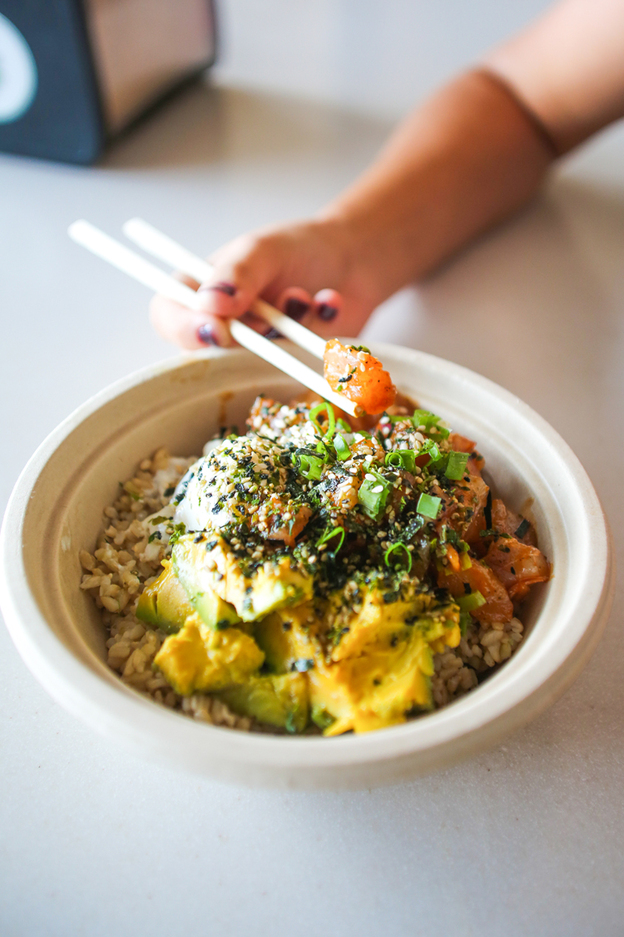 Credit: Hawaii Tourism Authority
Take time to indulge in island delicacies like fresh poke bowls.
Excellent Locally-Sourced Food
Whether it's an upscale dinner with a view to remember or a casual plate lunch meal, the Big Island certainly delivers when it comes to delicious food and memorable culinary experiences.
Enjoy fresh island flavors and locally sourced cuisine at Merriman's Big Island, a favorite dining spot among honeymooners and locals alike for decades. Next, savor an incredible Pacific Ocean sunset while dining al fresco at Brown's Beach House at the Fairmont Orchid Hawaii. The restaurant is perched above stunning Pauoa Bay, giving couples panoramic views of the water and coastline.
Don't miss sampling traditional Big Island staples and culinary delights, either. From super fresh seafood to delectable desserts to other mouth-watering specialties like Loco Moco, there's something for every palate to enjoy.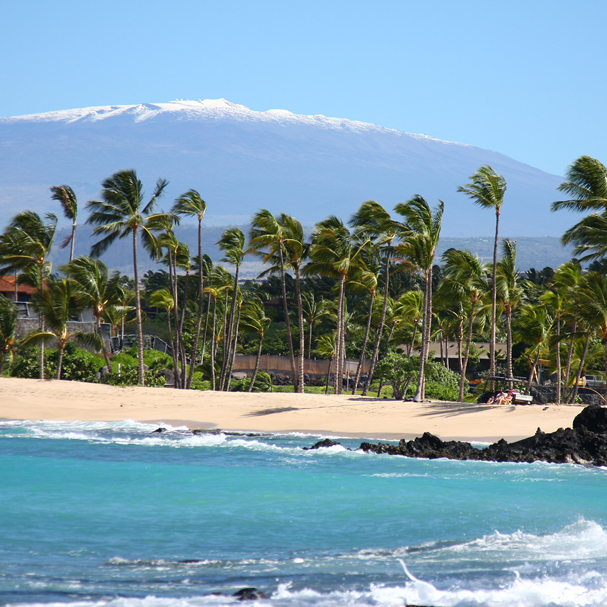 Credit: Hawaii Tourism Authority (HTA) / Kirk Lee Aeder
There's plenty of room for couples to spread out on their Big Island honeymoon.
Escape the Crowds
A major draw of the Big Island is the ability to escape the crowds typically found on Oahu (which is often a bucket list destination for travelers worldwide). For instance, sidewalks in Waikiki can often feel like one is in New York City's Times Square. As a major global vacation destination, popular Oahu experiences are frequently crowded and notable restaurants can have long lines.
Meanwhile, the historic towns and top attractions of the Big Island are quite spread out, giving couples plenty of breathing room. At 4,028 square miles, the island is the largest in the United States (and twice the size of Delaware!). Also, the Big Island really has two main residential areas - Hilo and Kailua-Kona. The rest of the massive island is wide open and there for you to explore (minus the crowds, of course).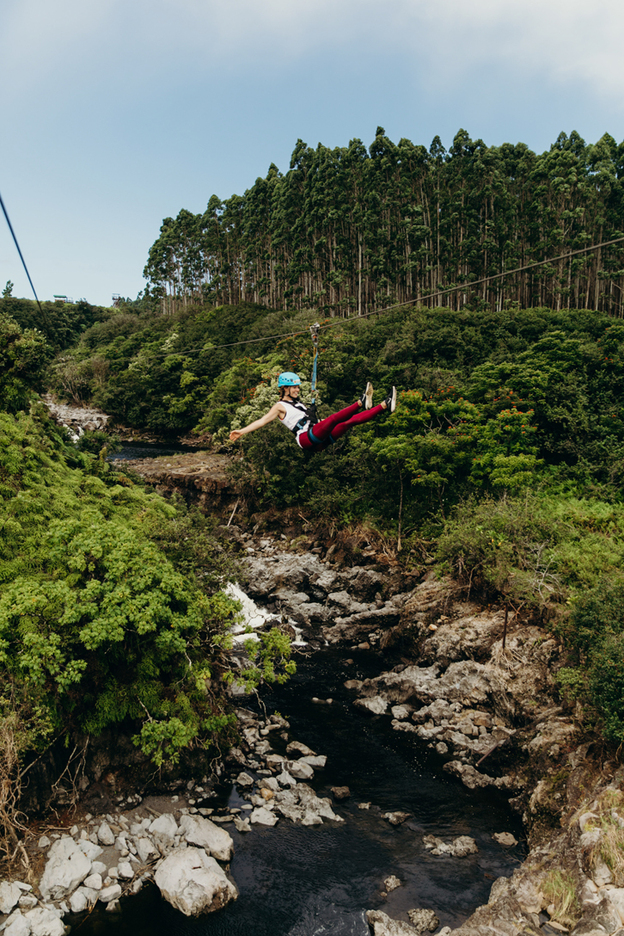 Credit: Hawaii Tourism Authority (HTA) / Heather Goodman
A zipline experience is a great way for honeymooners to soak in the lush scenery.
Once-in-a-Lifetime Activities
With beautiful beaches, active volcanoes, snow-capped peaks, and lush rainforest, there's ample opportunities for couples to embark on once-in-a-lifetime experiences. Start with a helicopter ride for a most breathtaking adventure. On Blue Hawaiian's Crater of Fire tour, couples can get a bird's-eye-view of impressive rainforest terrain, black sand beaches, and Kilauea volcano from above. It's an experience newlyweds will surely never forget.
Next, explore the scenic Umauma River via zipline. The course features nine lines, 14 waterfalls, suspension bridges, and speeds up to 65 miles per hour.
Can't get enough thrills and adventure? Book a night-time Manta Ray snorkel outing. Or if you'd prefer to stay on dry land, help drive cattle via horseback through Dahana Ranch.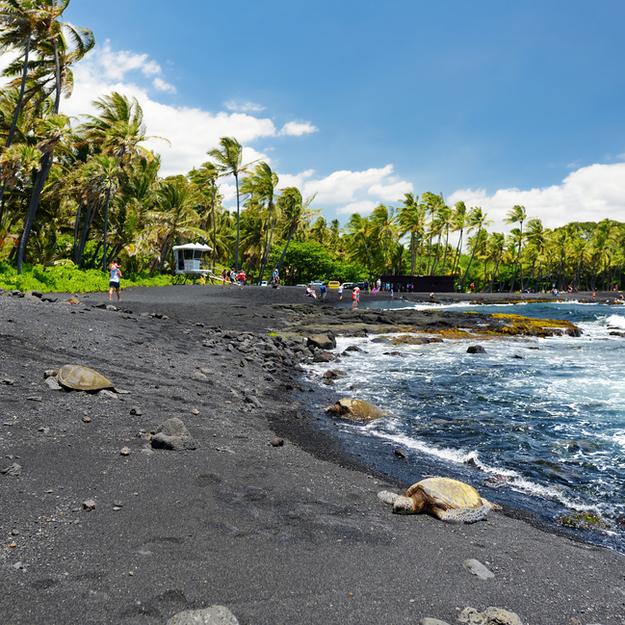 Hawaii's black sand beaches are must-visit destinations for honeymooners.
Magnificent Beaches
The island of Hawaii is truly home to some of the most beautiful and varied beaches on the planet. From gorgeous spots with soft white sand to black and even green beaches, the Big Island has it all.
In the Kohala region, Hapuna Beach State Park is scenic, expansive and has ideal conditions for water sports activities. On the southeastern coast is where you'll find one of Hawaii's most famous beaches -- Punaluu Black Sand Beach. It's the perfect locale for a romantic beach picnic.
Meanwhile, further up in North Kona, there's Kamakahonu Bay, a terrific destination for snorkeling and kayaking. Stop by the Kona Boys beach shack for rentals or to sign up for a tour.
Also, if you're looking for a beach adventure, don't miss the green sand beach known as Papakolea. You'll first drive to the southernmost point of the United States before parking and embarking on a 2-mile hike along the coast until you reach your destination. It's not an easy journey but will surely be worth it once you get to soak in the views and uniqueness of the location.

In case you missed it:
The Most Romantic Honeymoon Hotels in Maui