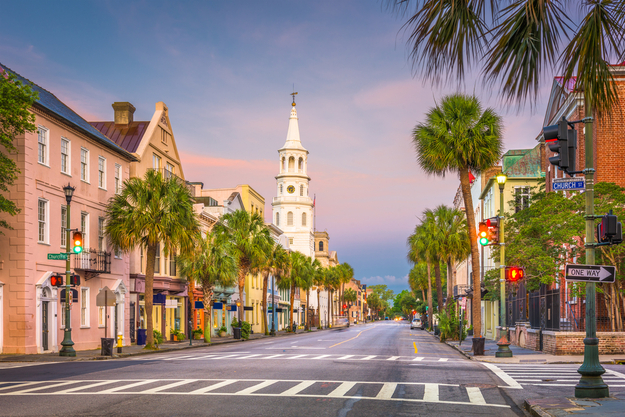 With gorgeous architecture, amazing food, vibrant neighborhoods, and tremendous beaches, Charleston, South Carolina is a terrific choice for a honeymoon getaway. Thanks to a mix of one-of-a-kind destinations and a unique southern charm that very few places in America can match, newlyweds will find no shortage of romantic experiences in this historic coastal city.
From couples cooking classes to scenic sunset sailing, read on for our most romantic things to do on your Charleston honeymoon getaway.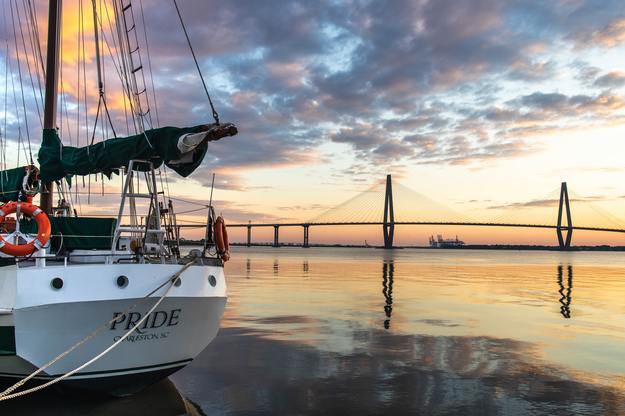 Embark on a Sunset Sailing Excursion
A romantic sunset sail is a fantastic way to take in the Holy City and see the region from a different perspective. Sit back, relax, and watch the sun dip below the horizon aboard the Schooner Pride, Charleston's only 3-mast tall ship. Couples will enjoy a two-hour cruise of historic Charleston Harbor, including a glimpse of famous Fort Sumter. Prefer a private voyage? Book with Charleston Sailing Adventures and enjoy an exciting trip on their 27-foot catamaran.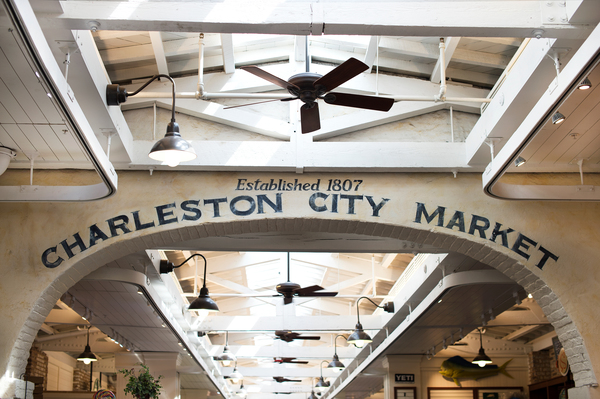 Courtesy of Explore Charleston, ExploreCharleston.com
Explore the Charleston City Market
Charleston is home to one of the nation's oldest public markets, a unique spot buzzing with activity daily and featuring several hundred artists, craftspeople, and entrepreneurs. Whether you want to shop for locally-made souvenirs, sample regional cuisine (don't skip Callie's Biscuits), or take a tour from a local, this is one destination you won't want to miss.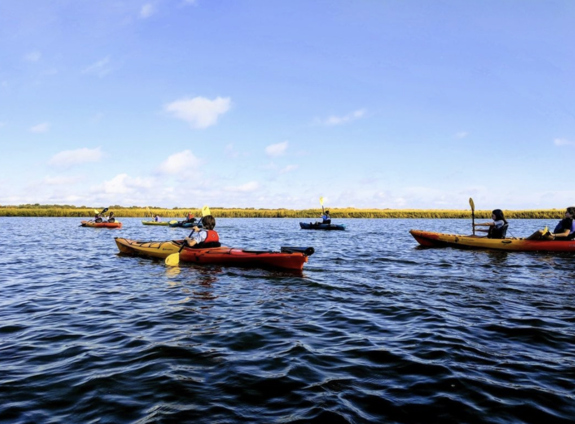 Courtesy of @charlestonoutdooradventures
Get Your Paddle On with a Kayak Tour
Spend the day exploring scenic marshland, tidal flats, and hammock islands through a Lowcountry kayak excursion. Adventurous paddlers can either rent their own kayaks for a fun day of exploration or take a tour led by an expert guide. Couples can even get an up-close glimpse of regional wildlife, such as sea turtles, pelicans, and dolphins.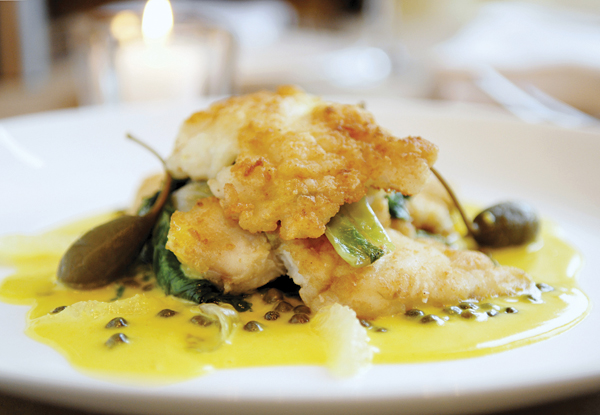 Courtesy of Explore Charleston, ExploreCharleston.com
Learn New Culinary Techniques with a Cooking Class
Charleston is a well known foodie city thanks to so many top restaurants, chefs, and other culinary institutions. Expand your culinary repertoire by booking a cooking class at Zero George Cooking School. The two-hour classes -- held in a historic carriage house that dates back to 1804 -- are led by some of the top chefs in the city. Prefer to stay out of the kitchen? Take a culinary tour with Undiscovered Charleston, where chef Forrest Parker will lead you on a 90-minute culinary walking tour of the city before serving up a 3-course meal featuring Lowcountry classics.
Plan a Picnic in the Park
From Waterfront Park to Marion Square, Charleston features a wide variety of picnic-worthy parks and beautiful public spaces. Pick up some handcrafted sandwiches, cheese, and other goodies at renowned restaurants and markets like Ted's Butcherblock or Mixson Market before finding a relaxing spot in the grass for a one-of-a-kind al fresco dining experience.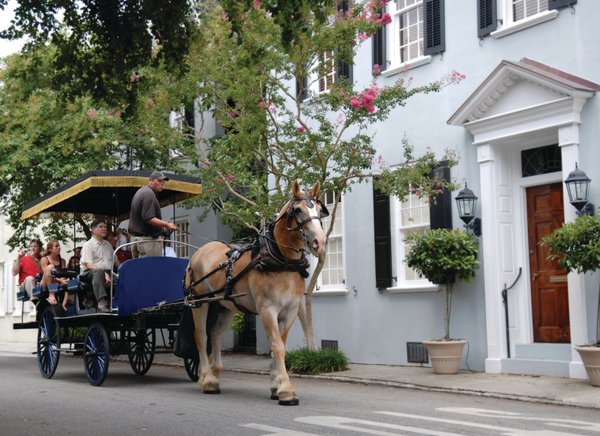 Courtesy of Explore Charleston, ExploreCharleston.com
Enjoy a Carriage Ride through Downtown Charleston
One of the best ways to explore Charleston's historic downtown district is via carriage ride. Book a tour through Charleston Carriage Works, an experienced company that uses a mixture of Belgian and Percheron heavy draft horses. Then sit back and relax as your expert guide takes you down cobblestone streets to see and learn about the Holy City's historic buildings, churches, parks, homes, and tree-lined avenues.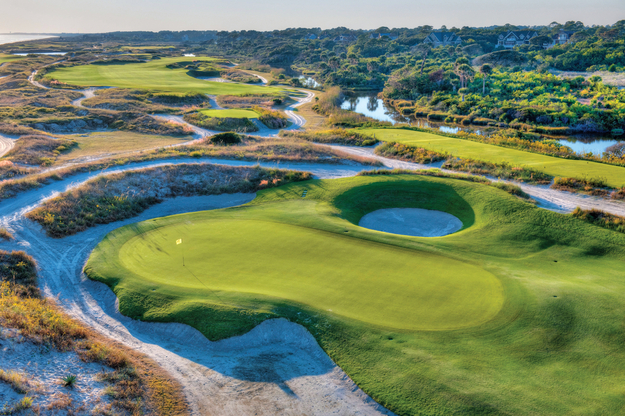 Courtesy of Explore Charleston, ExploreCharleston.com
Make Your Beach Escape to Kiawah Island
Located about 45 minutes southwest of Charleston, Kiawah Island is the perfect spot for a relaxing honeymoon beach escape. This lush barrier island is renowned for its tremendous recreational opportunities and 10-mile long coastline. The hard-packed sand at places like Beachwalker Park is ideal for biking, which is a favorite activity among honeymooners and locals throughout the year.
Drop your bags at The Sanctuary at Kiawah Island Golf Resort, a five-star beachfront resort featuring top amenities like outdoor pools, a seaside spa, and more than a dozen dining options across the island.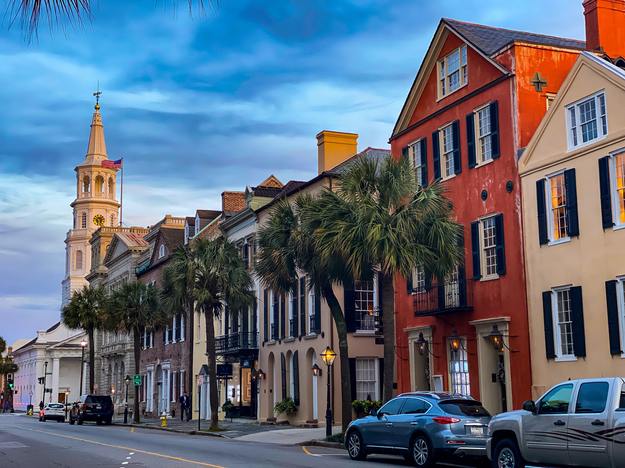 Book a Tour of the Charleston Historic District
As a prominent seaport city for over 300 years, Charleston is steeped in history. Newlyweds can dive deep into it with a guided tour of its colorful neighborhoods, notable historic sites, and other prominent locales. From small-group walking tours of hidden alleys and secret gardens to a night-time ghost and dungeon tour, there's truly something for everyone.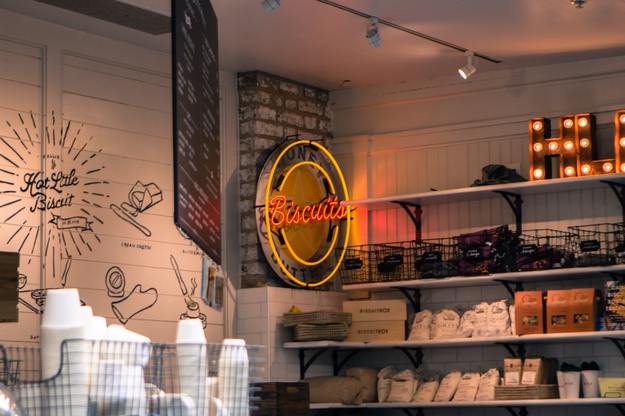 Dig in to Charleston's Renowned Dining Scene
It's no secret that Charleston ranks as one of America's very best foodie towns. In fact, the city has emerged as a world-class culinary destination in recent years. Be sure to sample a wide variety of its award-winning restaurants, vibrant markets, traditions, unique food trucks, and events (like the annual Charleston Wine and Food Festival). The city's incredible ambiance, history, and exciting neighborhoods only add to the dining scene.
Start with casual essentials like Rodney Scott's BBQ with its Lowcountry-style barbeque before venturing to fancier spots like Husk and FIG. Then cap your evenings with rooftop cocktails at notable spots like Pavilion Bar and The Rooftop at Vendue.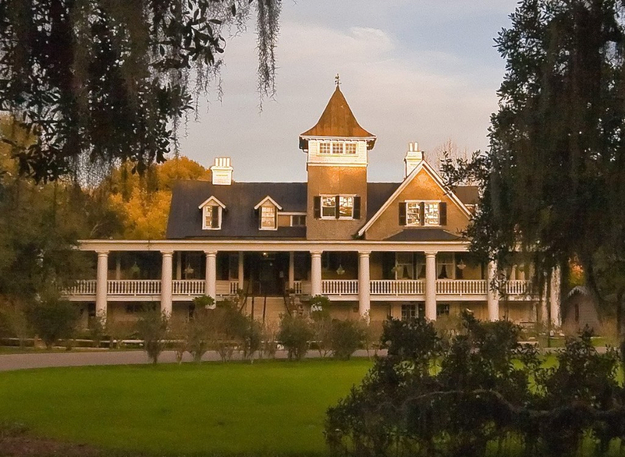 Courtesy of Explore Charleston, ExploreCharleston.com
Visit Centuries-Old Plantations and Gardens
Newlyweds can take a step back in time by visiting some of Charleston's historic plantations and gardens. Take a romantic stroll among the beautiful flowers, plants, and towering trees. Learn about centuries of history that takes you from the American Revolution through the Civil War and up until today. Start your tour at Magnolia Plantation & Gardens, a spectacular property along the Ashley River that dates back to 1676. Then head to Middleton Place, a National Historic Landmark that features 65 acres of lush gardens, a museum, restaurant, and stableyards.

In case you missed it:
The Top 10 Locations to Spend a Honeymoon in California