Congratulations to Beth and Devin, winners of the 2019 Traveler's Joy Honeymoon Story Contest! The newlyweds, who recently traveled to Puglia, Sardinia, and Lake Como, Italy for their once-in-a-lifetime getaway, have won $500 towards a first anniversary trip via Airbnb.
We'd like to extend a BIG thank you to all the newlyweds who shared their incredible honeymoon stories! Stay tuned to the Honeymoon Blog and our Instagram page (@travelersjoyregistry) as we'll reveal the Top 5 finalists in the coming weeks.
Meanwhile, read below for a few highlights from their extraordinary honeymoon.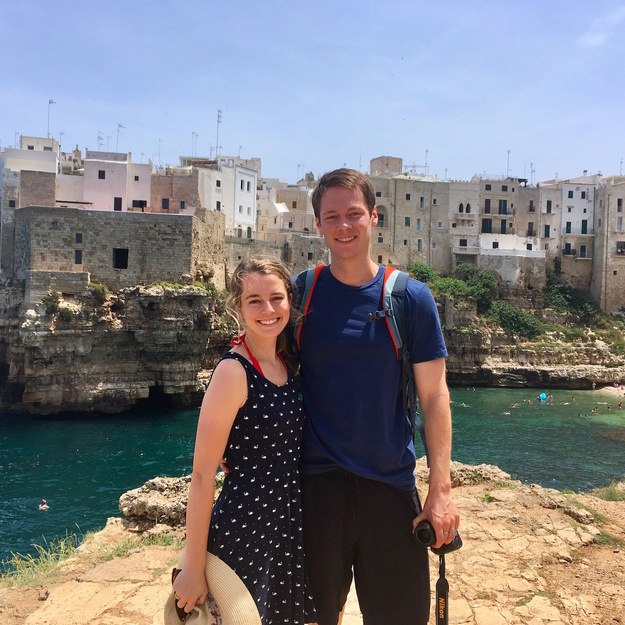 "Twilight lingered, casting long shadows from the olive groves and fruit trees. We followed the pathway up to the terrace, illuminated by candlelight and the gentle clatter of cutlery.
Seated at a dinner table set for two, I glanced at my husband of just two days and felt a surreal sense of joy; we had begun our Italian honeymoon, a trip we'd planned for months and had dreamed about for far longer.
Our trip began in Puglia, the sun-soaked heel of the proverbial Italian boot. We relished the opportunity to stay at a boutique hotel situated on a working farm, whose owner was also our server at dinner that evening.
Her name was Anna, and her grandmother had once run the masseria. She brought to us freshly baked bread and effervescent white wine famous to the region. In fact, it had been made right on the property just a few hundred feet away from our room. She asked how we were enjoying our stay and we both agreed it had been an absolute dream.
"Just wait until you try the lasagna," Anna added. "I don't hire chefs for my kitchen - I hire mamas," she paused before continuing, "It's the Italian mamas who really know how to cook. They aren't afraid to use lots and lots of olive oil."
It was this authentic Italian lifestyle that motivated us to choose our honeymoon in Italy. Perhaps in other countries, you could come to realize the local cuisine is a bit overrated. Never in Italy. As it turns out, the lasagna we tasted that evening during our buffet-style dinner was, well, life-changing. We were the first in line for seconds, because who in their right mind would ever want to offend an Italian mama?
With the masseria as our home base, we explored some of the surrounding towns in the region, such as Martina Franca, with its winding cobble walkways, and the postcard-picturesque Polignano a Mare. The latter destination brought us our first authentic Italian pizza. Wood-fired to perfection and topped with the freshest ingredients, these Margherita pizzas were served to us on a patio overlooking the lively coast below."

Be sure to read their AMAZING story here.
Also, check out Beth & Devin's spectacular honeymoon registry page.

In case you missed it:
Winners Announced for the 2018 Traveler's Joy Honeymoon Story Contest