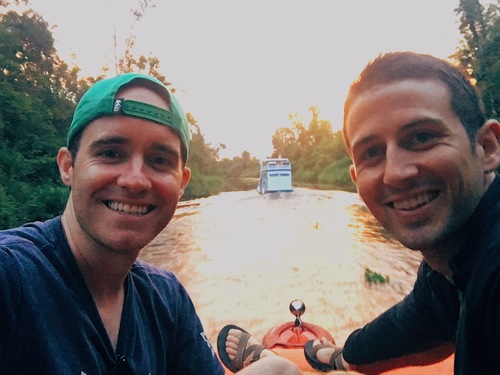 Congratulations to Patrick and Joe, winners of the 2018 Traveler's Joy Honeymoon Story Contest! The newlyweds, who recently traveled to China, Cambodia, Vietnam, Indonesia, Malaysia, and the Philippines for their ultimate getaway, have won $500 towards a first anniversary trip.
We'd like to extend a BIG thank you to all the newlyweds who shared their incredible honeymoon stories! Stay tuned to the Honeymoon Blog and our Instagram page (@travelersjoyregistry) as we'll reveal the Top 10 finalists in the coming weeks.
Meanwhile, read below for a few highlights from their extraordinary honeymoon along with a link to their AMAZING story.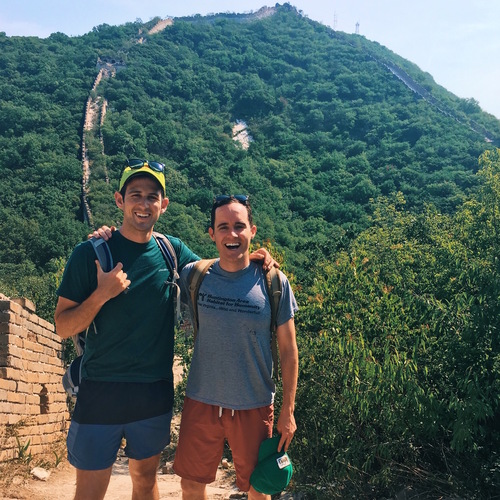 "Joe and I stopped in front of the sheer wall of the abandoned watch tower and looked at each other, then over at our guide, Oliver. We were in our second day of hiking the Great Wall of China, and the "Wild Wall" stretched out behind us - a part of the wall that hasn't been restored and is slowly being reclaimed by nature. We hadn't seen anyone else since we'd packed up our tents that morning, and now it looked like there was no way forward.
Before we had time to worry, a face creased with lines from a lifetime of sun and smiles peeked over the wall. A woman at the top lowered a homemade ladder and extended her hand with a grin. Oliver chuckled as he explained.
"This is the only way forward. It's fifteen yuan to use her ladder."
Joe and I laughed along with him, then fished out a few bills and handed them over so we could clamber up onto the (mostly) abandoned watchtower. It was tough not to admire the woman's entrepreneurial spirit here in a sparsely populated region of China.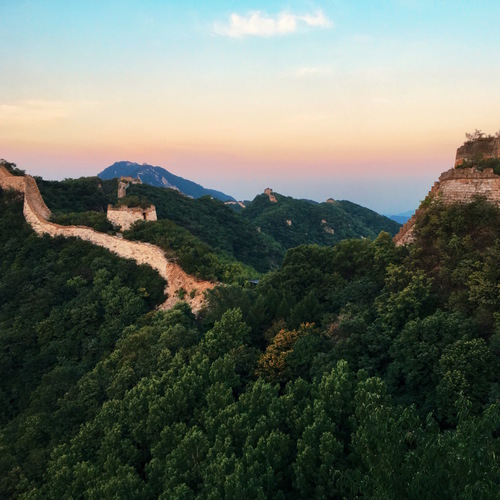 Hiking and camping along the Great Wall of China was our first stop on a honeymoon we had been dreaming about for years. Just a few weeks before, we had gotten married on a farm in Sonoma, California. Right after getting married, we sold most of our belongings, gave up our San Francisco apartment, quit our jobs, and planned a six-week honeymoon throughout Asia. We've visit six countries in six weeks: China, Vietnam, Cambodia, Indonesia, Malaysia, and the Philippines. At the end of the six weeks, we would be moving to Guadalajara, Mexico, to live and teach for two years while continuing our adventures.
Rather than registering for wedding gifts that we wouldn't be able to bring on our travels, Joe and I created a Traveler's Joy registry to help us pay for our $13,000 honeymoon. We had so much fun planning out each of our stops, creating our customized Traveler's Joy page with a description and photo for each one, then shared it on our wedding website.
At first, a few of our relatives said they weren't sure about this whole new "travel registry thing," but when they saw our trip mapped out with such detail, they got super excited about it. We'd get emails from aunts and family friends saying that they had just contributed to an experience in Vietnam or Borneo and they couldn't wait to hear about it! Two of our friends gave us our hotel and dinners out in Beijing and wrote in their Traveler's Joy message, "What a great idea for wedding gifts! I guess we'll have to return the blender!"
My Aunt Molly, who can always be counted on for her quirky humor, was especially excited to gift us our two nights sleeping in one of the Box Hotel's tiny rooms. Throughout our trip, we sent emails with photos of our adventures to the family and friends who had helped make the honeymoon possible, and it was so much fun to share our adventures that way."

To read their entire winning honeymoon story submission, click here.
Also, be sure to check out Patrick & Joe's spectacular honeymoon registry page.
Follow along with Joe and Patrick's adventures on Instagram @patroseph.
In case you missed it:
The Best Islands for a Honeymoon in Greece