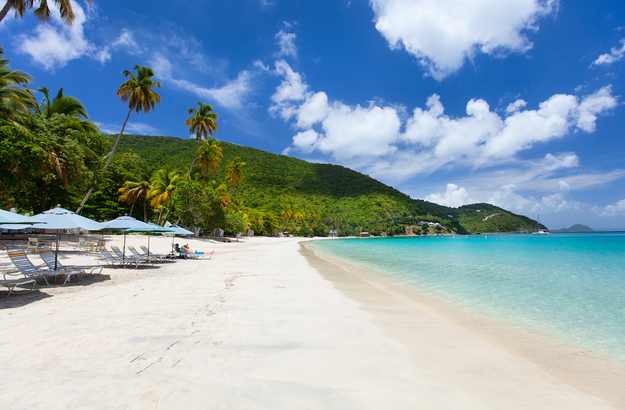 If you're the type of honeymoon couple who wants to fly out first thing the day after the wedding and be lying on a beach by noon, chances are you're headed for the Caribbean.
But a honeymoon calls for a truly epic stretch of sand. How do you choose from the more than 7,000 islands dotted across the Caribbean Sea?
Start with the experience: Do you want to chill or rub shoulders with celebrities? Next, evaluate the Insta-worthiness: Is the sand blindingly white and the water a picture-perfect shade of blue? Then, consider the exclusivity: Nothing kills romantic vibes like a beach crowded with families and spring breakers.
To get all this -- and more -- take your pick among these seven hot spot beaches in the Caribbean.
St. Jean, St. Barth
If you were to dream up the glitziest beach on the glitziest Caribbean island, it would look something like St. Jean. This reef-protected cove is dotted with picturesque fishing boats and fronts water that's the brightest shade of blue you've ever seen.
But St. Jean has more than just white sands and azure waters: It's home to dayclubs like Nikki Beach Saint Barth (where everyone from Beyoncé to Leonardo DiCaprio have been spotted) and five-star resorts like Eden Rock St. Barth (reopening later this year, following damage sustained during Hurricane Irma). If you're looking to travel now, stay in one of the 12 plantation-inspired rooms at Tom Beach Hotel, a quiet escape from the party, right down the beach.
Pink Sands Beach, Harbour Island, Bahamas
This tiny, tony island, located off the northern tip of Eleuthera, is flooded with celebrities and fashionistas during high season. Expect to find them all along the wide, three-mile Pink Sands Beach. The sand is, incredibly, a gorgeous rosé hue -- the byproduct of millions of tiny coral fragments -- and fronts the gorgeous turquoise waters of the Atlantic Ocean.
Post up at a resort along the beach, like the Ocean View Club, the Dunmore, or Coral Sands. There are only a handful of cars on the island, so you'll have to jet around in a souped-up four-seater golf cart for your afternoon conch salad and rum punch in Dunmore Town.
Meads Bay, Anguilla
The 35-square-mile island of Anguilla has a whopping 33 beaches. And since the island is home to mainly high-end boutique hotels, many of the beaches are uncrowded to the point of barely inhabited, even during high season.
The most well-known is Meads Bay, a white-sand stretch filled with mom-and-pop lunch stands. It's book-ended by the luxe Four Seasons Resort and Residences Anguilla (book a suite with a plunge pool overlooking the beach) and Malliouhana, an Auberge Resort, with a nautical-chic restaurant and two-tiered infinity pool pool fronting the bay. (The latter property, which suffered extensive damage following Hurricane Irma, reopens in November.)
Frenchman's Cove, Jamaica
Jamaica has its share of picture-perfect beaches, but this one, in Port Antonio, tops them all. The wide, white crescent, jungle-covered foliage, and glassy Caribbean waters are as stunning as surrounds can get. You'll have to pay a $10 cover to visit the beach, but it's worth the price tag, since you technically get two for the price of one: Around the corner is a crystal-clear languorous river, with the most photo-op-worthy swing an Instagram-obsessed couple can hope for.
Grace Bay, Providenciales, Turks & Caicos
Very rarely is such a beautiful beach so easy to get to: Grace Bay is just a few minutes by car from Providenciales International Airport. This 12-mile stretch, on the island's northeastern shore, is all about white sands and turquoise waters. It's also where you'll find top resorts like Grace Bay Club, the Gansevoort Turks and Caicos, and the Palms Turks and Caicos. Hang out on a chaise lounge, drink in-hand, before heading down the beach to Da Conch Shack for a leisurely lunch of fresh-grilled seafood, burgers, ceviches, and more.
Seven Mile Beach, Grand Cayman, Cayman Islands
With its picturesque white sands and swanky beachfront resorts, this famous stretch is the place to be in the Cayman Islands. Technically, it's not seven miles long (five and a half miles, to be exact), but you'll have plenty of beach to choose from as you lay your towel on the sand.
Most honeymooners post at a top resort like the recently debuted Kimpton Seafire Resort and Spa (the first new resort to open on Grand Cayman in nearly 10 years), the Ritz-Carlton Grand Cayman (with the only restaurant in the Caribbean by Top Chef Eric Ripert), and the Westin Grand Cayman (which completed a major overhaul of its rooms, restaurants, and public spaces in January). No matter which you choose, expect full-service beach amenities (yes, please, cocktail service) and easy access to local water sports outfitters who can hook you up with daylong sailboat or kayak rentals.
The Baths, Virgin Gorda, British Virgin Islands
Take one look at the soft yellow sand and giant granite boulders strewn, and you might mistake The Baths for The Seychelles. This BVI hot spot is one of the most unique landscapes in the Caribbean--and among the toughest to get to. Couples will have to arrive by boat or hike steep landscapes to arrive at this remote beauty. But as you walk the pristine sand and explore the numerous caves and grottoes, there will be more photo-ops than you have storage on your phone. Afterward, explore a bit more on nearby Spring Bay Beach, which has similarly spectacular rock formations and naturally forming pools.

In case you missed it:
7 Foolproof Ways to Save on a Honeymoon