Planning the honeymoon is one the most exciting activities you can do together as a couple. The anticipation of the wedding, followed by a once-in-a-lifetime vacation, is the ultimate one-two punch. But, as you've likely already learned (and been forced to accept), weddings are expensive -- and so is the honeymoon.
Putting together a dream itinerary can quickly cause the budget to escalate, but you're by no means required to break the bank. In fact, it's possible to plan the perfect -- affordable -- trip as long as you spend wisely and capitalize on honeymoon upgrades and freebies.
Whether it's a bump from coach to business class or snagging that deluxe ocean view suite, a honeymoon upgrade often makes the trip all the more special, without costing you a fortune. Follow these 11 insider tips to increase your chances of receiving valuable honeymoon upgrades on airlines and at hotels, restaurants, and more.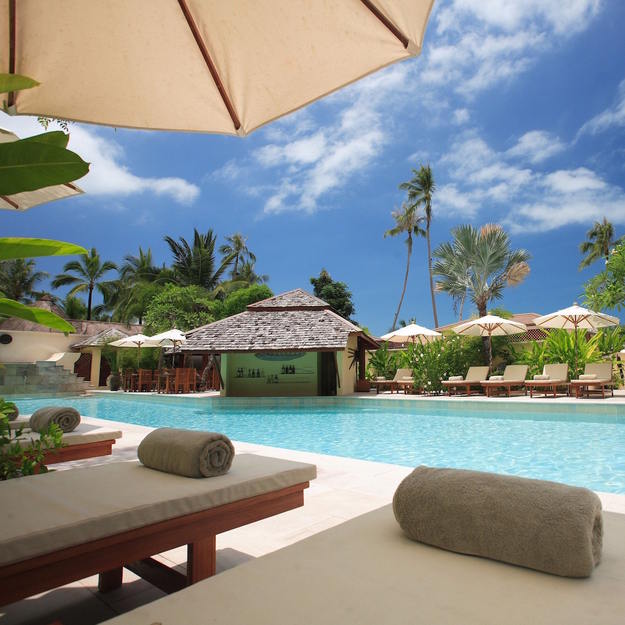 1) Travel off-season
Summer may be prime time to visit the Amalfi Coast, but it's also the region's busiest season, with the highest room rates and the greatest demand for reservations, excursions, etc. To increase your likelihood of scoring a room upgrade, dining freebies, resort credits, and more, travel during your destination's shoulder or low season. Lower occupancy can often mean unsold rooms and suites available for complimentary upgrades, which hotels will dole out as a way to boost customer loyalty.
2) Cash in on credit card rewards points
All of those accrued credit card points have finally paid off. One worthy way to redeem? Two business-class tickets to your honeymoon destination. But be mindful of how you spend your rewards: It's often more worthwhile to use the points for an expensive long-haul flight, such as New York to Honolulu, than it is for shorter trips, such as New York to Miami. Likewise, your points may have higher cash value with a hotel loyalty program than an airline's, which could translate to a sweet room upgrade.
3) Build airline allegiance
It pays to start building loyalty with an airline well in advance of the honeymoon. When airlines look for someone to bump up to a higher class, they often choose passengers with the most airline points. A long history with one airline shows that you are a loyal customer, meaning you'll have a greater shot of being upgraded to business class over a non-member.
4) Read the fine print before you book
When it comes to upgrading your tickets to business or first class, it's important to know that not all fare classes are upgradeable. For example, if you purchase a heavily discounted economy ticket, you may not be able to upgrade with miles. Before purchasing their tickets, couples who plan on using rewards should research which fares are eligible for an upgrade, if a cash co-pay is required, as well as whether there's even upgrade award space in the premium cabins on your specific flights.
5) Buy an upgrade outright
When first- or business-class seats are available, it's quite common for airlines to sell them on a first-come, first-served basis at the airport. These upgrades cost much less than the value of the original ticket and are often more heavily discounted on the day of departure than if purchased in advance. Start tracking the cost to upgrade your seat a few days prior to the honeymoon, then arrive early at the airport ensure greater probability of empty seats available for purchase at check-in.
6) Or bid on one
A number of major airlines, including Etihad, Icelandair, KLM, Aer Lingus, Lufthansa, South African Airways, and Air New Zealand offer economy passengers the chance to bid on a business-class upgrade. Not all flights are eligible, but if yours is, keep an eye out for an email indicating that the flight is open for bidding. Though there's generally a minimum bid (which is in addition to the cost of the economy ticket you've already purchased), the amount is generally one-half to one-third of the cost of buying the upgrade outright. If your bid is accepted, your credit card is automatically charged to guarantee your seat.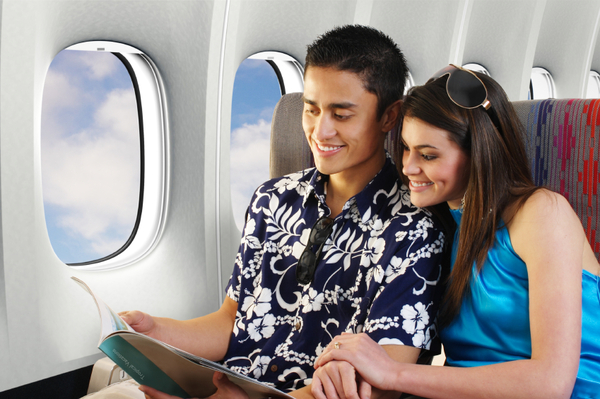 7) Fly on a Saturday
This is the day when most business travelers and elite-airline-status customers are at home. If your schedule allows, opt to travel on this off-day, when there's less competition for upgrades.
8) Get lounge access
Couples who have long layovers or late-evening departures on their international long-haul journeys should never slum it at the gate. Check if your credit card rewards program includes a complimentary Priority Pass Select membership, which offers access to over 1,200 airport lounges around the world. If it doesn't, consider purchasing an annual membership or use an app like LoungeBuddy to search for premium lounges at the airports you fly through. You can purchase a day-pass for less than $40, no memberships, elite statuses, or first-class tickets required.
9) Sign up for hotel loyalty programs
Once know where you'd like to stay on the honeymoon, join the loyalty program of that hotel brand (some of the biggest ones include Marriott Rewards, Fairmont President's Club, Hilton Honors, World of Hyatt, Le Club AccorHotels, and IHG Rewards). Many of these programs are free to sign up and bring with them a number of perks, such as free Wi-Fi, exclusive hotel packages, rewards points, resort credits, and more.
10) Stay at a brand new hotel
It's more common for a hotel that's looking to establish a loyal customer base to give out space-available upgrades. Keep in mind that if nothing is available at the time, don't stress about it. Ask politely if you can be put on a waiting list for when the next upgrade becomes available.
11) Know what you want
If you dream of sleeping in that deluxe beachfront villa, be specific with the reservations team (they can make a note in your reservation) and again at the time of check-in. Knowing exactly what you're looking for makes it easier for the staff to plan in advance to hopefully meet your upgrade wishes.
12) Check in after 3 p.m.
You'll have a better chance of receiving an upgrade if you arrive at your honeymoon hotel in the afternoon. By 3 p.m. (often the guaranteed check-in time), the staff should have a clear picture of which rooms are available and will have an easier time making last-minute upgrades.
13) Reach out to the hotel concierge as soon as you book
Once you've confirmed your reservation, email or call the concierge and mention that you'll be celebrating your honeymoon. A great concierge will often do whatever it takes to make sure your honeymoon is extra special, be it through a complimentary room upgrade, champagne on arrival, a special candlelit dinner, resort credits, or cocktail vouchers.
14) Tell everyone
When you're on the trip itself, casually drop to those you encounter that you're celebrating a honeymoon. Remind the front desk staff when checking in. Let the restaurant know in advance, and then mention to the waiter/waitress that it's your honeymoon. That complimentary round of drinks or chocolate lava cake dessert could very well be on the house.
15) Just ask
While it's rare to get an airline upgrade by simply asking, it's always worth a shot. (At the very least, the ticketing or gate agent can place you in a better economy seat.) Same goes for hotels, which may not offer a room upgrade, but can certainly throw in a few freebies to make the stay that much more memorable. Just remember to ask nicely and be appreciative--and enjoy the honeymoon regardless!
In case you missed it:
6 Tips on What to Register for on Your Honeymoon Registry Page
7 Easy Ways to Save Money On Your Honeymoon Travels
Editor's Note -- Updated version by Katie James Watkinson on March 1, 2019