Perhaps one of the most desired honeymoon locations in the world, Italy surely has it all. From rolling hills to vineyards and historic ruins, Italy offers the romantic pair world-class culinary delights, spectacular scenery, and an array of tourist attractions to enjoy. It's really no wonder this bellisima place tops everyone's list. So when the decision's been made to visit Italy on your honeymoon, the question remains, "What region should we visit?"
ItalianTrips.com is an excellent source for all things Italian. Taking inspiration from their suggested Italian honeymoon destinations, I chose to further explore those areas that are sure to be the perfect setting for all couples who want to celebrate their love.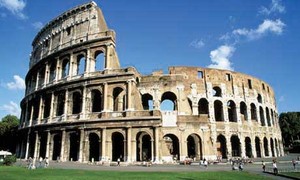 Rome
Known as the Eternal City, Rome is one of Italy's top destinations, where culture, history and surely romance are deemed eternal. With so many attractions to see and experience, including the Colosseum, Vatican City, the Pantheon and the rest of Rome's well-preserved ruins, you will not run out of things to do. This capital city makes for a great honeymoon destination with all of its culture, dining, five-star accommodations and excellent nightlife.
A must-do for couples while in Rome includes sharing a gelato at the top of the Spanish Steps or visiting the Trevi Fountain at dusk. Rome also may be a stepping stone to explore other regions in Italy and a romantic day trip down the Amalfi Coast would be just the thing.
Tip: Couples should not skimp on a private tour of Vatican City. Check out Presto Tours or My Vatican Tour.
Tuscany
Perhaps the most popular region in all of Italy, known for its rolling hills, vineyards and Renaissance splendor, it's easy to conjure up images of love and romance here. Florence and Pisa are two of the most famous Tuscan cities and are ones that shouldn't be missed. *While many view the Leaning Tower of Pisa as the perfect photo op, bear in mind that it can also be a giant tourist trap and it's best to spend only a few hours, if your main goal is romance.
To best explore Tuscany for all its glory, couples should rent a car. This will ensure you can explore the smaller hill towns, vineyards and villas throughout every corner. For less tourist-driven spots, visit Montepulciano and Lucca, two of Italy's most beautiful walled cities to behold.
Amalfi Coast
Located just south of Naples, the Amalfi Coast has been consistently rated one of the world's most stunning coastlines. Only a few hours from Rome, it is also easily accessible by train. Simply hop on a train after a few days in Rome and head to Naples, where renting a car may be a great option (just be weary of the Amalfi drivers, as they can be some of the craziest drivers in the world!).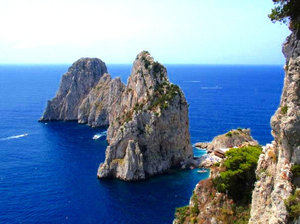 One of the absolute must-sees for any couple traveling to this beautiful region would be a romantic getaway to the Isle of Capri. With stunning coastlines, the famed blue grotto and a mecca for celebrities, it's a great place to spend a romantic day (or two) in. Believe me when I say, it's truly one of the most beautiful islands in this world.
Tip: Buy a map in a kiosk upon arriving by the port terminal and make your way to the beautiful Arco Naturale by hike. Decend from the Arco Naturale and make your way to the famous Faraglioni Rocks for a secluded walk with your loved one, with breathtaking views.
Amalfi is the major hub of the region, and nearby Sorrento is another favorite base for honeymooners who find the ocean views and sea air incredibly romantic. Another big favorite among travelers is the town of Positano, which is a town perched on a beautiful cliff with the dramatic coastline below and a fabulous beach for visitors to enjoy. Choose a hotel and stay here for a day or two, primarily in the summertime!
Venice
Venice is another major romance hub in Italy, known for its sleepy canals, amazing art and a plethora of museums. How can you not fall in love here? It's a storybook city surrounded by water. A simply must-do for the honeymoon duo is to take a romantic gondola ride through the canals, and enjoy a cup of cappuccino on a table in St.
Mark's Square while you people watch holding hands. For honeymoon package ideas in Venice to list in your honeymoon registry, check out Venice-Honeymoons.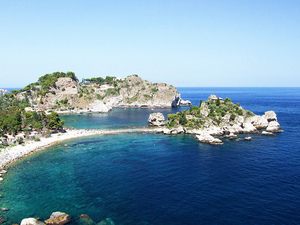 Sicily
Sometimes overlooked by the mainland of Italy, Sicily offers a lot of fun and excitement both on land and by sea. A usual starting point for exploring this main island off Italy's southern coast is the capital city of Palermo, offering historic charm in its art museums, churches and narrow winding streets. It's also a terrific jumping-off destination for day trips to the mountains, the coastline, or cruises to the nearby Aeolian Islands.
Also be sure to spend at least some time in medieval Taormina, the famous seaside resort on Sicily's east coast, along with a trip to Mount Etna on the beautiful Ionian coast.