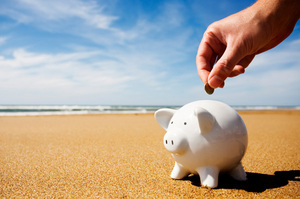 Honeymoons are typically those unique occasions in life that couples get the chance to splurge. From rejuvenating spa treatments to luxury suites and posh five-star dining experiences, it's common for newlyweds to indulge in the things they normally can't have back at home or experience ever again.
However, the reality is that most newlyweds have a set budget for their honeymoon and won't be able to afford that unbelievable oceanfront suite in Cabo. Plus, fees, taxes and other unexpected costs can really add up if one isn't careful. But by following these seven tips, newlyweds can put dollars back into their pocket and still plan the honeymoon of their dreams.
1. Look for all-inclusive packages and specials
Many honeymoon destinations and resorts offer all-inclusive packages that can reduce the overall cost of your trip. When you inquire, ask specifically whether taxes, gratuities, and alcoholic beverages are included in the cost, too. If you go the all-inclusive route, you will likely have an easier time sticking to a budget for the trip, too.
2. Travel in non-peak seasons
Instead of taking your trip over the summer or during the holidays (which are considered peak seasons), consider trying the shoulder seasons. Shoulder seasons occur near or around peak seasons but have lower overall demand. Plus, you will still likely find pleasant weather no matter where you are traveling.
According to TheKnot.com, mid-April to mid-June is optimal for planning a trip to the Caribbean. Meanwhile, late spring and early fall are the best times for travel anywhere in Europe. Best of all, travelers will likely find better deals and prices within reason.
3. Go online to rent a car
When booking a rental car for a trip, save time and money by booking online and well before your trip. Comparison sites like Hotwire.com will generally offer the best rates. Also, be sure to shop around and get some estimates before making a decision. A better deal may be within reach if you put in a little extra research.
4. Use Skype to call home
If you are traveling internationally and plan to call home, don't worry about the hassle of purchasing calling cards or even worse, being forced to call from your hotel (which will cost a fortune).
Instead, set-up a Skype account online so your calls are super inexpensive (or free). Skype is an online software program that enables subscribers to make low-cost calls to landlines or mobile phones anywhere in the world and features video and chat options as well. It's super easy to do and all you need is a Wi-Fi connection.
5. Take advantage of miles
If you've been racking up credit card points for years and haven't even touched them, there may be no better time to take advantage of them. A free trip to your honeymoon destination would be amazing, but at the least, you can look for an airline upgrade from coach to first or business class, which we highly recommend for long flights.
6. Dine away from the hotel
Sure, while your hotel may feature some excellent cuisine and great convenience, it will likely come at a cost. Be aware that the prices at those resort restaurants may be much higher than somewhere else nearby. Because of proximity, convenience and now, even celebrity chefs, it's very common for hotels to mark up prices at their local restaurants, particularly if they come with an extraordinary view.
7. Don't be shy
It's quite common for honeymoon couples to get free upgrades or perks just by mentioning that they are on their honeymoon. There are no guarantees, of course, but it can't hurt to tell your hotel receptionist, concierge, waiter, bartender or transportation provider.