Traveling to Hawaii for your upcoming honeymoon or anniversary trip? Don't miss out on this incredible day trip exploring Maui's famous Hana Highaway.
Featuring jaw-dropping scenery, delicious food stops, incredible sites, this will be a honeymoon road trip you'll remember forever. The itinerary also appears in our Maui Honeymoon Destination Guide.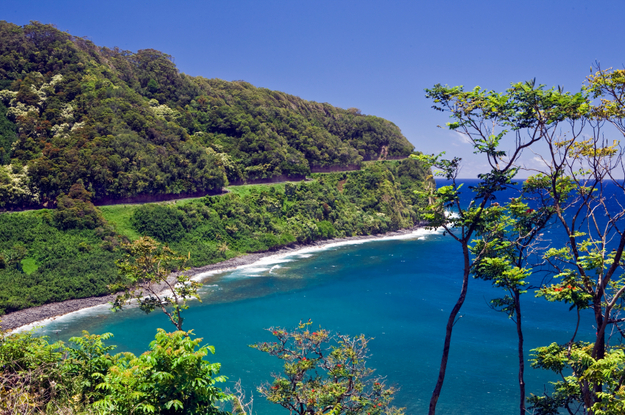 1) Start your day with breakfast at Charley's in historic Paia, a favorite hangout for locals, tourists and celebrities alike, including Willie Nelson. The restaurant has a hippie-western saloon vibe to it and is the perfect place to fuel up for the day.
2) Next, head east out of town and begin "The Road to Hana." This long and winding journey boasts lush rainforest terrain, waterfalls, and miles of stunning seascapes. The route -- often regarded as one of the world's most spectacular drives -- is 68 miles long, typically takes up to five hours (with stops included) and ends in the tiny town of Hana. Be sure to take your time and make frequent stops along the way, including visits to many of the roadside stands that serve up fresh fruit juice concoctions, coconuts, and banana bread.
3) After exploring the countless waterfalls and hidden valleys along the route, take a detour down to the rocky coast for a different scene. Expect rough surf, blowholes, black sand beaches, and sea caves at places like Wai'anapanapa State Park and Ke'anae Peninsula.
4) Take a break in Hana for lunch before heading back on the leeward side and completing the full circle of Eastern Maui. This final half of the journey goes through many different types of landscapes, features a gravel road for several miles plus other unexpected sights (watch for ranch animals!). If you brought your swimsuits, head to Oheo Gulch and the Seven Sacred Pools for a quick dip in this incredible natural wonder.
5) Finish up your journey by having a relaxing dinner at Hali'imaile General Store, one of Maui's best overall dining experiences. Serving regional cuisine with a few creative twists, this laid-back restaurant is set amidst the pineapple fields of upcountry Maui.

In case you missed it:
Winners Announced for the 2016 Traveler's Joy Honeymoon Story Contest