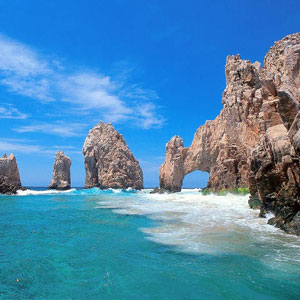 With its magnificent beaches, world-class resorts, diverse landscape and unique attractions, Mexico has long been one of the world's most popular honeymoon spots. Compact with so many destinations and one-of-a-kind itineraries, it's also a country filled with endless romantic possibilities. Here's a list of our top romantic activities in Mexico that will be sure to keep the passion alive throughout your honeymoon.
Sunset Sail
From the shores of Cabo San Lucas to the playful waters of Cancun, Mexico is a prime destination for private sunset cruises along its scenic coastline. Whether by yacht or catamaran, sit back, relax and share a kiss as you watch the sun dip below the horizon while gliding across the smooth blue waters. Set sail with Cabo Sailing, share a drink and then marvel at the fascinating rock formations near Lover's Beach and the undulating mountain terrain just off in the distance.
Horseback Riding
There may be no better way to explore Mexico's diverse terrain than by horseback. Consider riding along the spectacular beaches of Cancun. Mix things up by spending time in desert terrain before heading to the coastline for a colorful sunset. Another option is to head up into the mountains for a bird's eye view of the landscape below. No matter where you decide to take your honeymoon, it's likely that a number of great riding options will exist nearby. For the most diversity, try the Baja Peninsula and Cuadra San Francisco Equestrian Center. For wide, sandy beaches, also consider an excursion at Playa del Carmen.
Copper Canyon by Train
Comparable to the Grand Canyon in the American Southwest, Mexico's Copper Canyon is a fascinating natural wonder and quite the enchanting destination. For a most memorable and intimate experience, take the Chihuahua al Pacifico Railway, also known as "El Chepe", and make your way past rugged canyons, dense forests and cascading waterfalls. The tracks cover 39 bridges, 86 tunnels and climb as high as 8,000 feet to unforgettable vistas.
Picnic on a Secluded Beach
Get away from it all by packing up some picnic supplies and driving to one of Mexico's finest secluded beaches. On the Yucatan Peninsula, Telchac Puerto is a perfect serene spot to hold hands and take a romantic stroll. Meanwhile, Playa Los Cerritos is another terrific location located on the Baja Peninsula just outside the artsy village of Todos Santos. With a beautiful mountain terrain providing the backdrop, feel the soft sand between your toes as waves crash down around you.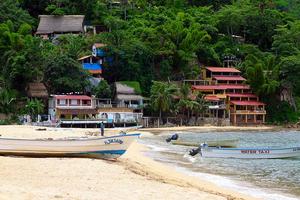 Trip to Secluded Yelapa
Located just west of Puerto Vallarta along the rugged Pacific coastline, the remote fishing village of Yelapa is a peaceful antidote to the numerous mega-resort destinations found across Mexico's shores. Only accessible via boat, Yelapa exudes romance with its authenticity and natural charms. Try "Sarandeado", a local food specialty consisting of barbecued fish on a stick. Then head to a gushing waterfall in the jungle together before winding your way through the (traffic-free) picturesque village.

Private Dinner on the Beach
Share an unforgettable experience by dining under the stars just steps from the ocean. At the Ritz Carlton Cancun, newlyweds can enjoy a candlelit dinner on the beach under the canopy of their very own casita. At Esperanza in Cabo San Lucas, embrace the open-aired ambiance of terraced dining along the bluffs that overlook the Sea of Cortez.
Snorkeling and Scuba Diving off Cozumel
The coral reefs off Cozumel are widely regarded to be some of the best diving spots in the world. Explore the underwater wonders together at sites like Cardona and Columbia Shallows and get up close with thousands of tropical fish, colorful coral formations and other amazing discoveries. Plus, with visibility often approaching 100 feet and year-round water temperatures hovering the 80s, expect ideal conditions no matter when you visit.
Explore an Offshore Island
Escape to your own world by visiting one of Mexico's unspoiled offshore islands. Whether your itinerary calls for swinging in hammocks or exploring coves and hidden beaches along the shoreline, the country boasts a number of one-of-a-kind small island destinations. Make your way to the Marieta Islands just off the coast of Puerto Vallarta -- terrific for snorkeling, hiking and bird watching. Also consider Roqueta Island near Acapulco for its jungle-like terrain and working lighthouse.