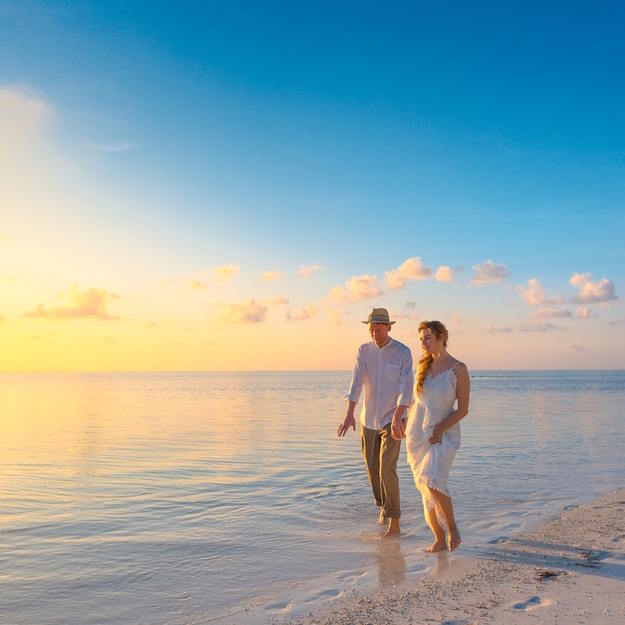 Planning the perfect honeymoon is one of the most exciting activities you can do together as a couple. Paying for it, on the other hand, can be a real drag.
But same as with the wedding, there are plenty of tips and tricks to spend wisely and save money on honeymoon vacations.
One of the most popular ways for couples to get the most bang for their buck is to book an all-inclusive honeymoon. Not only are all-inclusive honeymoon resorts located in stunning tropical locations across the globe, but they also offer total price transparency -- so you never have to worry about being stuck with a bill at the end of the trip that you can't afford.
While all-inclusive honeymoon resorts are chock-full of amenities, they may not be right for every couple -- be it because of the style of the resorts, the types of people they attract, or the overall intended vibe of the honeymoon. In many cases, an "all-exclusive" honeymoon, or a pay-as-you-go style trip is more ideal for couples.
Read on for the essential pros and cons of an all-inclusive honeymoon versus an all-exclusive honeymoon. While both have their advantages and disadvantages, your honeymoon budget, travel styles, and chosen destination will ultimately be the deciding factor in which route you take. In the meantime, do your research. After all, planning is half the fun!

All-Inclusive Vacations
PROS
It really is ALL included.
The main benefit of an all-inclusive vacation is its price structure. In most cases, hotels and resorts charge on a per person, per night basis, which could cover your room, meals (even room service), drinks (including alcoholic beverages), non-motorized water sports, resort activities, and staff gratuities. Some resorts may even throw in transportation to and from the airport. For those who love the idea of leaving their wallets at home and not having to worry about the price of that second (OK, third) cocktail, an all-inclusive honeymoon is definitely right for you.
Tropical destinations.
More often than not, you'll find all-inclusive resorts in exciting beachfront locales. Where else would you want to eat, sleep, and drink all day than on a beautiful stretch of sand surrounded by verdant palm trees? All-inclusive resorts are often found in the Caribbean and Mexico -- islands such as the Dominican Republic, Jamaica, St. Lucia, the Bahamas, Aruba, and Mexican regions like Cancún and Cabo San Lucas -- so prepare for an abundance of choice.
Romance aplenty.
No couple wants to spend a year of their life planning the wedding then jet off to a gorgeous beachfront hotel only to be greeted by...babies. Thankfully, many all-inclusive resorts are billed as "adults-only," meaning you don't have to worry about children overrunning the pool or crying infants on the beach. Many adults-only all-inclusive resorts place an age limit on their guests (like 18 and up), guaranteeing a romantic, relaxing environment for honeymoon couples.
CONS
Lack of variety
To say that you'll be bored at an all-inclusive resort simply isn't the case. However, the biggest downside honeymooners may experience is monotony, whether that's due to the same buffet-style breakfast every morning or feeling like you're stuck on the beach all day. Couples set on an all-inclusive honeymoon who crave a bit more adventure should look to resorts located in activity-centric destinations (like Costa Rica) or book an all-inclusive honeymoon package that includes off-site excursions and spa treatments.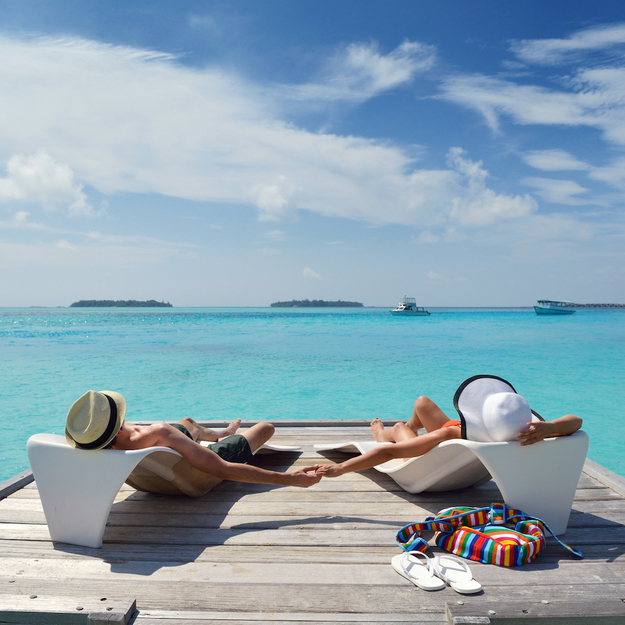 All-Exclusive Honeymoons
PROS
Flexibility.
An all-exclusive vacation is best summed up in one word: flexibility. Couples who plan their own itineraries have the freedom to decide where they want to stay, what they want to do, when they want to do it, and how they want to do it. At an all-inclusive resort, couples often need to plan their excursions and restaurant reservations in advance or on-arrival. If you don't, you could get stuck eating at the same continental buffet rather than sampling peking duck at the Chinese restaurant one night and Peruvian fusion the next.
Variation & Exploration.
While all-inclusive resorts can sometimes feel like fishbowls, designed to keep guests in (who needs to leave when you've got beach, a pool, and a bar, right?), an all-exclusive trip is centered on getting out and experiencing your chosen destination. You won't feel any guilt leaving the hotel or resort to sample some authentic fare or explore historic sites, meaning you get to max out on local culture.
CONS
Costs add up.
It's no secret that most couples tend to spend more on the honeymoon than on a typical vacation. After all, when will you ever visit French Polynesia again? Because a honeymoon tends to loosen inhibitions, costs can easily add up when you factor in the private excursions, nightly dinners at expensive restaurants -- and that second bottle of Pinot Grigio you didn't really need. To avoid any surprises at the end of the trip, set a budget from the start, do plenty of research on average costs in the destination, and pre-book your transportation and excursions. That said, never count pennies when you're there -- it's your honeymoon after all!

In case you missed it:
The Top Adventure Ideas for Your Honeymoon