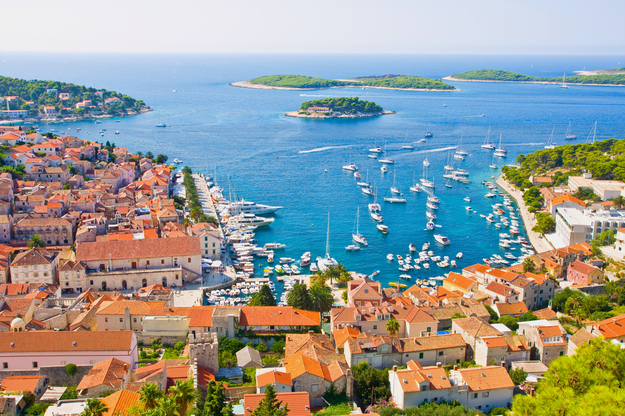 With well-preserved historic cities, wondrous national parks, colorful small towns, and scenic islands featuring sandy beaches and turquoise waters, Croatia ranks as one of Europe's top destinations for a honeymoon.
Still considering where to spend your days to maximize that honeymoon bliss? Read on for our top locations to take a honeymoon in Croatia. Then create your honeymoon registry and start planning the trip you've been dreaming about for years.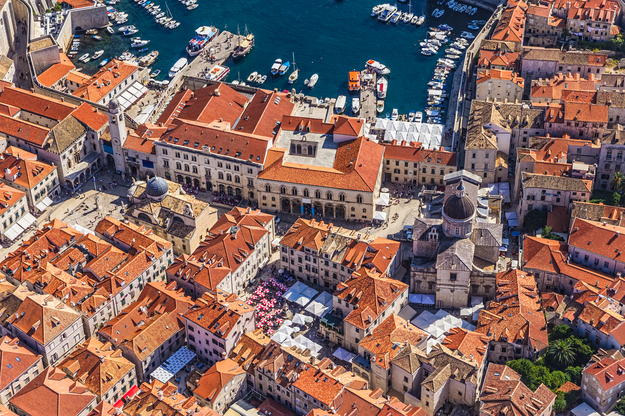 Dubrovnik
The historic city of Dubrovnik is often first on the list of places to visit in Croatia - and for good reason. This majestic, walled destination in Southern Dalmatia is quite simply one of the world's most gorgeous cities.
Couples will want to start by exploring Dubrovnik's Old Town, which features beautifully preserved churches, palaces and museums. Don't miss a walk along the mile-long white stone walls which surround the medieval old town. You'll be treated to jaw-dropping views of the orange-roofed village and distant islands that dot the horizon.
Where to Stay: Drop your bags at Pucic Palace, a luxury boutique hotel set in the heart of Old Town. In addition to elegantly appointed accommodations, the hotel gives couples exclusive access to nearby Banje Beach.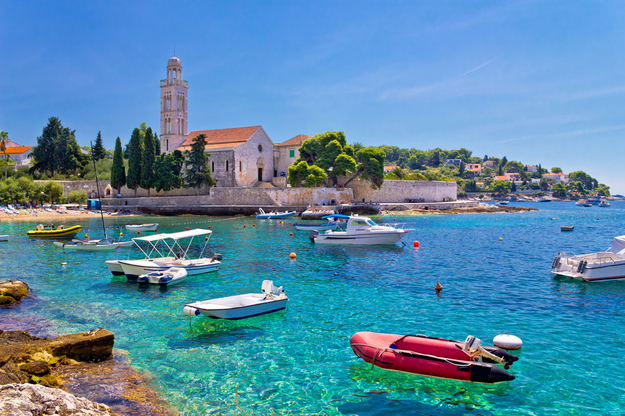 Hvar
This stunning island in the Adriatic sea, just off Croatia's Dalmatian Coast, is known for its sunny weather, beautiful beaches (minus the crowds), and well-preserved historic towns (such as the island's capital, Hvar Town). Make your home base in Hvar Town to bask in with attractive waterfront, colorful buildings, and wonderful beaches, hotels, and restaurants.
Where to Dine: Book a table for two at Dalmatino, a traditional Croatian restaurant featuring steak, pasta, and fresh fish dishes served up in a relaxed atmosphere (try to snag a table on the patio for a most romantic experience).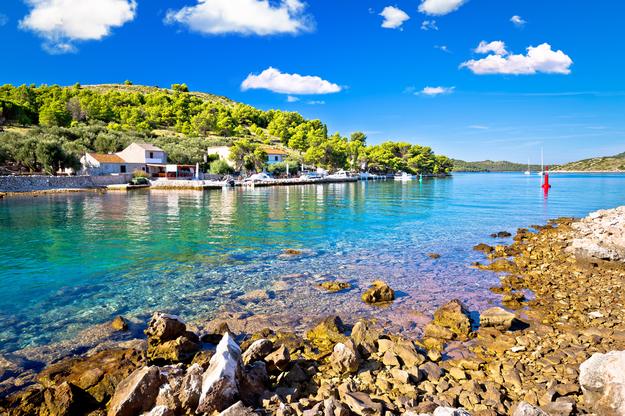 Kornati Islands
Home to Kornati National Park, these scenic, uninhabited islands are packed with amazing swimming, snorkeling, and sailing experiences thanks to an abundance of reefs, secluded coves, and aqua blue waters. The region is only accessible via boat, so it's a terrific destination for exploration and adventure - and to escape the crowds during the high season.
Tip: Look to reserve a one-day excursion to the islands from either Zadar or Sibenik. Many providers such as Kornat Excursions offer ample time for swimming and snorkeling and often arrange meals in scenic locations (think waterfront views under the shade of olive trees).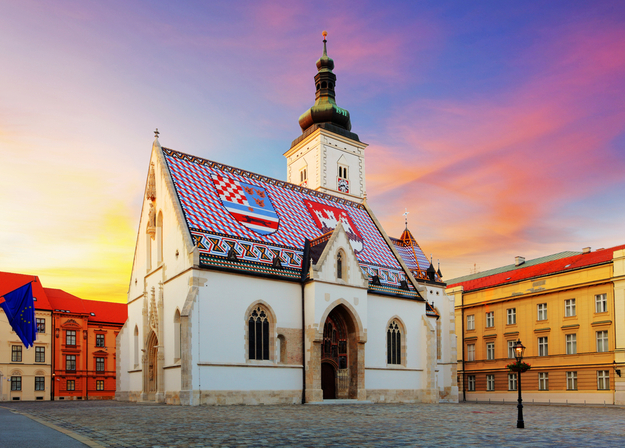 Zagreb
Time to break away from the coast (and tourists) and explore Croatia's vibrant capital, home to top-notch museums, a picturesque Old Town district, and excellent cafes. Tkalciceva Street is arguably the most beautiful section of the city and is filled with restaurants, boutiques, traditional stores, and cafes. It's the perfect spot for strolling hand in hand and stopping at a local cafe for plenty of people-watching.
Can't-Miss Activity: Just north of Ban Jelacic Square, Zagreb's Dolac Market is a hive of activity and well worth a visit. Vendors pack the piazza starting at 6 am and couples will love meandering through the stalls of fresh fruit and veggies, meats and cheeses, and arts and crafts.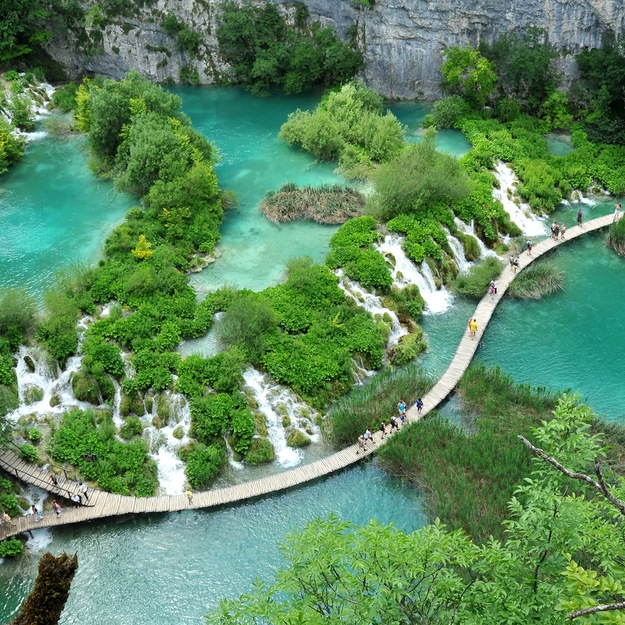 Plitvice Lakes National Park
The country's largest and oldest national park is also a UNESCO World Heritage site - and it's easy to see why. The 8,000-acre park features breathtaking waterfalls, scenic rivers, dense forests, crystal clear lakes, and incredible hiking trails (often featuring wooden boardwalks). In short, this is a hiker's paradise and well-worth the visit (the park is only 2 hours from Zagreb via car).
Can't-Miss Activity: Don't miss the 9-mile loop trail covering the Upper and Lower Plitvice Lakes. Expect plenty of front-row views of the lakes, gorgeous scenery, well-maintained wooden paths, and easy access to some of the park's best waterfalls.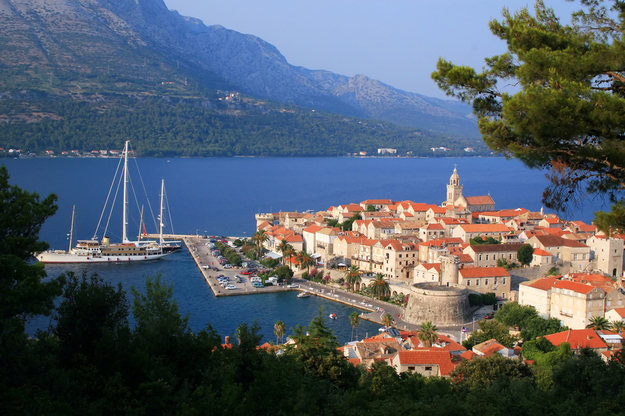 Korcula
The island of Korcula may be tiny (at just 30 miles long), but it's certainly packed with notable features and activities. Start with a visit to the walled city of Korcula Town with its narrow alleys, historic churches and museums, and gorgeous waterfront views. The town also claims to be the birthplace of Marco Polo, though historians often debate this. Beyond the historic old town, couples will find secluded beaches, quiet towns, and excellent wineries.
Can't-Miss Activity: Head to Vitis Winery in Lumbarda for a most memorable wine tasting experience. The family-operated winery features wine tastings with delicious food pairings, all in a beautiful courtyard setting with views of the vineyard and nearby mountains.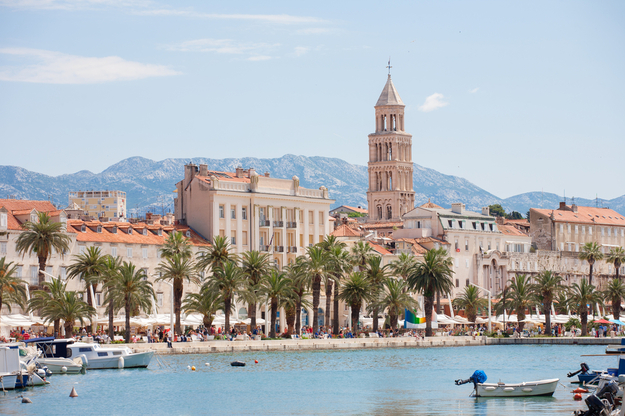 Split
Split, located in the central part of Dalmatia, is Croatia's second largest city. Thanks to its well-preserved historical sites and unique location between the mountains and the sea, Split should be at the top of every honeymooner's list. It's also a major transportation hub (both on land and on the water) and should serve as an ideal launching off point for exploring other islands such as Hvar, Brac, and Korcula.
Can't-Miss Activity: No trip to Split would be complete without exploring Diocletian's Palace, regarded as one of the most well-preserved ancient Roman structures in existence. This UNESCO World Heritage site dates back to A.D. 295 and today still features more than 200 buildings and over 3,000 residents.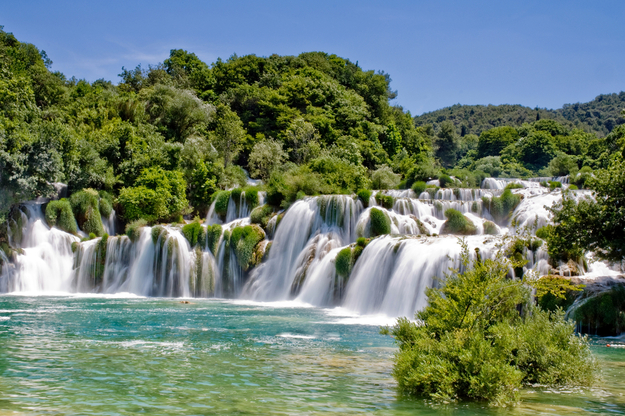 Krka National Park
Named for the Krka River, Krka National Park stretches for 43 miles and is home to captivating waterfalls, numerous historical sites, and scenic gorges carved by the rushing river. With its many canyons and dense forest, it also features a variety of hiking, biking, and boating opportunities. Couples can even rent a boat in nearby Skradin and sail to Skradinski Buk waterfall with an official park guide.
Travel Tip: Consider renting a car for maximum exploration of this beautiful park, which is only about an hour outside of Split.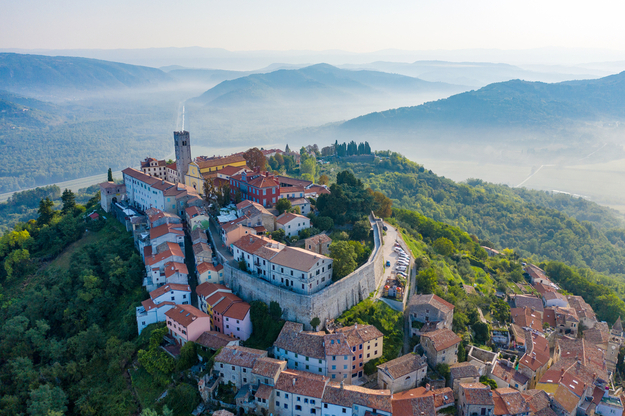 Motovun
Searching for that perfect hilltop town? Look no further than Motovun, a historic village perched on a hill in Istria, a region which is heavily influenced by Italy. The town is filled with shops and restaurants, many of which sell local goods and ingredients like olive oil, truffle, and honey.
Where to Dine: Snag a table for two at Konoba Mondo, serving Mediterranean cuisine in a relaxing space with terrace. Specialities include handmade pasta and truffle dishes (which is no surprise as the region is world-renowned for its truffle).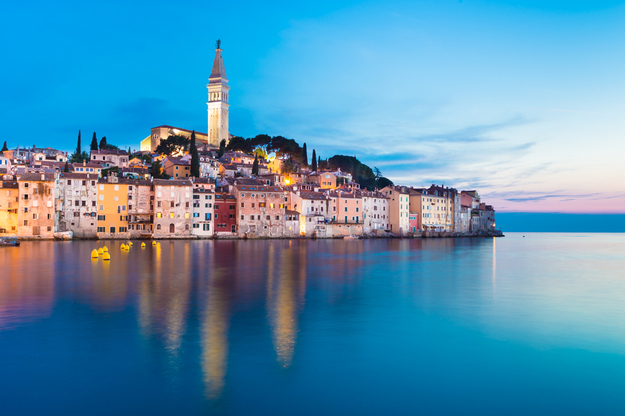 Rovinj
This seaside town in Istria is easily one of Croatia's most beautiful destinations. With its waterfront location, colorful buildings, winding streets, and bustling harbor, Rovinj is a most-welcomed detour on your tour of the Croatian coastline.
Can't-Miss Experience: The Rovinj Pier is the perfect place for watching the setting sun. Arrive early and find your perfect perch so you can take in the view with both Katarina Island and Rovinj's Old Town in the same frame.

In case you missed it:
7 Days in Croatia: The Perfect Honeymoon Itinerary