With large cosmopolitan cities, charming historic towns, amazing food, beautiful coastline, and tremendous cultural diversity, Spain is an attractive destination for honeymoon couples.
Following memorable days enjoying tapas crawls and romantic strolls along cobblestone streets, consider dropping your bags at any of these incredible hotels. From marvelous resorts along the coast to sophisticated city boutiques, these five hotels rank among our favorite honeymoon lodging spots in Spain.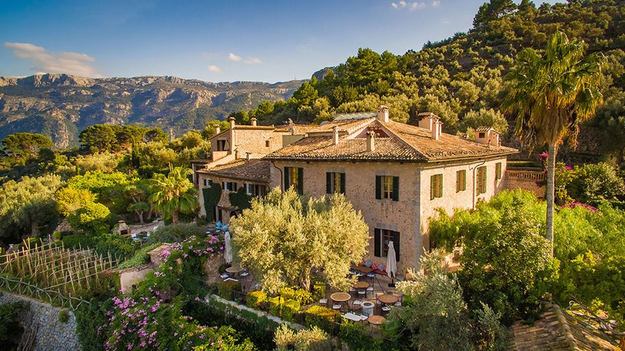 Ca's Xorc, Mallorca
Realize the mountain retreat of your dreams in this boutique hotel perched precariously among the Mallorcan hills. Ca's Xorc is lined with lush gardens of olive trees, quiet terraces, stone courtyard complete with restaurant, and a staff to match the serenity of this naturalists' escape. Let your mind meander while soaking in the valley's views from the infinity pool, and give your body a good stretch with on-site yoga.
Marbella Club Hotel, Marbella
It doesn't get much better than this luxury beachfront boutique resort on the Mediterranean. The historic property -- ideally located on Spain's Southern Coast -- boasts 35 guestrooms and 80 suites, fabulous restaurants (including a lovely terrace bar), a spa, nutrition and fitness retreat, 18-hole golf course, clay tennis courts, and a gorgeous beach club with heated seawater pool.
Primero Primera, Barcelona
Situated in a quiet corner amidst busy Barcelona, this boutique bed & breakfast has been lived-in and operated by the same family since the 1950s. Couples can expect warm, intimate staff, classic furnishings throughout, private patios, airy gardens and a cozy fireplace for lounging.
Gran Meliá Palacio de los Duques, Madrid
In the cultural heart of Madrid, alongside the Teatro Real Opera House and just a few minutes from the Royal Palace, this hotel is considered its own work of art. Classic decor remains from this original 19th century palace, while its hallways and rooms are designed as an homage to famous Spanish painter Diego Velázquez. Rooftop, the swimming pool, whirlpool and lounge area all offer sweeping panoramic views of the city and distant mountains. Back on the ground, its historic garden area is the largest in the city.
Casa del Poeta, Seville
Combine the service of a world-class hotel with the intimacy of a boutique property, mix in the glamour and decor of a courtyard palace, and you'll arrive at Casa del Poeta. In the heart of Seville's city center, this 17th century mansion oozes traditional charm and luxe. From its Sevillano-styled rooms, to the scattered fountains buried amongst the greenery of the terraces and its renowned nightly live-guitar performance on the patio, the Spanish honeymoon holiday scenes you've always envisioned await here.

In case you missed it:
Traveler's Joy Spain Honeymoon Destination Guide