Located in the extreme Southwest corner of Europe, Spain borders Portugal to its West, France to the Northeast, and the small peninsula of Gibraltar to its far South, which separates Europe and Africa. The Mediterranean Sea, Atlantic Ocean, and Bay of Biscay surround the rest of this storied nation's coast. Spain is comprised of over a dozen different districts (known as autonomous communities) which make for a country rich in both geographic and cultural diversity.
After breaking free from the oppressive, dictatorial rule of Francisco Franco in 1975, Spain has enjoyed a wave of democracy that translates to an artistic and expressive people, and an overall vibrancy felt all throughout the country. Sprawling beach towns, snowcapped mountains, ancient ruins and more await all across Spain, alongside its many progressive, metropolitan cities. Put together in a single package and seasoned with a world-renowned food scene, Spain is an attractive destination for all types of travelers.
Madrid is Spain's capital and largest city, and is conveniently located in the country's very center. Major highways, busses, trains, and the Barajas airport (MAD) connect the city to all corners of Spain, making it a great first stop, though its 21 districts and over 100 distinct neighborhoods have enough flavor to keep you here. Called home by 3,000,000 citizens – known locally as Madrileños (or, more casually as gatos, for cats) – the city is a great hub for exploring Spain's famed arts, from local cuisine and museums to cinema, dance and beyond. Midday siesta still pleasantly exists, with many businesses closing their doors in afternoon hours, which lends well to a great and late nightlife scene.
Barcelona is the ultra cosmopolitan, unofficial cultural capital of Spain, and has been coined "the city of marvels." Situated between the sea and mountains, along Spain's Northeastern Mediterranean coast, Barcelona is the largest city in the Catalonia district, which differentiates from the rest of Spain in its unique dialect and cultural differences. It's home to a major international airport in El Prat (BCN), and is built on a sufficient infrastructure since hosting the 1992 Olympic games. The energy persists here, with a party scene famed for its 24x7 offerings. Fabled architecture line the city's streets, while a drink on the beach is never too far away.
San Sebastian in Northern Spain is a popular resort town, known for its two big and beautiful beaches: Playa de la Concha and Playa de Ondarreta. Situated along the Bay of Biscay, only 12 miles from France, both of these beaches are lined with famous restaurants restaurants – enough to proclaim this resort area as the "greatest food city in the world," featuring 3 of Spain's Michelin-starred restaurants. San Sebastian's cobblestoned old town, Parte Vieja, hosts international jazz and film festivals and more, which helped earn this small coastal town the award for European Capital of Culture, behind its "Waves of Energy" slogan.
Granada is a mountainous province along Southern Spain, and boasts a serene natural landscape and medieval architecture dating back to the Moorish rule of Spain as far back as the 700s. Granada provides a perfect setting for adventurous travelers, eco-tourists and overall outdoor enthusiasts. The Sierra Nevada mountains – which make for a great backdrop all throughout the province – are Europe's most Southern ski resort. The best part? After hitting the slopes, a swim in the Mediterranean sea is only a short drive away.
The Spanish Islands are divided into two large chains – the Balearic Islands in the Mediterranean and the Canary Islands in the Atlantic – and manage to condense the mainland's combined offerings of culture, cuisine and activities while still offering their own distinctive flavor. Majorca (meaning "the larger one") is the largest of the picturesque Balearic Islands, while its sibling Ibiza has gained a massive following for a party scene fueled by electronic dance music along the beach. While the pace may be slower in the Canary Islands, their volcanic origins, miles of exotic beaches and shared subtropical year-round climate keep them a favorite amongst travelers.
Spain follows a largely Mediterranean climate, with hot and dry summers, relatively mild winters with bouts of rain and occasional snow. It can be enjoyed year-round depending on the main focus of your visit, but the large coastline, fantastic beaches and promise for hot and sunny days make the summer months of July and August busiest for tourism. Shoulder season (May/June & September/October) is a great time to enjoy most of Spain's offerings with fewer tourists and lower all-around rates, though you're not guaranteed a golden bronze suntan if that's what you're looking for. November-April can bring rain and is far from ideal beach weather, but still advantageous for fewer crowds, heavily discounted hotel rates in certain areas, local festivals and holiday celebrations, and general sightseeing out of the prime heat.
What to Do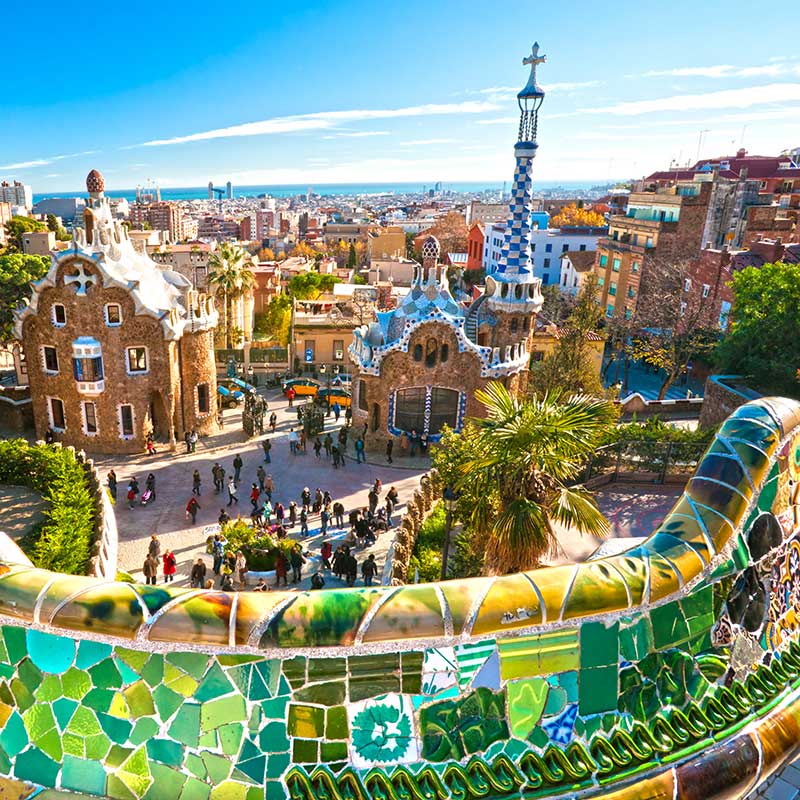 Eat Tapas - Tapas are technically appetizers or small snacks, but the true tapas experience in Spain is not to be missed. These mini meat, seafood, salad, and deep-fried goodies can be had at any local bar or restaurant, and the impromptu enjoyment of their many varietals is a main part of the fun. In Basque County, tapas are called pintxos, and are held to a high culinary standard (come here for the best!). Elsewhere, look for bustling crowds among scattered food scraps and napkins as a good sign for a solid tapas spot, and take supreme pleasure if the tapas plate of your dreams comes free with purchase of a drink.

Hike the Camino de Santiago - This 500-mile journey is the perfect place to find yourself, or really discover your new partner. Visited by over 2 million travelers each year, the Camino is considered Europe's prime thru-hike, the world's most popular long-distance trail, and is favorited for its relative ease and accessibility. Along the not-too-challenging route, you'll find restaurants, accommodation options (from $5/night huts to boutique hotels), and plenty of fresh water sources.

Flamenco - A truly authentic experience and possibly Spain's most celebrated art form, a flamenco show consists of four elements: guitar-playing, vocals, hand-clapping, and dancing, all in dramatic and vivid fashion. Professional flamenco performers tour the globe and can rightfully be caught throughout Spain for a grand production, while most cities will have local flamenco shows throughout town on any given night.

Visit Alhambra - Amongst the rolling hills of Granada, and with the Sierra Nevada mountains as a stunning backdrop, the Alhambra fortress is certainly not to be missed. A stunning example of historical architecture, this mighty Moorish palace once protected its citizens from invasions. Today, its scenic setting, intricate details, fountains, flowerbeds and newer annexes make for magnificent touring.

Experience Bullfighting - Certainly not for everybody, bullfighting in Spain has undeniably been a celebrated spectacle and important part of Spanish cultural history for centuries. A descendant of the Roman gladiator games, and rooted in bull worship from thousands of years ago, bullfighting season in Spain is from May-October, and shows are primarily held on Sundays. If watching isn't enough for you, join in the Running of the Bulls, part of the the annual San Fermin festival which floods the streets of Pamplona each July.

Stroll Seville - Stunning sunsets, charming central squares, sidewinding streets and beautiful buildings all about; there is romance around every corner in Seville. A walk through downtown is a must, but also consider a horse carriage ride through the Plaza de España, where your driver will stop for some unforgettable photo opportunities. Or, let the sights of Seville sink in by sailing down the Guadalquivir River. Reflect and relax afterward in the private thermal circuit room of Aire de Sevilla's Arabic Baths, complete with champagne and chocolates.
Where to Stay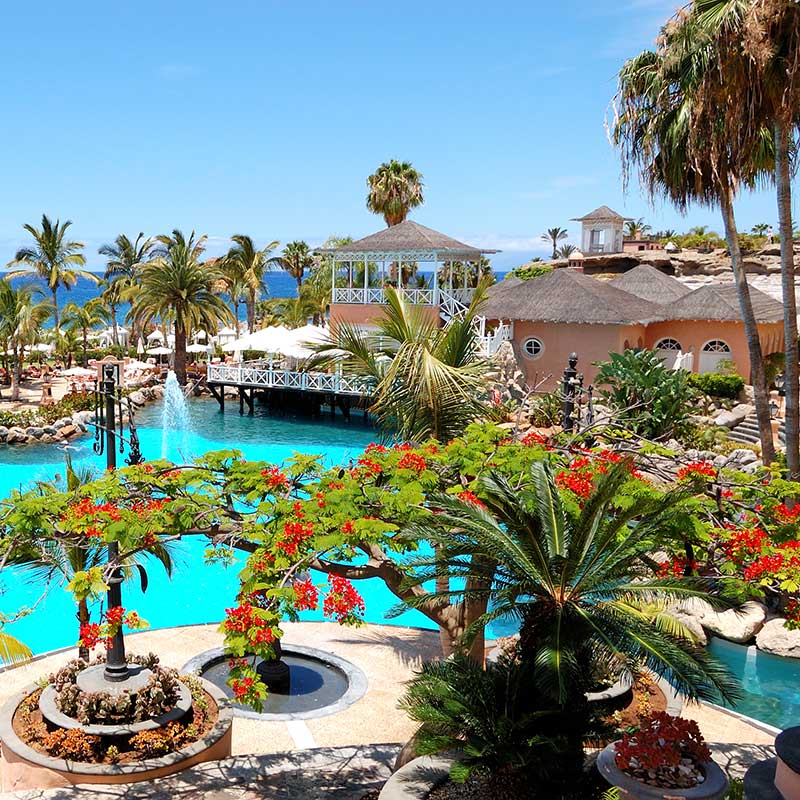 Where to Eat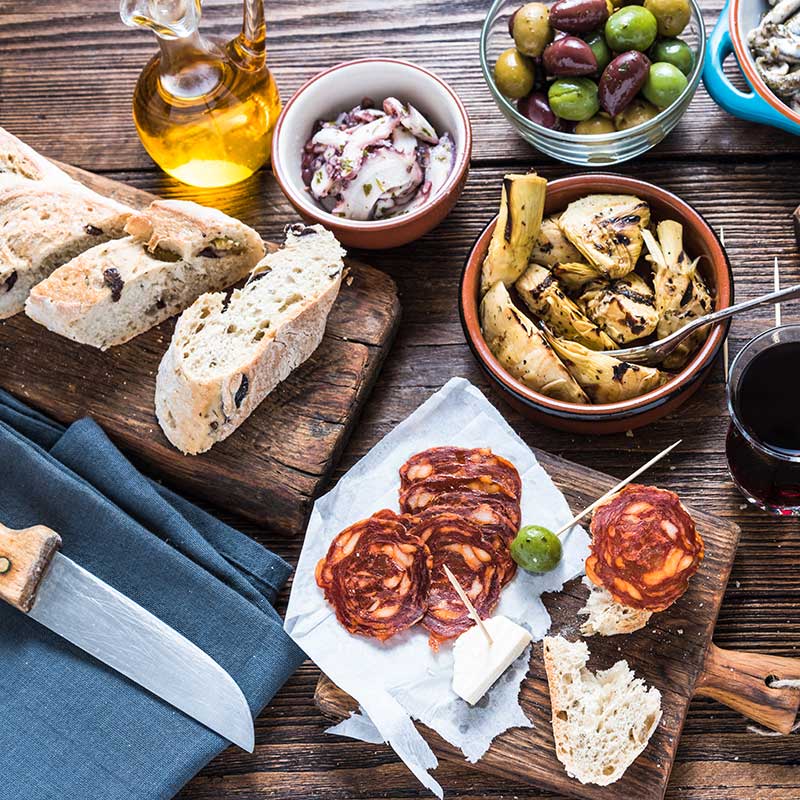 Getting There
The busiest and often cheapest airport to enter into Spain is Adolfo Suárez Madrid–Barajas (MAD), in Madrid. Barcelona's El Prat airport (BCN) comes in as a close second in terms of serviced countries, flight numbers and rates. Once in a main city, any number of trains can bring you all across the mainland quickly, utilizing Spain's national rail company Renfe.
The Balearic Islands mostly require a connecting flight to land in Ibiza (IBZ), Menorca (MAH), and Palma de Majorca (PMI), with more international options open during the summer months. Once on any of the islands, traveling to others in the same chain are easy and affordable via daily ferries.
Any of the the 7 Canary Islands also require a connecting European pitstop (such as Madrid, Barcelona or elsewhere) to be reached by plane. The largest airports and most frequent flights can be found on Gran Canary Airport (LPA) and Tenerife South Airport (TFS). Once on any of the Canary islands, ferry travel is an option (booking in advance will save you some money), but often times – given the sometimes-lengthy distance between islands – flying is the faster and more affordable option.