Courtesy of SLS Baha Mar
The tall, swaying palm trees. The wide, white-sand beaches. The fresh, locally caught cuisine. The cool-as-ice cocktails. A honeymoon in the Caribbean is filled with laid-back, time-slowing charms.
And with more than 7,000 islands--including 25 major island nations and territories--couples have a wealth of options from which to choose. Each island has its own identity and culture, but one thing that many of them share is unfortunate positioning within in Atlantic hurricane belt, making them subject to seasonal natural disasters from August through November.
At no time was this geographic misfortune more painfully apparent than this past year, when Hurricanes Irma and Maria caused catastrophic damage to islands like Puerto Rico, St. Barts, Dominica, the U.S. Virgin Islands, the British Virgin Islands, Barbuda, and St. Martin/St. Maarten.
Now, more than 100 days into recovery efforts, many islands have reopened for business (or are on their way to doing so), and couples should follow.
Not only does a honeymoon in the Caribbean still guarantee the requisite post-wedding sun and sand, but also the chance to help struggling islands fast-track recovery by fueling the local economy--not to mention lifting the spirits of the local people. Here's a list of our favorite Caribbean honeymoon destinations for 2018: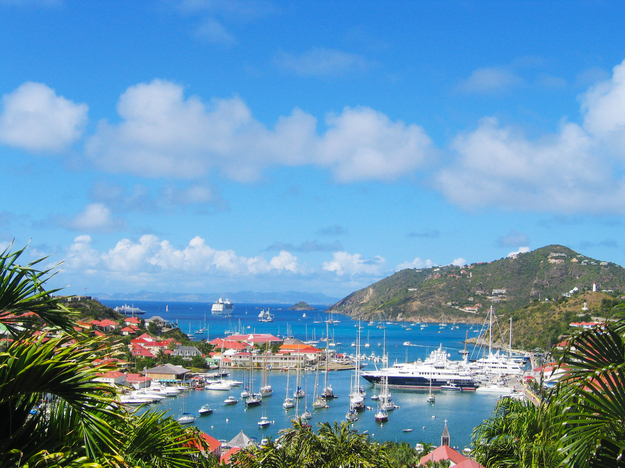 St. Barts
This slice of the South of France is one of the Caribbean's sexiest islands. Couples love renting a small jeep to scoot from Gouverneur Beach to Saline Beach, and browse local shops in Gustavia Harbour and St. Jean.
Though the island took a hit from Hurricane Maria, much of it has recovered and flight service has resumed. Post up at Tom Beach hotel, Hotel Christopher St. Barth (reopening at the end of February), Villa Marie Saint-Barth (reopening early March), or rent your own estate through Wimco Villas or St. Barth Properties.
Plan to explore the restaurants and shops of Gustavia and have a toes-in-the-sand lunch at Shellona, on Shell Beach--where you'll want to rosé all day.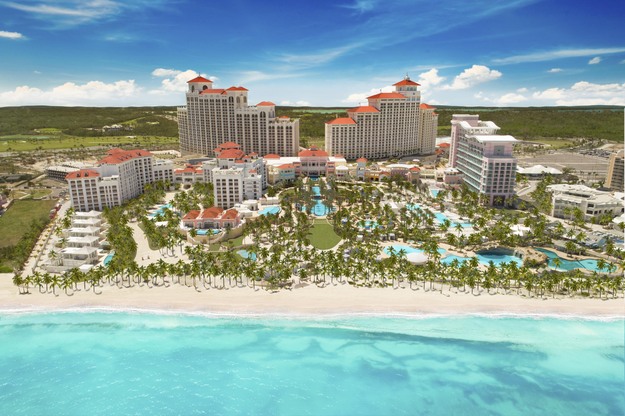 Courtesy of Baha Mar
The Bahamas
While Out Islands like Ragged, Acklins, and the Crooked Islands sustained hurricane damage, Nassau and Paradise Island remain the crown jewels of Bahamas tourism. That's even more true now that the $4.2 billion mega-resort Baha Mar is almost entirely open for business.
Couples can choose from three different resorts: the Grand Hyatt Baha Mar, the SLS Baha Mar, or the forthcoming Rosewood Baha Mar, all located within the 1,000-acre complex. Spend your days lounging by the Blue Hole pool, playing golf on the Jack Nicholas-designed course, paddling out into the Caribbean Sea on a clear-bottomed kayak, gambling at the Hyatt's on-site casino, and dining at more than 20 different restaurants. Our pick: Stay at the SLS to get priority reservations at Fi'lia by Michael Schwartz and Katsuya by Starck (order the off-menu crab rice).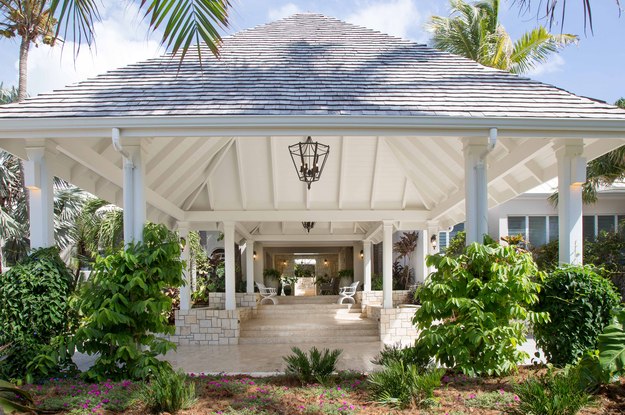 Courtesy of Curtain Bluff
Antigua
One of the Caribbean's best boutique all-inclusive resorts, Curtain Bluff, recently unveiled a $13 million renovation. Guest rooms and public spaces have new, fresh-and-airy decor, but the resort's beloved low-key charms can still be found everywhere, from the two beaches to the signature Tamarind Tree Restaurant.
If you're looking for private-island exclusivity, there's also Jumby Bay Island, a short boat ride from mainland Antigua. Each of the 40 rooms is secluded away among flora and fauna and just a few steps from the beach.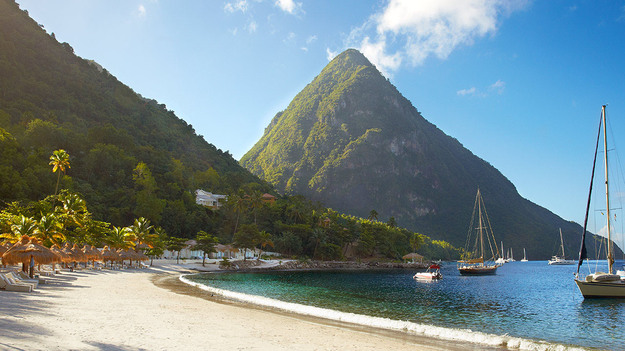 St. Lucia
The towering peaks of the Piton Mountains are one of the most breathtaking sites in all of the Caribbean. Couples can still stare up at the garden-green hillsides from their open-air suite at Jade Mountain, or while tucked away in secluded cove at the all-villa Sugar Beach, a Viceroy Resort. If you've got deep pockets, spring for one of the new beachfront residences, which have their own full-sized pool and private stretch of beach.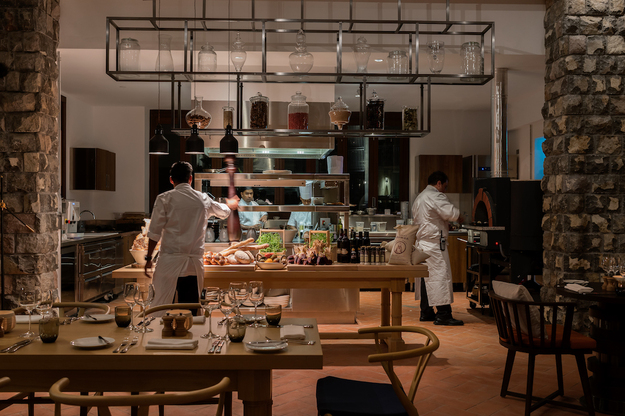 Courtesy of Park Hyatt St. Kitts
St. Kitts
The long-awaited Park Hyatt St. Kitts finally opened its doors late last year. The resort is set in Christophe Harbour, along the island's southeast peninsula, with views of volcanic Nevis in the distance. The 126 rooms and suites are bright and cheerful, the adults-only Stone Barn offers sea-to-table cuisine in a candlelit setting, and the Miraval Life in Balance Spa uses volcanic stone local salt, and black sand in its massage scrubs.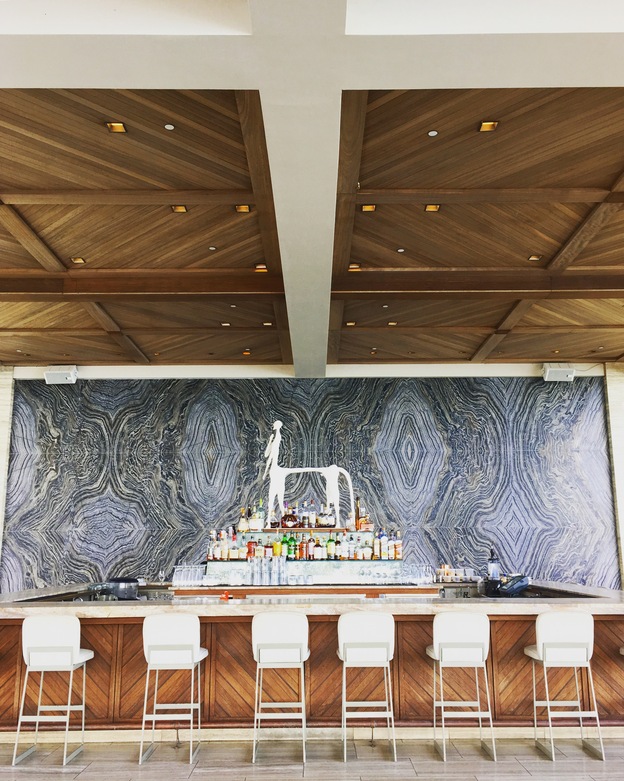 Courtesy of Katie James Watkinson
Anguilla
While ferry service from St. Martin was temporarily wiped out after Hurricane Maria, you can still reach Anguilla via its island neighbor or fly direct on Seaborne airlines. (Keep a lookout for future jet service as the airport's runway expands to accommodate 737s.) While some resorts, like Malliouhana, an Auberge Resort, unfortunately won't reopen until end of year, couples can still check into top hotels like Frangipani Beach Resort, Zemi Beach House Hotel & Spa (reopening next week), and the Four Seasons Resort and Residences Anguilla (reopening end of March). But don't expect to stay put at the hotel: Popular spots like Hibernia Restaurant reopened as early as November, you'll won't want to miss their French-Asian fusion in dishes like roasted lobster tail with lemongrass and black garlic sauce or pan-grilled Perigord duck breast with a honey-balsamic vinegar sauce.
Other Islands
Some of the hardest-hit islands have had a tough time rebuilding: According to the Puerto Rican government, only about half of the U.S. territory's nearly 1.5 million residents have power. Less than 20 percent of Barbuda residents who evacuated to sister island Antigua have reportedly returned. And 85 percent of locals on Dominica are still without electricity. Recovery efforts are underway; you can help by donating to local disaster relief programs (or large-scale relief efforts like those of the Red Cross).

In case you missed it:
Honeymoon Planning: Passport Tips You Need to Know
TripAdvisor Travelers' Choice Awards Will Help You Find the Perfect Honeymoon Hotel