Will you be traveling abroad for the first time for your upcoming honeymoon? If so, you'll need a U.S. passport in order to travel by air, sea, or land. Here's everything you need to know when it comes to getting a passport for the first time.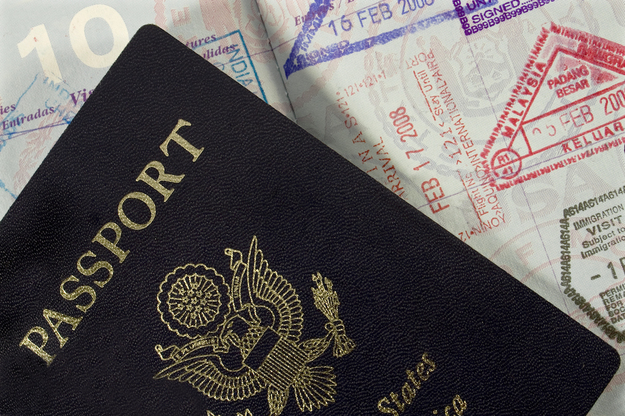 1) For starters, you'll need to fill out Form-DS11. This is the official application for a U.S. passport for first-time applicants.
Once completed, you'll need to take the form (along with the documents listed below) and apply in person at an acceptance facility. This site will help you find the nearest passport acceptance facility. You can even schedule an appointment with the U.S. Postal Service.
2) Next you'll need to collect key documents. These typically include A) evidence of citizenship AND B) Identification.
3) Meanwhile, you'll need to provide a color passport photo that's 2" by 2" in size. Note there's a lengthy list of photo requirements, so we highly recommend getting this completed at any of the following facilities: Shipping center (FedEx and UPS both offer passport services), pharmacy or retail store (such as Walgreens, CVS, and Walmart), and passport acceptance facility.
4) You'll also need to bring a passport fee. For first-time applicants, it's typically $110 for a passport book, plus an execution fee of $25.
Try out this handy fee calculator to help you determine the exact amount of your passport fee.
5) Last but not least, you'll need to officially submit the form at the passport acceptance facility. Just be sure to leave yourself ample time to get a passport! The entire process can take up to 6 weeks.
Worried about your upcoming name change? Don't fret, if you apply for a new passport in your maiden name to travel for your honeymoon, you have 12 months from your wedding date to file for a free passport in your new name. That said, it's always a good idea to book your honeymoon travel using your maiden name.
Got any additional travel questions? Send an e-mail to blog@travelersjoy.com.

In case you missed it:
Traveler's Joy Honored for Excellence by The Knot and WeddingWire in 2018