If you've yet to book your honeymoon, good news: Today, hotel winners were announced for the annual TripAdvisor Travelers' Choice awards.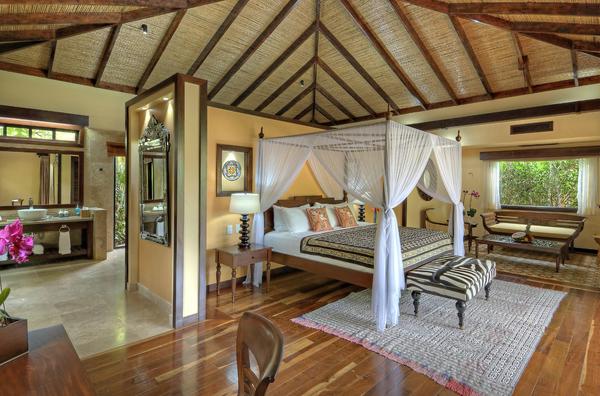 Image courtesy of Nayara Springs
Now in its 16th year, the awards recognize 8,095 hotels and resorts in 94 countries; winners were determined based on millions of reviews posted throughout the year by TripAdvisor's worldwide audience. The hotels are grouped into individual categories, which include: Top Hotels Overall, Luxury, Bargain, Small, Best Service, B&Bs and Inns, Romance, Family, and All-Inclusive, plus a new "Value for Money" category.
Honeymooners will naturally want to seek out the Top Romance Hotels category, which is broken out into two different lists, domestic (the U.S.) and worldwide (the U.S. and abroad). Whereas domestic hotel locations are more or less the usual suspects -- California, Hawaii, Colorado -- the worldwide list provided ideas for some interesting honeymoon locales.
Santorini and Paris are classics for good reason, but Perrysburg, Ohio? Montville, Australia? These "wild cards" may make you do a double-take, but the TripAdvisor Travelers' Choice Awards take into account millions of reviews, so it's worth considering what otherwise might have been an overlooked destination.
Whether you're looking for great value in a popular honeymoon destination or a luxurious splurge on a secluded island, the results of the TripAdvisor Travelers' Choice Awards will inform and inspire. Take a look at the top 20 most romantic hotels and resorts in the world and decide where your honeymoon will take you.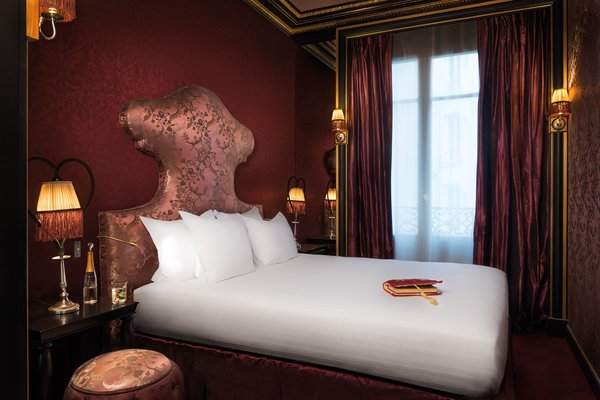 Image courtesy of Maison Souquet
1. Maison Souquet, Paris, France
This 20-room boutique hotel in buzzing Montemarte is one of Paris's best-kept secrets. In fact, secrets are the origin of the hotel, which is located in what was once a 19th-century pleasure house. Sexy vibes extend throughout, thanks to the deft hand of renowned interior designer Jacques Garcia. Take in the Belle Époque architecture before going for a steam and couples massage at the intimate spa.
2. Nayara Springs, La Fortuna de San Carlos, Costa Rica
Arenal Volcanoes National Park is the crown jewel of the Costa Rican jungle. And this adults-only resort in the heart of the rainforest is its most luxurious retreat. Rooms are hidden among dense foliage and bounded by underground mineral thermal springs, where you can go for a relaxing side-by-side soak.
3. Lani's Suites de Luxe, Canary Islands, Spain
The pristine beaches, azure waters, and easy access from mainland Spain make Lanzarote an ideal final leg of any European honeymoon. This 25-suite resort is set on one of the island's prettiest stretches of sand. The Chopard bath amenities and complimentary half-bottle of Blanc de Blancs Cava upon arrival don't hurt either.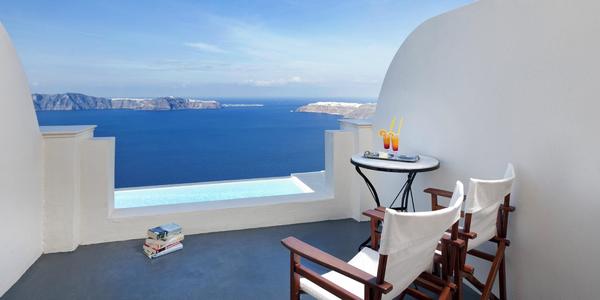 Image courtesy of Anastasis Apartments
4. Anastasis Apartments, Santorini, Greece
Whitewashed walls, bright blue shutters, towering coastlines--the allure of Santorini is a known quantity. As is this top resort, located the outskirts of the quiet village of Imerovigli with panoramic infinity pools overlooking the Mediterranean sea.
5. Tavistock House Hotel, Tavistock, UK
Every room at the Tavistock has its own unique design. That's because the townhouse hotel was the private home of the Duke of Bedford during the 1800s. The B&B-style property is only 30 minutes by car from Plymouth, making it a great jumping-off point from which to explore the English countryside of Devon and Cornwall.
6. Belamere Suites, Perrysburg, Ohio
Perrysburg, Ohio, might not sound like the sexiest honeymoon destination around, but this all-suite boutique hideout (rooms come with their own Jacuzzi) offers an upscale escape for midwestern honeymooners.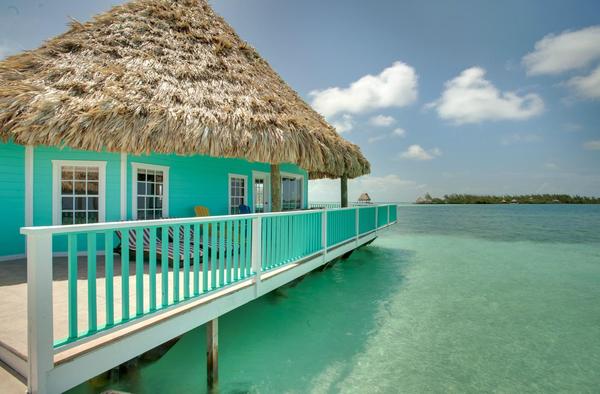 Image courtesy of Coco Plum Island Resort
7. Coco Plum Island Resort, Coco Plum Cay, Belize
Not only is Belize an unsung honeymoon destination, it's also one of the most affordable. Especially when you consider that you can dive the world's second-largest barrier reef and eat fresh catch of the day at a chic, thatched-roof resort like this one for a fraction of the price of a Caribbean resort.
8. Riad Kheirredine, Marrakech, Morocco
Insta adventures abound in Marrakech, one of North Africa's most romantic countries. Case in point: the copied a thousand times breakfast-in-a-riad-pool photo made famous by Lauren Bullen a.k.a. @gypsealust. Create your own 'Gram-worthy moments during a stay at this boutique hotel in the heart of the Medina.
9. The Old Rectory Hotel, Martinhoe, UK
Honeymoons are about rest, relaxation, and all around decompression after a whirlwind year of planning. A stay at this secluded nature retreat, surrounded by the jaw-dropping scenery of England's Exmoor National Park, will do just that.
10. The Falls Montville, Australia
Verdant rainforests, sweeping waterfalls, peaceful walking trails--the natural landscapes that surround this Queensland lodge-style retreat will give couples a much-needed digital detox.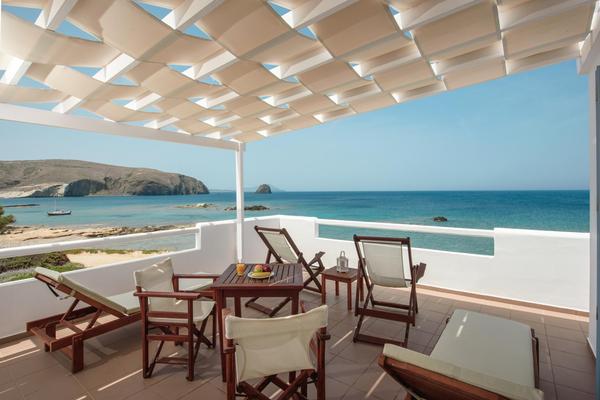 Image courtesy of Tania Milos
11. Tania Milos, Greece
Less-traveled Milos is filled with Grecian charms: Small fishing villages, quiet beaches, mom-and-pop restaurants serving fresh Mediterranean seafood. You'll experience it all at this whitewashed, beachfront retreat.
12. The Place Luxury Boutique Villas, Koh Tao, Thailand
It's the little things that make The Place "the place": hilltop views, jungle surrounds, spacious outdoor showers, private plunge pools... Do we need to keep going?
13. Baros Maldives, Baros Island
The Indian Ocean is filled with many an island paradise, but the Maldives trumps them all. At this private-island resort, you need only jump from the platform of your overwater villa in order to snorkel richly hued coral reefs teeming with marine life (including the occasional shark!).
14. Hotel Prinsenhof Bruges, Belgium
Whether or not you've seen the film In Bruges, any couple can appreciate the charms of a canal-filled northern European city. This historic hotel, located in the center of Bruges, is just minutes away from the Belfry, the historic Town Hall, and the grandiose cathedral.
15. Villa Afrikana Guest Suites, Knysna, South Africa
Situated in the heart of the Garden Route, Villa Afrikana is a contemporary, family-owned guesthouse perched above the small town of Knysna. It's the perfect (affordable) follow-up to a South African safari or stop along your Western Cape honeymoon trek.
16. Brookside Inn Boutique Hotel, Abbotsford, Canada
This boutique property is owned and operated by a husband-and-wife duo who will literally make it their mission to ensure you have an unforgettable honeymoon. Their job isn't hard, though, considering the natural beauty of the surrounding Fraser Valley.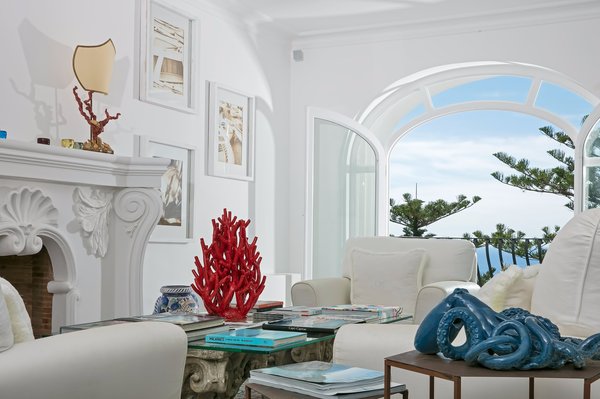 Image courtesy of La Minerva
17. La Minerva, Capri, Italy
The allure of the Amalfi Coast is undeniable; just ask the thousands of honeymooners who travel here each year. Relax poolside at this 19-room retreat in the center of Capri town. Or, make a day of it at the super chic La Fontelina beach club before heading out for a traditional trattoria dinner.
18. Bucuti & Tara Beach Resort, Aruba
Thankfully, Aruba sits outside the Atlantic hurricane belt, meaning it was spared from the devastation of last year's Hurricanes Irma and Maria. This adults-only oasis on picturesque Eagle Beach is what you dream about when you close your eyes and think "Caribbean honeymoon."
19. Kandolhu Maldives, North Ari Atoll
When your seaplane touches down on the aqua waters that surround this private-island resort, you'll think you've died and gone to Heaven. (One can only hope Heaven looks like the Maldives.) But you'll actually die when you check into your airy overwater villa, one of just 30 at the resort.
20. Layana Resort and Spa, Koh Lanta, Thailand
As you watch the sun set over the Andaman Sea at this 57-room resort, you'll think to yourselves, "This is the stuff that honeymoons are made of." And you'll be right.

In case you missed it:
5 of the World's Coolest Ice Hotels (And How They'll Heat Up Your Honeymoon)