Don't let winter weather keep your honeymoon plans on ice. Plenty of cold weather destinations are warming up to the idea of embracing what nature gave them to bring in a more adventurous newlywed crowd.
For these arctic hotels, that means ice, ice, baby - on the couch, on the bar, on the table and on the floor. Part art installment and part hotel experiment, check into any of these ice hotels to check off a completely unique bucket list experience.
Keep your partner close - body heat is, after all, an ultimate conductor.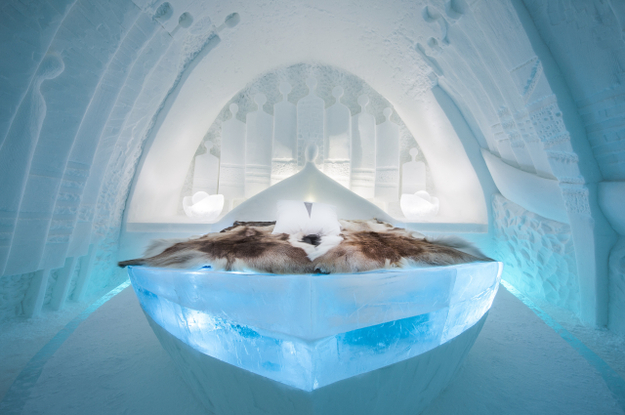 Hotel Kakslauttanen (Finland)
The winter wonderland of your dreams exists, and it's right here in this Finnish arctic resort. Reindeer-drawn sled rides and Aurora Borealis "hunts" are some of the highlight activities that this resort offers. Ice sculptures line a rotating art gallery, and a night in one of the literal ice cold snow igloos (complete with reindeer-hide mattress linings and down sleeping bags) is a must!
Heat Check: Though we wholeheartedly recommend embracing eskimo culture by spending a night in a snow igloo, follow up the rest of your stay in one of the kilo-glass igloos. These "hot" accommodations feature their own sauna, fireplace, and frost-proof, glass-roofed dome bedroom; the perfect place to watch the Northern Lights roll by.
Kirkenes Snowhotel (Norway)
Hundreds of resident huskies and reindeer await your arrival in the secluded, snowy wild of Northern Norway. Here, the Kirkenes Snowhotel has everything you need for a perfect getaway; all they ask is that you bring an Arctic sense of adventure. Gourmet meals, snowshoe excursions, cross-country skiing, King Crab safari and plenty more await. When it comes time to turn in, be sure to hit the sauna so you stay toasty through the night.
Heat Check: Transfer from the cold of your ice room into the warmth of a local Northern Norwegian's living room, with Kirkenes' Homevisit program. The hotel pairs you with a local couple and arranges a visit for coffee, tea, snacks, and fireside chats - a unique glimpse into the Nordic lifestyle!
Hotel of Ice (Romania)
For thrill-seeking, explore-every-corner type couples that won't mind missing out on a warm welcome, venture up Transylvania's Fagaras mountains to the Balea Ice Hotel. A seclusive and serene paradise (with friendly staff to boot), accessible only via cable car, this entire facility of ice is (re)built every winter by locals with a new theme throughout the common areas and guest rooms.
Heat Check: If a white wedding or having your vows renewed in the on-site Ice Church doesn't ignite you, then grab a lambswool-lined seat at the Ice Restaurant for some mulled wine and hot and hearty Romanian dishes.
Sorrisniva Igloo Hotel (Norway)
One of the world's first ice hotels and still its northernmost, Sorrisniva Igloo Hotel has expanded to 30 rooms and suites. Everything inside this giant igloo hotel, down to the drinking glass at its ice bar, is made of ice - 250 tons of it to be exact. Take advantage of the in-house snowmobile safari excursions for some impressive panoramic mountain views, and don't shy away from dog sledding, ice fishing, or any of the hotel's available Nordic adventures!
Heat Check: Head for a morning sauna session after your night spent snoozing on the ice. Loosen your body here before enjoying the hot coffee and fresh waffles at breakfast served in the adjacent, and non-ice main house.
ICEHOTEL (Sweden)
This Swedish sub-zero palace is undoubtedly the world's most famous ice hotel, and now the only accommodation offering year-round ice lodgings with its ICEHOTEL365 concept. Ice sourced from the nearby river Torne makes up the accommodation, which is kept cool and intact via solar-powered refrigeration units. Guided ice sculpture tours, a ski-in/ski-out setting, and basking in the Midnight Sun (all-day daylight in the summer months) are some of the on-site options.
Heat Check: The hotel's ICEBAR provides parkas and gloves to warm its patrons, but we still recommend ordering the specialty Hydropower cocktail. Infused with tabasco, this one will for sure keep you warm while you chill in the lounge.

In case you missed it:
5 Favorite Cold Weather Honeymoon Destinations
Photo by Asaf Kliger, Courtesy of Ice Hotel, www.icehotel.com