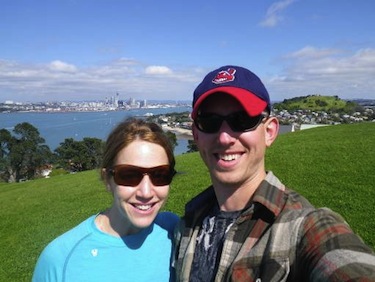 Congratulations to Stacey and Shane, winners of this year's Traveler's Joy Honeymoon Story Contest. The newlyweds -- who recently traveled to New Zealand for their honeymoon -- have won a free first anniversary trip. You can check out their amazing registry page right here.
Thanks to everyone who shared their honeymoon stories -- we received over 500 submissions! Meanwhile, stay tuned throughout the year as we'll post the Top 30 stories in the coming months.
Read below for a few highlights from their extraordinary trip!
Our honeymoon story winners commenced their once-in-a-lifetime trip in Auckland and explored the North Island while combating jet lag. They also had to quickly figure out how to drive a stick shift on the left side of the road. After only one stop, Shane said, "I've counted seven times now that I've turned on the wipers instead of the blinker as I intended."
The newlyweds also made it down to the South Island for scenic drives, whitewater rafting, ziplining in the rain, helicopter excursions, backcountry hikes, and sea kayaking in Milford Sound.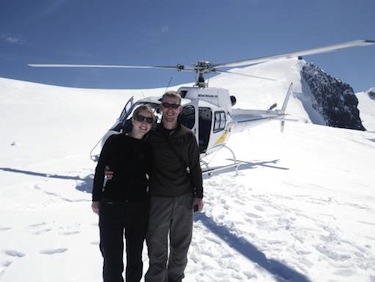 Said Stacey, "Moving down the island, we were able to mark off several things from Shane's 'bucket list'. First, we made our very own hand-crafted knives before swinging on a 20-foot swing. The blades came out quite nicely, but the true experience was spending a day with an amazing couple in Barrytown who shared their craft and their daily life with us. Just hearing about all the different people they've met while teaching them to make knives was as exciting as forging a blade in the kiln!
"As for the porch swing, well, this is New Zealand and they don't do swings the same way we do. This giant swing hangs from 20-foot telephone poles and you're propelled as your fellow knife-makers haul you backwards until you're almost parallel to the ground at 15 feet up. Then they just let you go. What a rush!"
Check out Stacey and Shane's honeymoon video below featuring their top experiences and activities while exploring New Zealand.