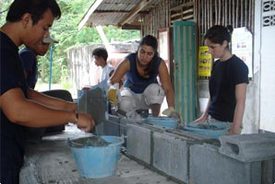 Whether it's clearing trails in a national park or building homes in a developing nation, a volunteer honeymoon enables newlyweds to travel the world while giving back to individuals and organizations in need. Check out these five unique volunteer honeymoon ideas that make a difference and create lifelong memories along the way.
Build a School
By building a school in a developing country, you can change the lives of children, families, and an entire community. For instance through Globe Aware's Vietnam Program, you'll create playgrounds, refurbish buildings, build schools, and help raise the standards of living throughout rural Vietnam. Similar opportunities abound, including Honduras, Belize, Kenya, and Tanzania, just to name a few. Meanwhile, just about anyone can volunteer as many programs don't require previous building experience.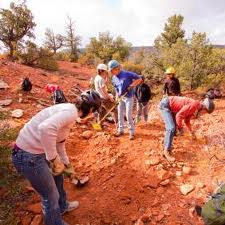 Preserve Hiking Trails
It's no secret that it's a constant battle to maintain hiking trails, especially when you consider the effects of erosion, overgrowth, falling trees, flooding, and wildfires. As a trail volunteer, you'll get to connect with nature, support environmental protection, and preserve a legacy for future generations to enjoy.
Look towards the Adirondack Mountain Club, Sierra Club, and American Hiking Association for exciting projects, which can range from a day to a few months. Opportunities currently exist in national parks, state parks, and wilderness preserves all across the U.S. Trail preservation is also one of the most affordable volunteer honeymoon options out there.
Help Endangered Animals
From elephants to turtles to snow leopards, there are currently more than 1,000 endangered animal species around the world. With those staggering numbers in mind, many global conservation centers currently need support from volunteers when it comes to research, rescue, and rehabilitation of these animals. Examples may include monitoring nesting, feeding, providing tours for visitors, working with school children, and conducting research.
In Costa Rica through "i-to-i", you can help monitor turtle nesting areas, record key data, and clear beaches to assist with nesting. You'll spend your days on the sand and get to sample local food, all while helping to preserve this amazing endangered species. Also, check out Hawaii Wildlife Fund and Biosphere Expeditions for more terrific hands-on experiences.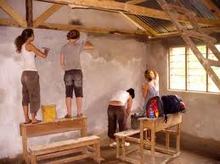 Construct a Home Through Habitat for Humanity
After connecting with Habitat for Humanity, you'll get to construct houses for the homeless and poor, and in the process, help build people's lives. In addition to many opportunities right here in the U.S., the Global Village volunteer program takes volunteers to exciting places where they'll work with others in an effort to build affordable homes for those in need. Common opportunities include house construction, renovations, and disaster relief.
Organic Farming
Organic farming is a type of sustainable agriculture where no synthetic pesticides or harmful fertilizers are used. It's also a key to help fight world hunger, maintain safe water supplies, and prevent pesticide contamination.
For a one-of-a-kind volunteer honeymoon experience centering around organic farming, check out Help Exchange, an online listing of host organic farms, farmstays, ranches and B&Bs. These providers all invite volunteers to stay and work with them on a short-term basis in exchange for food and accommodations.