From romantic comedies to psychological thrillers, Hollywood has produced dozens of memorable honeymoon-themed movies throughout the years. Whether you're looking for a good laugh, a post-work diversion, or a break from the stresses of wedding planning, these seven honeymoon-themed films will provide all of the above.
Many of these honeymoon-themed movies are set in idyllic locations around the world, from Hawaii to Los Cabos, New York City to Venice. So fire up Netflix, Hulu, or Amazon Prime Video for a night of major honeymoon inspo. Watching one of these flicks will not only get you psyched for your own post-nuptial getaway, but also provide ideas for the kind of experience you're after. But a word to the wise: Not all honeymoons come with Hollywood-manufactured drama, so don't take any film too literally when the time comes to pick your dream destination.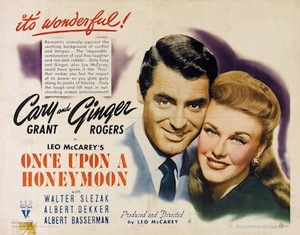 Once Upon a Honeymoon
Year: 1942
Starring: Cary Grant and Ginger Rogers.
Plot Summary: In this classic WWII love story, Grant stars as radio reporter Pat O'Toole, sent to Europe to investigate Austrian Baron Van Luber, an engaged man suspected of having Nazi ties. Van Luber marries his betrothed, Katie O'Hara (Rogers), an American burlesque performer masquerading as American socialite "Katherine Butt-Smith." Pat follows Van Luber and Katie around Europe, eventually falling in love with the new bride. Pat convinces Katie to counterspy on Van Luber in order to discover his role in the Nazi scheme. Van Luber's involvement is eventually exposed, and Pat and Katie literally sail off into the sunset aboard a ship bound for America.
Honeymoon in Vegas
Year: 1992
Starring: Nicholas Cage, James Caan, and Sarah Jessica Parker.
Plot Summary: Longtime couple Betsy (Parker) and Jack (Cage) head to Las Vegas to finally tie the knot. But before they can can say "I do," a wealthy professional gambler, Tommy Korman (Caan), arranges a rigged poker game in which Jack loses $65,000. When the game concludes, Tommy offers to waive the debt in exchange for a weekend with Betsy. Jack and Betsy agree (provided things with Tommy remain G-rated), and so Tommy whisks Betsy off to his vacation home in Hawaii. Jack, unable to leave the two alone, follows along, and, as expected, becomes jealous, pursues Betsy, and encounters numerous roadblocks in the pursuit of his love.
The Heartbreak Kid
Year: 2007
Starring: Ben Stiller, Malin Akerman, and Michelle Monaghan.
Plot Summary: After meeting on the street when Lila's (Akerman) purse is stolen--and unsuccessfully retrieved by sporting goods store owner Eddie (Stiller)--the two fall hard for one another and soon wed. They jet off the Los Cabos for their honeymoon, a few days into which Eddie realizes how poorly matched he and his new wife really are.
At the resort (which was filmed at Esperanza, in Cabo San Lucas, Mexico), he meets Miranda (Monaghan), a Mississippi gal who is on vacation with her family. As Lila is stuck indoors with a second-degree sunburn, Eddie spends most of his honeymoon with Miranda. The two quickly fall for one another, except when the women find out about one another, the situation backfires on Eddie. The epic predicament that follows leaves Eddie abandoned and alone in Mexico. After unsuccessfully chasing down Miranda in her Mississippi hometown, Eddie relocates to Mexico but is eventually reunited with true match.
Just Married
Year: 2003
Starring: Ashton Kutcher and Brittany Murphy.
Plot Summary: This romantic comedy tells the story of an infatuated couple, working-class Tom Leezak and upper-class Sarah McNerney. Despite reservations from the bride's family about Tom's background, the couple marries and then head to Venice, Italy for their honeymoon. But the trip quickly spins out of control when the Sarah's parents send her ex-boyfriend to win her back and thereby ruin the young marriage.
A Perfect Getaway
Year: 2009
Starring: Steve Zahn, Timothy Olyphant, Milla Jovovich, and Chris Hemsworth.
Plot Summary: This adventure thriller revolves around a pair of American newlyweds who decide to spend their honeymoon hiking to a remote beach in Hawaii. Along the way, they are joined by another young couple, leading to disastrous consequences.
The Twilight Saga: Breaking Dawn - Part 1
Year: 2011
Starring: Kristen Stewart, Robert Pattinson, and Taylor Lautner.
Plot Summary: The penultimate film of the Twilight series picks up just after the nuptials of human-werewolf lovers Bella Swan (Stewart) and Edward Cullen (Pattinson). For their honeymoon, the couple travels to Rio de Janeiro and then a private island, called Isle Esme, off the coast of Brazil. But while there, a chain of events soon impacts their lives forever.
Haunted Honeymoon
Year: 1986
Starring: Gilda Radner and Gene Wilder.
Plot Summary: This comedy centers around two "Manhattan Mystery Theater" radio stars, Larry Abbott (Wilder) and Vickie Pearle (Radner), who decide to get married. Soon after his proposal, however, Larry develops a speech impediment, putting his job at risk. Larry's uncle suggests treating him with a form of shock therapy and decides to do so at their wedding, set to take place in the castle-like mansion where Larry grew up in upstate New York. But something more sinister develops at the Abbot Estate, and soon the couple finds themselves in a real-life mystery, just like their radio show.

In case you missed it:
The Ultimate Honeymoon Playlist
Editor's Note: Updated copy by Katie James Watkinson, April 2019