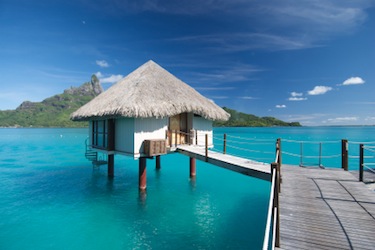 Complete with dramatic scenery, a unique location, luxurious resorts, and a plethora of thrilling activities, it's easy to see why Bora Bora ranks as one of the world's most romantic honeymoon destinations.
Even the simplest activities exude romance on this magical French Polynesian island. Imagine opening the doors of your over-water bungalow each day to views of towering mountains, crystal clear waters of a tropical lagoon, and swaying palm trees set over white-sand beaches. Next, you and your significant other climb down a ladder into your own private plunge pool with cocktails in hand just as the sun sets over Mount Otemanu. Talk about paradise on earth...
Meanwhile, with first-rate restaurants boasting picturesque views and incredible ambiance, newlyweds can experience a number of enchanting meals that will be remembered forever.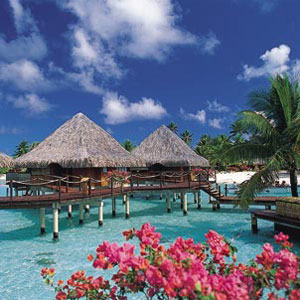 With just five tables, one waiter, one chef, and fantastic French cuisine, La Villa Mahana is truly a special culinary experience. At Kaina Hut, one of Bora Bora's most highly regarded restaurants, sink your feet in the sand and enjoy a French twist on the catch of the day -- all under candlelight.
From private sunset lagoon tours to horseback riding on the beach, Bora Bora also offers a number of romantic activities unrivaled anywhere else. At the Four Seasons Resort Bora Bora, couples can embark on a "Lagoon and Motu Discovery Cruise" around the island. Aboard a luxury catamaran, guests take a three-hour tour of the island complete with snorkeling stops and a barbeque lunch on a deserted island. Or simply walk hand-in-hand along a secluded section of Matira Beach, arguably Bora Bora's most beautiful strip of sand.
Been to Bora Bora recently? Tell us on Facebook about your most romantic experience on the island and why you'll remember it forever.
Going there soon for your honeymoon? Let us know what you're looking forward to most on your upcoming trip.
This week's feature is part of an ongoing series that focuses on the world's most romantic honeymoon destinations. Stay tuned for more destinations in the coming weeks.