Your honeymoon is the perfect time to experience a new country or destination with the love of your life. But while on your once-in-a-lifetime trip, it's also important to set aside some time to rejuvenate the body and mind.
For those couples embarking on their honeymoon this year, consider booking at one of these world-renowned spas -- all located in top honeymoon locations around the globe. With hot springs, ocean views, open-air bungalows, tropical gardens, and steam caves among the options, these are five spectacular spas you certainly won't want to miss.
Four Seasons Resort Hualalai -- Big Island, Hawaii
Situated in a remote area of the Kailua-Kona region on the Big Island, the Four Seasons Hualalai Spa truly stands out for its tranquil Hawaiian atmosphere. Kick back and relax inside tropical gardens before making your way to the lap pool, whirlpools, saunas, steam rooms, and cold plunge pools. Treatments can even be enjoyed outdoors within your own hale, or private hut. Then, pick from more than 20 local ingredients to use for your treatments, whether it be Hawaiian seat salt or crushed macadamia nuts.
Consider Hualalia's signature "Mahuaola" treatment, which includes native ingredients and a detoxifying scrub. Take care of those knots by choosing from a wide variety of massage options, from deep tissue to Reiki and even Lomi Lomi, which is a traditional Hawaiian technique.
Esperanza, an Auberge Resort -- Los Cabos, Mexico
This award-winning spa is set on the very tip of the Baja Peninsula and overlooks the warm blue waters of the Pacific Ocean and Sea of Cortez. The Esperanza Spa is a stunning facility and features 14 treatment rooms plus a couples' suite, an outdoor shower, a large soaking pool, and private sunbathing area.
Before your appointment, enjoy Esperanza's signature water experience called "Pasaje de Agua." This unique water therapy uses a combination of hot and cold waters plus steam to purify the body. Meanwhile, guests will also find a warm-spring soaking pool, steam caves, and a cool waterfall rinse. A number of couples' treatments are available in the private suite as well, many even offering native healing agents found in the Baja Region.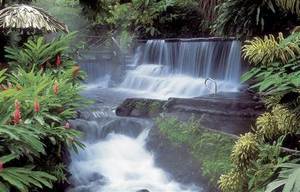 Grand Spa at Tabacon -- Tabacon Grand Spa Thermal Resort, Costa Rica
Located at the base of an active volcano, the Grand Spa at Tabacon aims at completely immersing guests within nature for their spa experience. This remarkable facility features charming bungalows set within colorful gardens -- all with the backdrop of hot springs and a tropical rain forest. Each private bungalow features an open-air Jacuzzi that even draws water from the nearby thermal springs.
For a unique treatment, sign up for the "Temazcal" experience, a traditional purifying ritual that's often performed in a sweat lodge. Another invigorating option is the Volcanic Mud Wrap, which uses mineral-rich clay from Costa Rica and helps the skin feel restored and healthy.
Sanctuary Spa -- The Sanctuary at Kiawah Island, South Carolina
Annually rated as one of the top spas in the United States, The Sanctuary Spa features an ambiance akin to a southern garden or backporch, complete with trickling water, relaxation rooms, lunge pools with whirlpools, plus steam rooms and saunas.
Guests can also choose from a number of spa medleys, such as yoga sessions followed up by a revitalizing Thai massage. Meanwhile, take advantage of the Sanctuary's wellness lifestyle coach, who will provide helpful lifestyle tips to increase energy and eliminate stress.
Fern Tree, A RockResorts Spa -- Half Moon, Jamaica
Let the soothing sounds of the Caribbean lull you into relaxation at Fern Tree, one of the Caribbean's top all-around spas. This spacious indoor/outdoor facility is set within lush gardens, where guests can enjoy the comforts of their very own private garden terrace.
Couples also have the option to reserve overwater spa bungalows that sit atop the smooth blue waters. All the while, Fern Tree packs in the amenities with its relaxation lounge, sauna, steam rooms, yoga pavilion, spa library, spa café, and meditation labyrinth.
Photos Courtesy of Four Seasons Hotels & Resorts and Tabacon Grand Spa Thermal Resort