The Ultimate Honeymoon Playlist
A distinctive music playlist will really enhance those unforgettable moments on your upcoming honeymoon. Check out our 2012 ultimate honeymoon playlist featuring a diverse set of must add tunes with your once-in-a-lifetime trip in mind.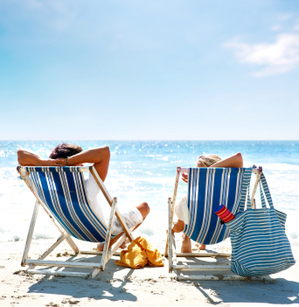 "The Girl From Ipanema"
By Joao Gilberto, Stan Getz, and Astrud Gilberto
"When she walks she's like a samba that swings so cool and sways so gently."



"Better Together"
By Jack Johnson
"Yeah, it's always better when we're together..."
"Holiday"
By Weezer
"Let's go away for a while, you and I, to a strange and distant land...
Holiday, far away, to stay
On a holiday, far away
Let's go today
In a heartbeat."
"You and Me"
By The Dave Matthews Band
"Wanna pack your bags, something small
Take what you need and we disappear
Without a trace we'll be gone, gone
The moon and the stars can follow the car
And then when we get to the ocean
We gonna take a boat to the end of the world
All the way to the end of the world
You and me together, we could do anything, baby
You and me together, yes, yes."
"Kokomo"
By The Beach Boys
"Bodies in the sand
Tropical drink melting in your hand
We'll be falling in love
To the rhythm of a steel drum band
Down in Kokomo."
"On the Road Again"
By Willie Nelson
"And I can't wait to get on the road again.
On the road again.
Goin' places that I've never been.
Seein' things that I may never see again."
"Soul Meets Body"
By Death Cab for Cutie
"I want to live where soul meets body.
And let the sun wrap its arms around me.
And bathe my skin in water cool and cleansing.
And feel, feel what its like to be new.
Cause in my head there's a greyhound station.
Where I send my thoughts to far off destinations."
"Road Trippin'"
By The Red Hot Chili Peppers
"It's time to leave this town, it's time to steal away. Let's go get lost, anywhere in the USA."
"Ramblin' Man"
By The Allman Brothers Band
"Lord, I was born a ramblin' man..."
"Life Is a Highway"
By Tom Cochrane
"Life is a highway.
I wanna ride it all night long.
If you're going my way
I wanna drive it all night long."
Got suggestions for more honeymoon songs to add to the list? Let us know on Facebook or e-mail us at blog@travelersjoy.com.