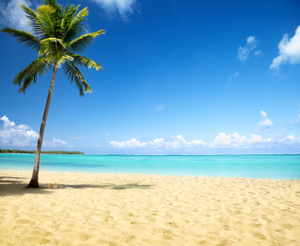 With summer finally here, we've assembled the ultimate playlist to capture that one-of-a-kind feeling of the season.
Whether you're heading out on a thrilling road trip or just kicking back and relaxing on the beach, add these essential summertime tracks to your honeymoon mix.
Eddie Cochran - Summertime Blues
Josh Rouse - Summertime
Vampire Weekend - Cape Cod Kwassa Kwassa
Don Henley - Boys of Summer
Phoenix - Summer Days
The Beach Boys - All Summer Long
Panama Wedding - Feels Like Summer
The Lovin' Spoonful - Summer in the City
DJ Jazzy Jeff & the Fresh Prince - Summertime
Justin Timberlake - Summer Love
Frank Sinatra - Summer Wind
Ella Fitzgerald - Too Darn Hot
War - Summer
The Head and the Heart - Summertime
Mungro Jerry - In the Summertime
Billie Holiday - Summertime

*Got a song you think we're missing? Tell us on Twitter using #honeymoonplaylist and we'll add it to the mix!

In case you missed it:
Traveler's Joy Honeymoon Playlist v.3
Traveler's Joy Honeymoon Playlist v.2