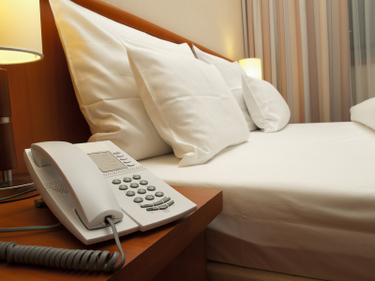 Want fresh flowers upon arrival or that terrace overlooking the ocean? Looking for ways to stay healthy and reduce your exposure to germs on your ultimate vacation? Follow this simple hotel checklist and ensure your stay meets your honeymoon expectations.
1) Call ahead and set the bar
When it comes to once-in-a-lifetime vacations, the little things often add up to being big things. Therefore, it's very important to call ahead and speak with a front desk manager before you arrive to set the expectations. When you call, mention that you are staying at their property for your honeymoon and that you have a couple of things you'd like to request.
Ask for items like fresh flowers in the room and to be put in a quiet area of the hotel. If you want a room with a balcony, request one. Also, see if they can provide additional towels, bottled water, and an extra clean room (some hotels even have allergy-free rooms). Remember to always ask for a manager. Don't assume that the person picking up the phone will listen to you.
"It's all about expectations," says Erik Warner, principal of Eagle Point Hotel Partners based in New York, NY. "If you have particular expectations and you don't communicate them to the hotel staff, that's your fault if certain things aren't the way you want them to be when you check in."
2) Don't delay, wash right away
Upon arrival, give those common surface areas a thorough wash down. Head to the bathroom and turn on the water to scolding hot and let the bathroom steam up a bit. Next, take a hot washcloth and dab it with soap and scrub anything that people often touch, such as light switches, toilet handles, phones, door handles, and remote controls. Hand sanitizer is another great alternative. Just dab on a washcloth and do the same as above. These objects are rarely cleaned, if at all, and can host a variety of germs and other bacteria.
A recent study presented at the General Meeting of the American Society for Microbiology discovered that the fecal bacterium E. coli was present on 81 percent of hotel room surfaces examined, including door handles, telephones, and remotes.
Since housekeeping practices vary greatly across the industry, researchers noted that hotel guests could minimize the potential health risks brought on by microbial contamination by implementing simple cleaning methods stated above and being aware of the dangers.
"Simply, it's a cleanliness and health issue," Warner says. "That's why it's so important to touch up as soon as you put your bags down."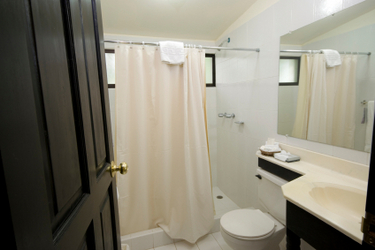 3) Strip off the comforter and decorative pillows
No matter the hotel, comforters and decorative pillows do no get washed regularly like common bed linens. Guests often put their shoes on them, use them for sleeping, and even place their baggage on top. Stuff the comforter behind a chair or in the closet and stick to the bed sheets, pillows, and blankets.
4) Key items to avoid
Stay away from the minibar. Today, many minibars and snack baskets are equipped with sensors that automatically activate if an item is removed for a certain period of time (sometimes even 10 seconds!). Play it safe and avoid exorbitant fees or a long chat with the manager by leaving those snacks and drinks right where you found them.
If you do crave a snack, it's also a great excuse for you to get out of your room and interact with other guests and staff members in the lobby. Learn about the local culture from the staff and ask fellow guests about their hotel highs and lows so far.
Additionally, avoid your room's drinking glasses, if possible. Some hotels just rinse out the glasses before the next hotel guest arrives. To be sure they are clean, you can always wash them using soap and hot water.
5) Do your homework
Let's say you're still deciding between three honeymoon hotels. To help finalize your lodging plans, speak directly with the front desk manager at each prospective property. Tell the manager that you are thinking of spending your honeymoon with them and ask if they have any honeymoon specials. See what kind of extras may be in store if you ultimately drop your bags with them. The answer might make your final accommodation decision a lot easier.
While there's a certain strategy involved and a few extra minutes spent on your part, it could pay major dividends during your trip. Be aware that some hotels may try to upsell you, though it often depends on the property you're dealing with and what kind of extras you're looking for.
6) Don't expect free things
But be thankful if you receive them.
Want more honeymoon tips beyond the hotel room? Check out our Honeymoon Tips page by clicking here.