With stunning mountains and rural scenery, extraordinary fall foliage, acclaimed restaurants, an excellent choice of hotels and resorts, and a wide variety of unique outdoor activities, newlyweds visiting the state of Vermont have no shortage of romantic experiences available.
From unbelievable waterfall hikes to cozy sleigh rides through the snow, read on for our most romantic things to do on your Vermont honeymoon getaway. Then be sure to add these one-of-a-kind experiences to your honeymoon registry to ensure the trip of a lifetime.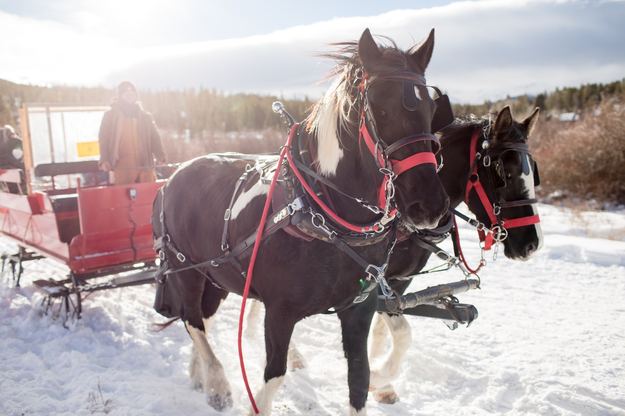 Photo by Andrea Stark
Carriage or Sleigh Ride
In the winter season, couples can snuggle up and take a memorable sleigh ride through a winter wonderland. Visiting during the summer or fall? Newlyweds can soak in their amazing surroundings via horse-drawn wagon ride at Trapp Family Lodge in Stowe. The journey will take you through extraordinary mountain surroundings, forest, and scenic pastures.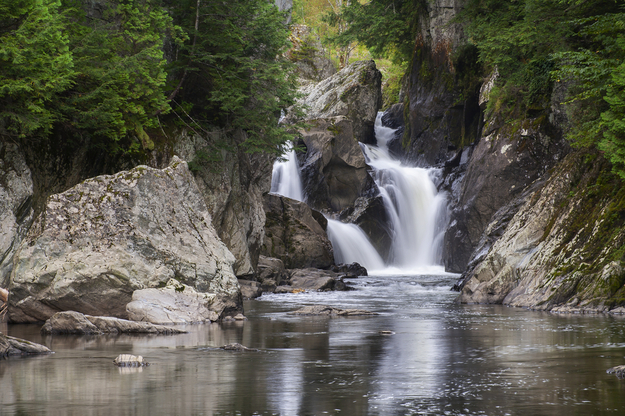 Hiking and Waterfalls
Vermont's gorgeous mountain terrain means that couples have a long list of hiking options throughout the state -- many of which have spectacular vistas. Mt. Hunger is a great option for panoramic views of Mt. Mansfield and surrounding mountains. Also, the Mt. Pisgah trail rewards hikers with incredible views of Lake Willoughby, a pretty glacial lake surrounded by mountains.
Be sure to include a few waterfalls on your hikes. Thundering Brook Falls is a great option near Killington, while Moss Glen Falls is a wonderful option just outside Stowe.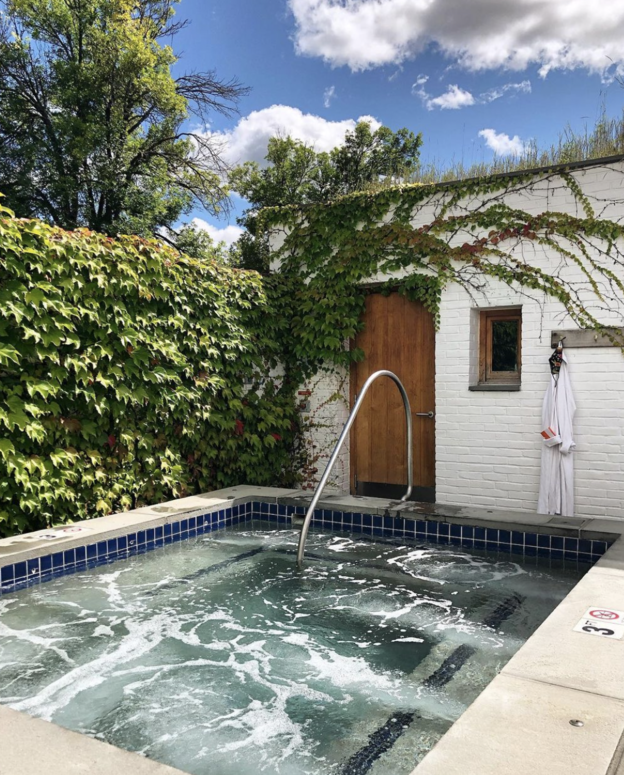 Image courtesy of @woodstock.inn
Spa Experience
With an abundance of phenomenal hotels, resorts, and inns across the state, Vermont is the perfect place to book a romantic spa experience. The Spa at Woodstock Inn & Resort features cozy, intimate treatment rooms and customized message therapies.
Meanwhile, Topnotch Spa in Stowe offers private lounges with fireplaces, a 60-foot solarium indoor pool, indoor hot tub with waterfall, and 30 treatment rooms.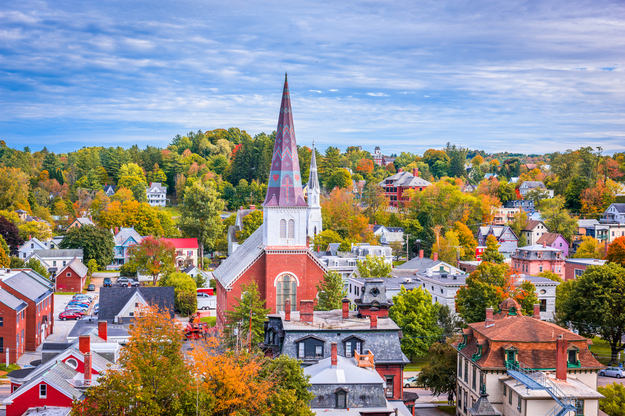 Visit Cute Small Towns
For a romantic experience, be sure to stroll hand in hand while visiting some of the Green Mountain State's top villages and towns. Vermont is renowned for its historic villages and charming small towns, many of which feature churches with white steeples, village greens, and cute "Main Street" shops.
In Lamoille County, the town of Stowe features a lovely downtown district, while Woodstock (about 70 miles away) has a bit of everything -- covered bridges, museums, and plenty of restaurants, shops, and galleries. Other can't-miss towns in Vermont include Grafton, Middlebury, and Manchester.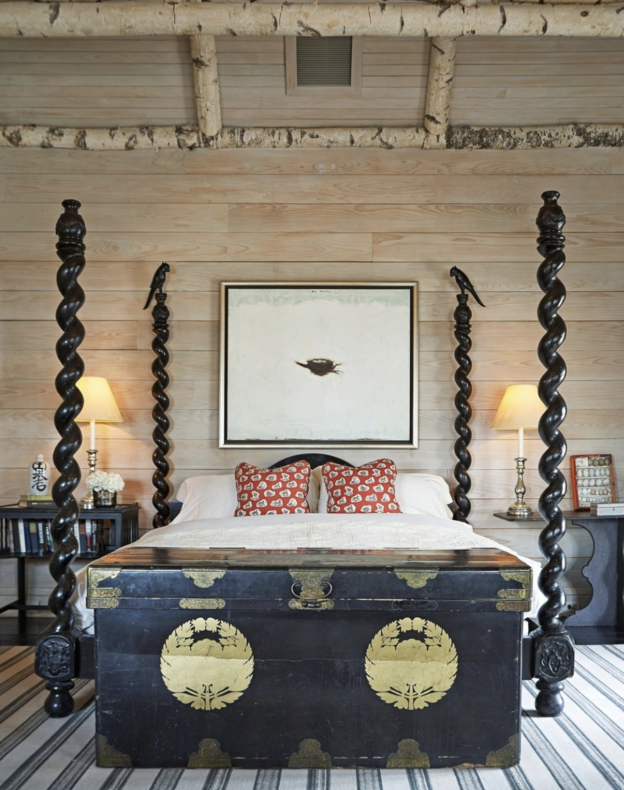 Image courtesy of @twinfarms
Stay at a Luxurious Inn, Hotel or Resort
From countryside inns to posh ski resorts, Vermont is home to some excellent accommodation options for honeymoon couples (and some options even have fireplaces, hot tubs, vaulted ceiling and floor-to-ceiling windows).
Our top pick for a honeymoon is Twin Farms, an upscale all-inclusive property set on 300 beautiful acres about 15 minutes from Woodstock. Accommodations range from luxury treehouses to cottages to spacious rooms located in the Main House.
Also, The Lodge at Spruce Peak is a great option for skiers, while The Hermitage Inn offers a five-star guest experience in a historic setting.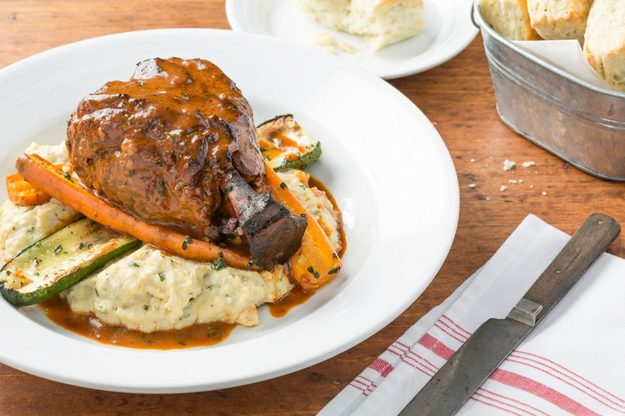 Image courtesy of GoStowe.com
Make a Reservation at a Romantic Restaurant
Honeymooners hoping for an unforgettable dining experience will certainly find it in Vermont. For starters, try The Silver Fork in downtown Manchester, a dinner-only bistro situated in a historic library building.
Heading to the Stowe Region? Don't miss an epic meal at Michael's on the Hill. The farm-to-table restaurant serves up unique dishes like Birch Syrup Glazed Pork Chop and Summer Corn Soup with Crispy Corn Spätzli -- all in a relaxing space with terrific views of the Green Mountains.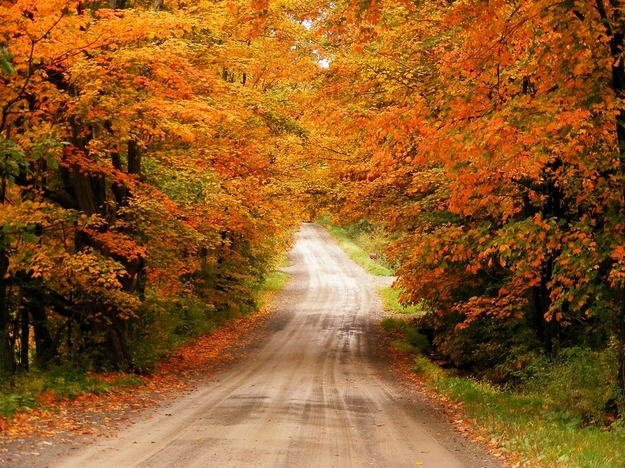 Go on Scenic Drives
Home to soaring mountains, bucolic farms, covered bridges, meandering rivers, incredible fall foliage, and lovely small towns, Vermont is the perfect place for honeymoon couples to embark on a scenic drive.
Don't miss a scenic road trip along Route 100 through the heart of the state and the Green Mountains. Along your route, you'll follow mountain valleys to many picturesque New England villages like Ludlow, Weston, and Waterbury.
End your drive in Stowe, unpack your bags at a beautiful hotel or inn, and be sure to enjoy some of the area's notable experiences, from fine dining to spa experiences to outdoor activities like hiking, biking, kayaking, and zip lining.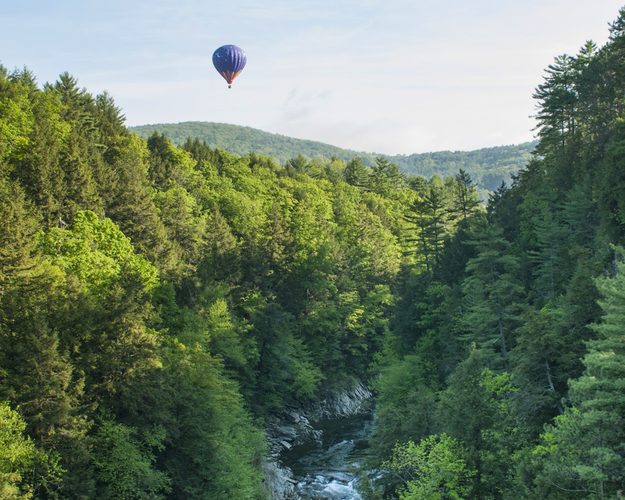 Take a Hot Air Balloon Ride
A hot air balloon ride is a magical experience and overall a fantastic way for newlyweds to explore Vermont. Through Above Reality Hot Air Balloon Rides, couples can soar over the treetops and be treated to spectacular views of the Green Mountains, Lake Champlain, and even the Adirondacks to the west. Couples can book a shared basket or opt for a private tour for a most romantic excursion.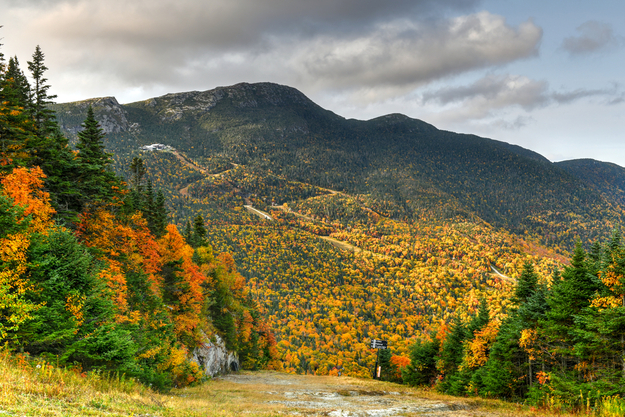 Visit the Summit of Mount Mansfield
At 4,393 feet, Mount Mansfield is the highest mountain in Vermont. Couples can visit this stunning peak through a hiking excursion or by taking the historic auto toll road. Honeymooners will wind their way to the top through gorgeous forest scenery and mountain terrain before parking at the top. Once there, you can go for a hike or enjoy a picnic while soaking in the breathtaking views.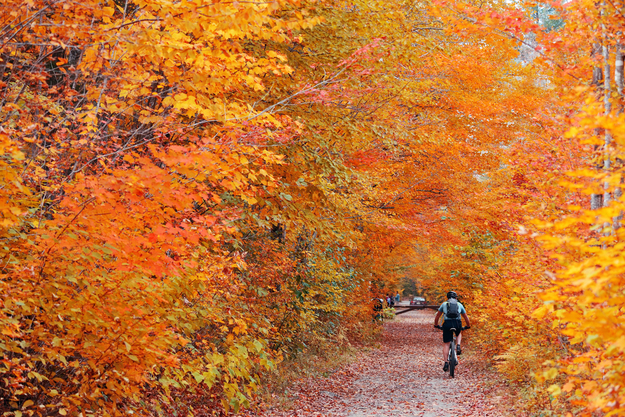 Go for a Scenic Bike Ride
Vermont is a biking paradise thanks to many well-maintained bike routes and paths. A scenic bike excursion can lead to many romantic moments, especially with so many stellar views and picnic options along the way. Top picks include the Lamoille Valley Rail Trail, Stowe Recreation Path, and theIsland Line Rail Trail (which follows the shoreline of Lake Champlain).

In case you missed it:
The Top 10 Mountain Destinations in the U.S. for a Honeymoon
The Top 20 Best Travel Items to Add to Your Honeymoon Registry