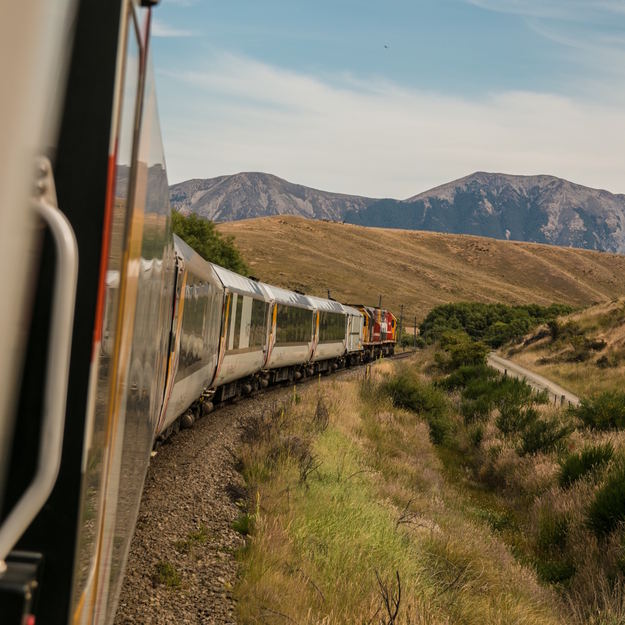 Here's a honeymoon concept you probably haven't considered: Leaving behind the hassles of airplanes, car rentals -- even hotels -- and traveling instead by rail.
With luxurious accommodations, high-end culinary programming, and breathtaking scenery, a luxury train honeymoon can be a seamless (and, most importantly, romantic) mode of discovery.
Whether you're interested in a grand tour of Europe, a scenic jaunt through California wine country, or an exploration of the Peruvian countryside, there are plenty of honeymoon-worthy destinations to visit by luxury train. One of the biggest bonuses of luxury train travel is that couples can take in multiple iconic sites, hop on and off at leisure, have romantic on-board dining experiences, and pass plenty of gorgeous vistas along the way. No other mode of transportation can transport you to remote places--and even bygone eras--quite like a train honeymoon.
For an unforgettable journey to some of the world's best honeymoon destinations, consider these seven luxury train itineraries.

1. Belmond Venice-Simplon-Orient-Express, Italy and France
There's no more recognizable train than the Orient Express, the popular long-distance passenger train made famous in the Agatha Christie novel, Murder on the Orient Express. The scenic journey aboard today's version, the Belmond Venice-Simplon-Orient-Express, is the epitome of luxury train travel: vintage cabins convert from daytime seating into deluxe bedrooms; the cuisine is locally sourced at each stop along the route; and there is both a Champagne Bar and a Bar Car. The two-day trip takes couples from London to Venice, winding through picturesque French countrysides and the peaks of the Swiss Alps.
Masterfully restored vintage rail cars set the scene for a memorable excursion through Napa Valley wine country. The antique train makes its 36-mile journey through the heart of the valley on a variety of routes, which include lunch- and dinner-time dining experiences, half-day tours, and full-day excursions with tastings at some of the premier local wineries.
3. Isle of Man Steam Railway
This historic railway on the Isle of Man was a major inspiration for Rev Wilbert Awdry to write "Thomas the Tank Engine." Set on a charming British island in the middle of the Irish Sea, the steam railway enables passengers to step back in time through its original locomotives and carriages stemming from 1874. On the journey from Douglas to Port Erin, the train winds through beautiful countryside, including forests, grasslands, and farms.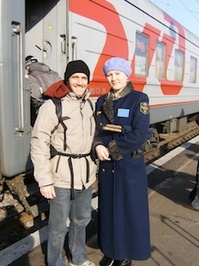 4. Trans-Siberian Railway
This groundbreaking and oft-referenced railway is the longest in the world and transports passengers between Moscow and the Pacific port city of Vladivostok, with options to Beijing, China, as well. Simply, the journey is one of the most memorable travel experiences in the world.
Perfect for adventurous couples, you'll span seven time zones, visit historic stations, meet countless new friends, pass by gorgeous scenery, and have the opportunity to hop off at "must-see" destinations. To get a great impression of the journey, read about Allison and Martin's amazing experience in our Real Members section.
5. The Rocky Mountaineer, Canada
The Canadian Rockies are front and center aboard this luxury train, which has been operating seasonal journeys (from mid-April to mid-October) through the iconic Pacific Northwest since 1900. Four distinct itineraries take couples to Seattle, Whistler, Vancouver, and beyond. Back on-board, the dining car features panoramic windows and locally sourced dishes by Michelin-trained chefs (think: Pacific salmon from British Columbia).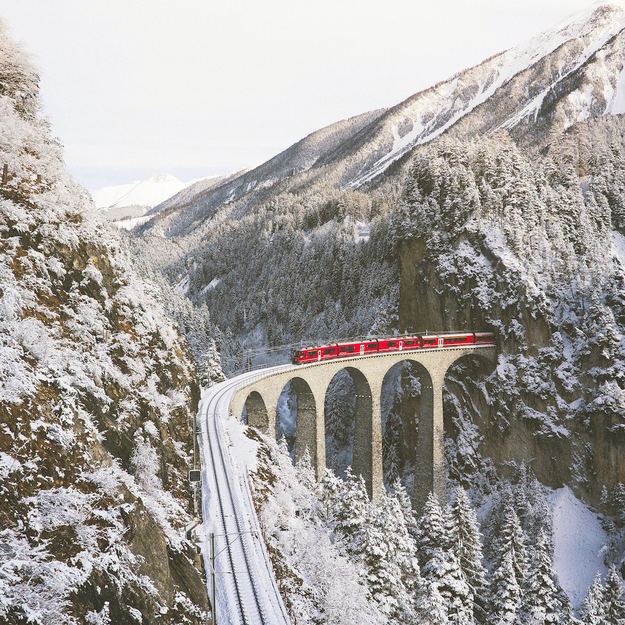 6. Bernina Express, Swiss Alps
Switzerland has one of the world's most extensive and efficient rail networks. Many routes take passengers through picturesque mountain terrain, but the two-and-a-half-hour Bernina Express offers the most scenic journey. It stops in the scenic towns of Tirano, Davos, Chur, and St. Moritz, climbing high into the Swiss Alps for views of glaciers, waterfalls, forests, and mountains. In summer, you can even opt for a bus extension to Lugano, Italy, where you ride along the sunny shores of Lake Como.
7. Rovos Rail, Tanzania and South Africa
Couples who dream of an African honeymoon but aren't sure where to begin should consider Rovos Rail's 15-day journey from Dar es Salaam, Tanzania, to Cape Town, South Africa. Along the way, you'll visit Victoria Falls and the world-famous diamond town of Kimberley, pass through tunnels in Tanzania's Great Rift Valley and Selous Game Reserve, and spend two nights on safari in the Madikwe Game Reserve. If you can, splurge on a Royal Suite, which has its own private lounge, ensuite bathroom, and 24-hour room service.
8. Classic Grand Canyon Railway
This vintage train links Williams, Arizona (about 30 miles west of Flagstaff), and the South Rim of Grand Canyon National Park. The scenic journey passes through pine forests and dry desert en-route to one of the world's greatest natural wonders. Whether you stay for the afternoon or a few days, there are endless activities on the agenda once you arrive, including hiking, river rafting, helicopter rides, hot-air ballooning, and more.
9. Belmond Andean Explorer, Peru
The first and only luxury sleeper train in Peru, the Belmond Andean Explorer offers both a two- and 10-night journey, with culinary highlights such as ceviche-making in Lima, traditional Pachamanca cooking on the shores of the Urubamba River, potato harvesting near Cusco, and private dining amongst the condors of the Colca Canyon.

In case you missed it:
Crank Up the Romance by Adding These Experiences to Your Registry
Honeymoon Registry Tips: When to Start Planning Your Getaway