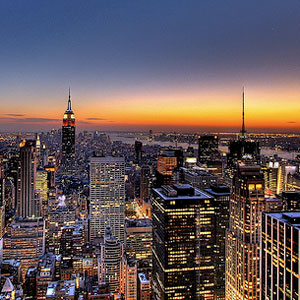 In honor of Valentine's Day, we're revealing the latest addition to our "Most Romantic Destinations" list. After focusing on European gems Paris and Venice, plus dreamy tropical spots in Bora Bora and St. Lucia, we're staying on U.S. turf this month with New York City.
With its unique attractions, distinct neighborhoods, and iconic structures, the Big Apple is a romantic honeymoon hotspot for travelers all over the world.
No matter the season, Central Park is as romantic as it gets. During the summer months, pick up picnic supplies at Zabar's on the Upper West Side before claiming a spot on the Great Lawn and spending the afternoon people watching. If you visit when the weather turns chilly, take part in a romantic winter tradition by ice skating at Wollman Rink, established in 1950.
Next, make your way to the quaint streets of the West Village with its many boutique shops and top-notch restaurants. Colorful, tree-lined, and a welcomed respite from an otherwise lively city, Barrow, Grove, and Commerce Streets are all ideal for a romantic afternoon stroll. Head north to Chelsea Market and wander through the bustling concourse with its unique food stalls and specialty stores. Be sure to ramble along the High Line, a truly amazing elevated greenway that connects the West Village and Chelsea.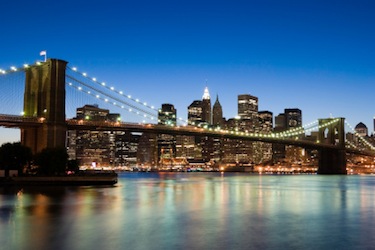 For locals and visitors alike, there's nothing else quite comparable to a walk over the Brooklyn Bridge, one of America's oldest and most famous bridges. Start on the Manhattan side and head into Brooklyn for the rest of the day. Enjoy amazing views of the city along the Brooklyn Heights Promenade. Grab coffee at Café Pedlar on Court Street before heading over to postcard-perfect Cobble Hill Park. Snag a bench and share a kiss under the shade of its many trees.
Tip: New additions to Brooklyn Bridge Park are now open for public use, including the 9.5-acre Pier 1, which features two massive lawns, a salt marsh, water gardens, and a spectacular waterfront promenade offering picturesque views of the Manhattan skyline.
Did you visit New York City on your recent honeymoon? Going there soon? Tell us about your most romantic experience or what you're looking forward to most on your trip. E-mail us at blog@travelersjoy.com or let us know on Facebook.