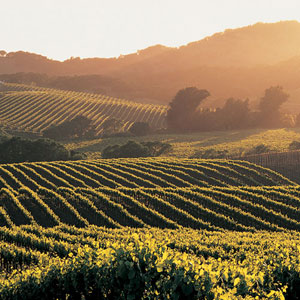 From the eastern shores of Long Island to the fertile valleys of the Pacific Northwest, the United States boasts dozens of top wine growing regions. With many regions featuring charming towns, countless outdoor activities and events, plus being in close proximity to destination cities like New York and San Francisco, wine-centric honeymoons are becoming increasingly popular. So whether you're oenophiles, foodies, or just looking for a bucolic retreat, consider these seven prominent wine spots for an unforgettable honeymoon getaway.
Napa Valley, California
This is America's premier wine-growing region dating back to the 1800s. While the region had just 25 wineries in 1975, it's now home to more than 400 wineries ranging from big to small. Plus, with a handful of delightful towns scattered throughout the region like St. Helena and Calistoga, there's enough to do to fill up an entire week. Including the likes of The French Laundry and Redd, the cuisine is spectacular. Also, this picturesque region is in close proximity to San Francisco and all of its unique attractions. Must-visit wineries include Robert Mondavi, Schramsberg Vineyards, Quintessa, and Kuleto Estate.
Sonoma Valley, California
While often overshadowed by nearby Napa, Sonoma still ranks as one the country's top wine-producing regions. Though a bit more spread out than its neighbor, the region is renowned for its smaller vineyards, laid-back vibe, and beautiful scenery. Sonoma is also closer to the Pacific Ocean, so its cooler climate is ideal for Chardonnay and Pinot Noir. Must-visit wineries include Kunde, Medlock Ames, Chateau St. Jean, and Gallo Family Vineyards.
Central Coast, California
While Northern California grabs most of the headlines, there are hundreds of notable wineries in the central part of the state -- many just 90 minutes from Los Angeles. Top wine-growing regions here include Santa Barbara, San Luis Obispo, and Monterey. Thanks to cooling fog from the ocean and dry afternoons, the area is well known for its Pinor Noir and Chardonnay. Meanwhile, complete with low-lying mountains and many scenic drives, the area is perfect for road trips. Must-visit wineries include Foley, Foxen, Saucelito Canyon, and Clos Pepe.
Willamette Valley, Oregon
Choose from over 200 wineries in this picturesque river valley. This is Oregon's leading wine region and has two-thirds of the state's wineries and vineyards. It's also heralded as one of the top Pinor Noir-producing areas in the country. All the while, being just one hour from Portland, one hour from the beach, and a few hours from Mount Hood and the Cascade Range, its location can't be beat for a honeymoon getaway. Plus, the region is home to many luxury resorts, romantic bed & breakfasts, and terrific dining options. Must-visit wineries include Chehalem, Lachini Vineyards, Lange Estate Winery, Montinore Estate, and Hamacher.
Columbia Valley, Washington
Here on the eastern side of the Cascades, the warm days and cool nights provide the perfect climate for growing wine grapes. The region -- considered by many experts as one of the most underrated wine regions in the country -- is 185 miles wide, 200 miles long and encompasses 11 million acres. It's perhaps best known for Cabernet Sauvignon. Wine lovers could easily incorporate a few days in the Columbia Valley as part of a Pacific Northwest honeymoon featuring destinations like Seattle, Vancouver, Mount Rainier, and Olympic National Park. Must-visit wineries include Chateau Ste Michelle, Zerba Cellars, and Gilbert Cellars.
Finger Lakes, New York
Ideal for a mini-moon or budget honeymoon, this beautiful region in North-Central New York is made up of numerous finger-like lakes and undulating hills. In addition to several terrific wine trails centered around Seneca Lake, Keuka Lake, and Cayuga Lake, there are a number of lovely towns to explore like Ithaca, Skaneateles, and Hammondsport. Go for a fall honeymoon getaway when all the leaves are changing color and indulge in some of the region's finest offerings like Riesling and ice wine. Must-visit wineries include Sheldrake Point, Fox Run, Atwater Estate, and Ravines.
North Fork, Long Island
Located on the "East End" of Long Island and about 75 miles from New York City, the North Fork wine region is ideal for a weekend getaway during your Big Apple honeymoon. With more than 30 wineries, numerous roadside farmstands, romantic bed & breakfasts, and scenic towns like Greenport, the North Fork is quite ideal for a summer or fall retreat. Must-visit wineries include Croteaux Vineyards, Duckwalk, and Shinn Estate.