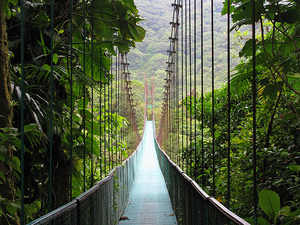 Ecotourism is an increasingly popular form of travel today that focuses on visiting natural or protected areas of a destination. In fact, it's quickly become one of the fastest growing areas in the travel industry. Typically, the goal of ecotourism is to learn or participate in activities that do not bring negative effects to the environment or local community and minimizes overall impact.
In the 21st century, ecotourism is becoming a priority for honeymooners as well. Rather than staying confined to a resort, more and more couples are searching for ways to explore the natural areas surrounding their honeymoon destination - and hoping to do so in an environmentally responsible manner.
Thinking about partaking in a number of ecotourism excursions on your upcoming honeymoon? Consider these activities to reduce your carbon footprint while still making for a spectacular trip.
Hiking/Trekking
Take to the trails and explore your honeymoon destination by embarking on a scenic hiking trip. Most destinations will likely feature hikes ranging from easy to difficult and offer excursions that vary between a few hours to even a few days. Depending on your itinerary, there's bound to be some treks ideal for you. For those couples heading to Costa Rica, the Monteverde Cloud Forest Reserve is a spectacular spot to go hiking with its well-marked trails and amazing biodiversity. When hiking, or taking part in any outdoor activity, remember to "Leave No Trace" by keeping the environment the same way you found it.
Wildlife Viewing
No matter if it's an animal safari, whale watching or bird watching, wildlife viewing can be an ideal way to witness nature in action while reducing environmental impact. Elephant safaris are becoming increasingly common all over the world, especially in Africa and Asia. For newlyweds heading to Africa, Wilderness Safaris feature spectacular elephant treks through the bush at Abu Camp located in the heart of the Okavango Delta.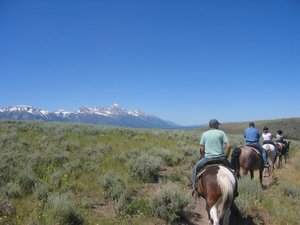 Horseback Riding
Horseback riding is a unique way to experience the overall diversity of a specific destination and travel through a wide array of terrains. It's also an activity that even beginners can enjoy, no matter where the path leads you. Cross through mountain streams, make your way down steep inclines and declines, or head down to sandy beaches for a memorable sunset ride. With its diverse terrain, Hawaii is a terrific place to saddle up. Consider Ironwood Ranch on the island of Maui for unforgettable treks through pineapple plantations and lush valleys.
Voluntourism
Volunteer travel has grown in popularity in recent years. Whether it's clearing trails in a national park or providing assistance to communities in foreign countries, "Voluntourism" is a terrific way to give back to a community that's in need. It also gives couples the chance to immerse themselves in another culture and be part of a stunning landscape as well. Check out RoadMonkey for some phenomenal hands-on opportunities around the world.
Sailing
There's nothing quite like cutting the engine, hoisting the sails, and letting the wind and current take you for the ride of your life. Whether a leisurely ride out on the open sea or a romantic sunset cruise, sailing remains one of the most romantic and eco-friendly activities a newlywed couple can experience. One stunning place to set sail is Cabo San Lucas, Mexico with its unique rock formations and scenic mountain backdrops.
Kayaking
Kayaking is a wonderful way to explore waterways and the surrounding landscape of a destination, particularly areas inaccessible to cars or boats. With its plentiful rivers, stunning shoreline, private beaches and great diversity, Puerto Rico makes for an excellent honeymoon destination when it comes to paddling. Through Las Tortugas Adventures, explore Rio Espiritu Santo, which leads from Rio Grande Nature Reserve (which includes unique rainforest terrain) to the Atlantic Ocean and learn about the spectacular ecosystem and copious animal life.
Whitewater Rafting
It's no surprise to find whitewater rafting as one the most thrilling eco-honeymoon activities. Couples can feel firsthand the force of a gushing river as it cuts through narrow canyons or snakes its way through lush forest. Costa Rica remains one of the world's top whitewater rafting locations for honeymooners. As for the U.S., Alaska-based Nenana Raft Adventures leads unforgettable trips down the Talkeetna River, Tana River and Six Mile Creek, which all feature Class IV and V rapids.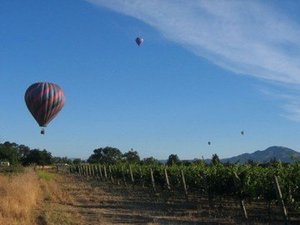 Hot Air Ballooning
Soar above the landscape via hot air balloon and get a bird's eye view like you've never seen before. It's a peaceful, romantic and unique journey that will provide memories to last a lifetime. Take a trip with Napa Valley Balloons in the heart of wine country in Northern California. Enjoy a champagne breakfast before drifting high above vineyards, mountains and scenic towns. On a clear day, couples can even spot the San Francisco skyline in the distance.
Scuba Diving/Snorkeling
Discover dazzling underwater coral formations and abundant sea life via scuba diving or snorkeling. The Great Barrier Reef remains one of the globe's most spectacular natural wonders and is considered a terrific spot for scuba diving or snorkeling. With its crystal clear waters and high visibility, the Caribbean Sea is also an ideal spot for a dive. Make sure your outfitter is locally or globally recognized for its sustainable tourism practices and commitment to the conservation of the environment.
Zip Line Excursion
While high in the upper canopy of the forest, whiz past rainforest terrain or glide along with stunning vistas of the ocean and surrounding mountains. This activity is also a terrific way to learn about the surrounding ecosystem as most outfitters make it a point to teach participants about the local ecosystem. Go on a journey with Big Island Zip Adventures on Hawaii's Big Island and take in breathtaking vistas of the Pacific Ocean after spending time buzzing through the trees of a real rainforest.