When you picture the perfect honeymoon, it likely doesn't include fighting your way through crowded airports, dragging heavy, uncooperative baggage behind you. No, you imagine smooth transitions en-route to sun-soaked beaches -- where you definitely don't dream of pulling out your laptop to fire off work emails.
Whether you're traveling for one week or four, it pays to follow a specific honeymoon packing list. Couples should plan their wardrobes strategically, focusing on what types of clothes and accessories specifically suit their chosen itinerary, and leave all the rest behind. Likewise, now is not the time to risk losing something sentimental, nor is it the time or place for anything work-related.
More often than not, couples have trouble sticking to a honeymoon packing list that eliminates undue stress from their travels. To avoid this common pitfall, consider the following tips for what not to pack on your honeymoon: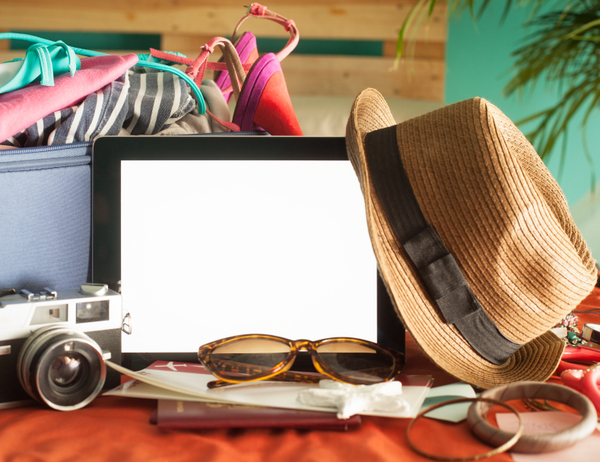 Oversize Luggage

If you really want to avoid the stresses of heavy baggage (no one likes wrestling a duffel into the back of a small cab), leave oversize luggage off your honeymoon packing list. While it's natural to want to be prepared for every aspect of the honeymoon, you don't need to include five caftans on the off-chance a stranger invites you to his yacht party. Start with the bare minimum -- whatever fits into a carry-on. Then, if you decide to check luggage, add according to the specifics of your itinerary (i.e. lightweight separates for safari or silk dresses for the beach).
A Perfect Wardrobe
Remember, it won't be your adorable matching sets or multiple pairs of embellished sandals that makes or breaks the honeymoon. It's about who you're with, where you are, and what you're doing. Sure, you can buy a few cute new dresses, but don't stuff your bag with 20 perfectly planned outfits for a 10-day honeymoon. (Plus, that leaves room in your suitcase for souvenirs!) Consider comfortable day-to-night transition pieces that can be accessorized differently to change up the look. And do stick to clothes that are easy to care for -- no one wants to waste time ironing linen pants before a night on the town.
Work Laptops
The honeymoon is one of the only times in life when your boss and colleagues will (we hope) respect your personal space and consciously decide not to cc' you. Take advantage of their consideration and leave your computer home. Not only is catching up on email the antithesis of relaxation -- the entire point of a honeymoon, after all -- but also inconsiderate to your new spouse, who deserves your undivided attention.
Your Engagement Ring
Depending on your chosen destination, it might make sense to leave that sparkler at home. If you plan to visit crowded areas (Asian cities with big markets), impoverished regions (rural African communities), or less-is-more hotels (think: no in-room safe), consider just wearing your wedding band. Not only will you feel less stressed about losing it, but also more considerate to the local people who might otherwise be put-off by ostentatious displays of wealth.
Expensive or Sentimental Goods
If your mom's vintage bracelet or your husband's Rolex watch is something you'd be heartbroken to lose on a scuba dive or ATV excursion, don't bring it. Even if it's insured, it's not worth the headache to risk losing something valuable or to which you have emotional attachment.
Cell Phones
OK, not really -- this is the digital era, after all. While we don't expect you to leave your phones back home, you should pick a few times to go tech-free and leave them in the room. Perhaps it's during dinner at the Michelin-starred restaurant in Europe you've been dying to eat at or the day when you have an entire island to yourselves in the Maldives. Leaving your phones behind allows you to be in the moment and truly enjoy one another's company -- rather than stare at your screen for three-quarters of the meal as you try to take the perfect #foodstagram.
FOMO
Put what's going on back home out of your mind the moment you check into your flight. Forget about what your friends or family might be doing while you're away or any events you might be missing out on and instead focus on what's in front of you: once-in-a-lifetime opportunities to make memories with your new spouse. In reality, the more you enjoy yourselves, the more everyone else in your life will have FOMO of your honeymoon.

In case you missed it: