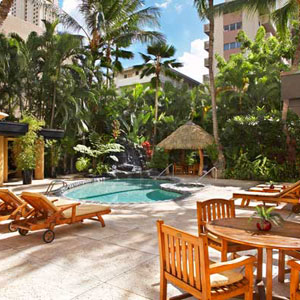 Set in the heart of Honolulu, the Aqua Bamboo & Spa has emerged as a premium hotel for newlyweds anticipating a peaceful, affordable and memorable stay on Oahu.
Nearby to many of Waikiki's top attractions, particularly Waikiki Beach, this newly renovated property is home to an exceptional array of contemporary accommodations, pampering spa treatments and fine amenities that will certainly appeal to newlyweds. Simply, this serene and intimate hotel offers an oasis of calm in the heart of Honolulu and will guarantee couples a most unforgettable honeymoon experience.
With newly refurbished rooms, the Aqua Bamboo stands out with its elegant furnishings, warm tones and Asian-inspired décor. The 92-room property - which offers standard rooms, suites and a penthouse - also features private lanais, kitchenettes, flat-screen TVs and complimentary Wi-Fi. Plus, couples will certainly take comfort in coming back to their comfy AquaBliss beds after a long day of sightseeing or activities.
Meanwhile, newlyweds looking for rest and relaxation will be in good hands thanks to Aqua Bamboo's deluxe spa facility and inviting pool area. At Aqua Spa, choose among invigorating services like Swedish and sports massages, polishing pineapple body scrubs, purifying facials, and even traditional Hawaiian Lomi Lomi massages. Also, rejuvenating services like shiatsu, reflexology, hot stone techniques and couples massages are available.
After your spa treatment is complete, expect a soothing afternoon in paradise when you lounge beside Aqua's saltwater pool, cascading waterfalls and beneath private cabanas, all surrounded by lush gardens.
Aqua's central Waikiki location also makes it an ideal choice for your Oahu visit. Just a two-minute walk from famous Waikiki Beach, this unique hotel enables guests prime access to the region's top attractions, including shopping at the International Marketplace, hiking at Diamond Head and visits to Honolulu Zoo and Waikiki Aquarium.
Additionally, eco-conscious couples will find Aqua Bamboo & Spa a place of serenity in harmony with nature. The property is committed to eco-friendly initiatives and was recognized in 2010 with a Hawaii Green Business Award. Recently, the hotel conserved more than 15,500 gallons of water in just one year.
Called a "hidden gem" by The New York Times and named one of Honolulu's "hippest, most affordable places to stay" by Travel & Leisure, Aqua Bamboo & Spa currently features a number of intriguing packages and deals. For instance, book the "Aqua Five-O" special, where you'll pay just $50 for your first night. Plus, check out other deals featuring spa services or a rental car to cruise around the island.
Make Aqua Bamboo & Spa your Waikiki destination and ensure that your visit to Oahu is cherished for years to come. Average rates go for about $140/night. Click here for more information.

Sponsored Post