The Caribbean has always enticed newlyweds looking for relaxation and a little fun in the sun. For the cost-conscious pair, islands like St. Lucia and St. Barts may not be the best way to go, so save your dollars for a time when you can truly splurge in paradise. Instead, choose an island that will deliver both a great atmosphere and stunning beaches to lie on and explore, while not breaking the bank. Below are a few suggestions to get you started on your quest for a budget-friendly beach honeymoon.


Dominican Republic
Known as a very budget-friendly destination, the Dominican Republic has risen in popularity in recent years. With the plethora of all-inclusive resorts on the island, the Dominican offers your best bet at an affordable all-inclusive vacation. Punta Cana, in particular, is a haven for bargain-hunting beach-goers and features long stretches of palm trees on white sandy beaches. In fact, it's been pegged as the "Cancun of the Dominican Republic." Check out Puerto Plata as well, which according to Frommer's, "Appeals to a mass-market crowd that prefers less expensive, all-inclusive resorts."
The Bahamas
Although The Bahamas is not geographically located in the Caribbean, it is a member of the Caribbean community, so we'll incorporate it in this post. Many consider The Bahamas to be the most budget-friendly of all, with its close proximity to the U.S. and all-inclusive options as well. Cruise lovers should consider making the journey to Florida for an added twist, then spend a couple of days in either Miami or Palm Beach before venturing on a budget-friendly 3-day Bahamas cruise from that respective port. This will give couples a chance to experience the beauty of The Bahamas with the all-inclusive feel of a cruise while exploring a few private islands along the way.
St. Martin/St. Maarten
For a little off-the-beaten path feel, try your hand at the whole 37-square-mile island of St. Martin/St. Maarten. With a wide variety of affordable hotel options and low-cost inns, accommodations on this island can be quite reasonable. Stick to activities which don't require much of anything, such as beach lounging and/or water activities and you'll keep yourselves entertained for days. St. Martin also offers great duty-free shopping, so do bear this in mind if you're both bargain shoppers!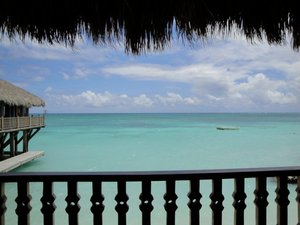 Jamaica
It's no secret that Jamaica is a budget-friendly destination, but it can also be misleading with the recent increase in luxury all-inclusive resorts springing up in every corner from Ocho Rios to Negril. With the availability of cheap flights and an excess of hotel accommodations, a budget-friendly option is always around the corner. The best bet is to find a brand-name all-inclusive that's a happy medium, where couples won't have to worry about the extras in food and beverages.