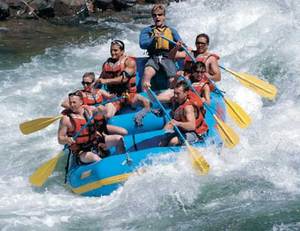 While lounging poolside with a tropical drink in hand will forever be a honeymoon staple, the trend today is that more couples are trading in extra days under the sun for once-in-a-lifetime activities. No matter if you're looking for a two-hour excursion or multi-day expedition, check out these 9 ultimate honeymoon adventure activities bound to get you out from under the beach cabana and on a trip of a lifetime.
Safari Treks in South Africa
South Africa offers some of the world's most renowned game drives in places like Kruger National Park, MalaMala Game Reserve and Sabi Sands Game Reserve. Head out on a safari adventure, explore the country's beautiful landscapes and come face-to-face with its extraordinary wildlife, delivering plenty of opportunities to see the Big Five. Many outfitters in South Africa also give you the chance to go on walking safaris where experienced guides help you track animals and observe the intimate details of the park.
Consider a stay at Singita Sweni Lodge in Kruger National Park where you can rest in luxury before off-roading it on Land Rovers in search of the Big Five.
White Water Rafting in Costa Rica
The Pacuare River is widely regarded as one of the top destinations for white water rafting. Grab a paddle with Costa Rica Nature Adventures and head deep into the jungle before winding your way down class IV and V rapids through narrow gorges, past giant boulders and next to cascading waterfalls. Plus, keep an eye out for an active wildlife scene, complete with birds, monkeys, sloths and jaguars.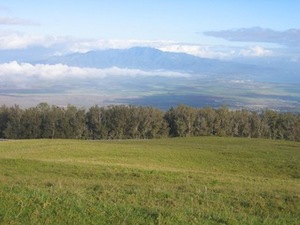 Biking in Picturesque Maui
Called "House of the Sun," Mount Haleakala hosts some of the most stunning views of sunrise and sunset in the world. On your journey, head up the 10,000-foot mountain just before dawn and witness the dazzling array of colors that will appear before you in a moment's notice.
Then, feel the wind at your back as you navigate the switchbacks of the dormant volcano via bicycle. The journey offers sensational views of the coast and West Maui Mountains, plus the chance to glide past sugar cane and pineapple fields, dash through an authentic Maui cowboy town, and fly past green pastures complete with eucalyptus trees.
Bike it Maui has experienced, friendly and knowledgeable guides and offers sunrise tours that include a trip up to the summit, a guided tour down the mountain and then breakfast in charming Paia.
Rock Climbing in Thailand
Southwestern Thailand is considered one of the world's premier rock climbing destinations. With its many climbing options and astonishing beauty, there's something for everyone, including beginners. Railay Beach in Krabi attracts climbers from all over the world for its variety, location (right off the beach) and amazing views. Plus, the climbing area is only accessible via boat, adding a little extra adventure to your trip. Check out Andaman Adventures, one of several providers that offers experiences for newcomers and experts, including climbs on nearby islands surrounding Phra Nang Bay.
Kayaking in Kauai
See the "Garden Island" of Hawaii from a different perspective as you paddle up the scenic Wailua River before embarking on a hike through a tropical rainforest to breathtaking Uluwehi Falls. Through Kayak Kauai, view the island from the seas as you paddle along the Na Pali Coast for 16 miles to Poihale Beach and marvel at the lush green landscape and majestic mountains -- all while keeping a close eye out for dolphins and seals.
Scuba Diving in Fiji
Taveuni Island in Fiji is known as the "Soft Coral Capital of the World" thanks to its diverse underwater wonders. Explore the region's amazing coral formations and abundant sea life by embarking on an exciting scuba diving excursion. Head out with experienced outfitters Pro Dive Taveuni or Aqua Trek Taveuni and expect some amazing colors and an incredible variety of fish at world famous Rainbow Reef, Vuna Reef and the Great White Wall.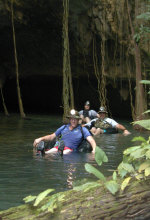 Explore Underground Rivers in Belize
Belize features some of the world's most extensive and extraordinary cave systems. Go on a guided full-day cave exploration -- by water. With Caves Branch Adventure Company, disappear into 7 miles of underground caves on an inner tube with only a headlamp lighting your way. Float past underground waterfalls and cathedral-like rock formations, plus relics left behind from ancient Mayans.
Hang Ten in Tahiti
Tahiti is quite famous for its top-notch surfing and is even the location for championship competitions each year. While places like Teahupo'o are for experts only, there are dozens of locations across the island where beginners and intermediate surfers can find ideal conditions for a day of adventure. Consider hooking up with Tahiti Surf School and testing your mettle on the island's scenic east coast.
Volcano Hiking in Bali
Indonesia's unique landscape is notable for its towering mountains and volcanoes. Through Bali Sunrise Trekking and Tours, participants can hike either Mt. Batur or Mt. Agung, two of Bali's highest and most stunning mountains. Current tours feature 12-hour treks that include sunrise spectacles from the summit, admission to Besakih Temple, volcano rim hikes, jungle treks to waterfalls, village tours, nature walks, and even elephant safaris.
49KQU735PVWW