Honeymoons should be about relaxation, seclusion, romance and stress-free fun. With all of that in mind, the first thing that many couples envision is a beach, a drink in hand and pure relaxation. Well, the Caribbean boasts all of that and so much more.
With 28 island nations and more than 7,000 individual islands altogether, choosing the perfect Caribbean locale for you and your sweetheart can seem like a daunting task. But not to worry, honeymooners, we've got you covered. While some destinations are better suited for adventure and others are more tourist-driven, below you'll find a taste of some of the best Caribbean islands to honeymoon in.
Unlike some Caribbean islands, Puerto Rico has it all -- from beautiful beaches and an exciting culture, to plenty of adventure and a sizzling nightlife similar to Miami. Although most honeymooners stay within the confinements of the capital city of San Juan, some of the best areas can be found beyond the city limits, with each region as diverse as the next.
For a secluded and romantic honeymoon, check out the Horned Dorset Primavera, tucked away in the heart of Rincon to the west. This boutique-style hotel is a haven for relaxation and romantic nights and seclusion is what you'll find at this Relais & Chateaux property. Lovers come to Rincon for its beautiful golden beaches and the area is one of Puerto Rico's greatest gems and a surfer's mecca. Also worthy of a honeymoon visit is the new W Vieques, where the white sandy beaches of the Puerto Rican island of Vieques will leave you and your sweetheart in awe. Another resort to consider for its close proximity to Puerto Rico's famed rainforest, El Yunque, is El Conquistador Resort & Spa in the heart of the East Coast. The best part? The resort offers guests their very own private island.
St. Barts
Celebrity sightings are a regular here and it's no wonder they come frolicking to its stunning beaches. St. Barts exudes sexiness, and a honeymoon here would be no exception. Come for its high-end duty free shopping or to soak up the rays. Either way, you'll leave relaxed and content.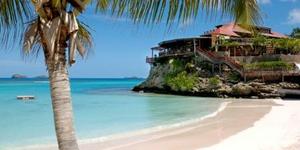 In terms of accommodations, St Barts comprises 70% luxury villas and 30% hotels. Consider a stay at the famed Eden Rock. For a cheaper alternative, check out the Normandie Hotel. Couples should remember that St. Barts is primarily French-speaking and very Euro-chic. The currency used in St. Barts is the euro.

Turks and Caicos
For divers and snorkeling duos interested in exploring the underwater world, Turks and Caicos often ranks in the top 10 lists of world's best snorkeling and diving sites. Home to the world's third largest coral reef system, it's no wonder it's a haven for sea enthusiasts. Other romantic activities here include horseback riding on Long Bay in Provo, sunset strolls in Grace Bay, and even whale watching on Salt Cay (all great additions to your honeymoon registry!).
Consider a stay at Parrott Cay, a romantic private island resort offering diving trips and lessons at nearby Provenciales.
Dramatic peaks, beautiful waters and luscious flora make St. Lucia a beauty waiting to be explored. Recently voted the world's leading honeymoon destination in 2010 by the coveted World Travel Awards, St. Lucia is no stranger to the honeymoon couple. Explore a volcano, venture to banana plantations and visit mineral baths. It's easy to understand why there's plenty to do and see in St. Lucia.
Some of the best resorts to consider for an ultra-luxurious and relaxing honeymoon include Jade Mountain and Anse Chastanet, which often rank as two of St. Lucia's most romantic hotels. With their close proximity to the famed pitons, they're simply a lover's paradise. Other great options include Ladera Resort and Windjammer Landing and for an all-inclusive deal, check out Sandals Grande St. Lucian Spa & Beach Resort.
Grand Cayman
While Grand Cayman is often noted for being a family-friendly island and no stranger to the swarms of tourists debarking cruise ships, there is a side of Grand Cayman that's perfect for the honeymoon couple. For one, you've got the beaches. But the destination's easy accessibility and cheaper rates are two more excellent reasons to come to the largest of the three Cayman islands. For crystalline waters, check out Grand Cayman's hottest beach: Seven Mile Beach.
Don't let hurricane season stop you with the Cayman Islands' unique Worry Free Hurricane Guarantee. The Hurricane Guarantee covers any cancellations made prior to arrival and compensation if vacation time is cut short because of inclement weather. Consider a stay at one of Grand Cayman's best oceanfront hotels, The Ritz-Carlton Grand Cayman or the centrally-located Grand Cayman Marriott Beach Resort, both which sit on the famous Seven Mile Beach.