There are endless reasons why a couple could (and should) choose a luxury European cruise for their honeymoon. Not only is a luxury European cruise ideal for those who want to avoid remaining stationary in one place, but it's also well-suited for those who dream of visiting, say, Spain, Italy, and Greece in one fell swoop.
On a cruise honeymoon, couples can take advantage of on-board amenities (restaurants, bars, theaters, shops, and more). Plus, there's limited planning involved; in many cases, you simply board the ship and everything is pre-arranged, from shore excursions to restaurant reservations.
Whether you prefer to set sail on the open seas of the Mediterranean or wind your way down the Danube or Rhine rivers, consider one these luxury European cruises for the ultimate European honeymoon experience -- one that's equal parts relaxation and exploration.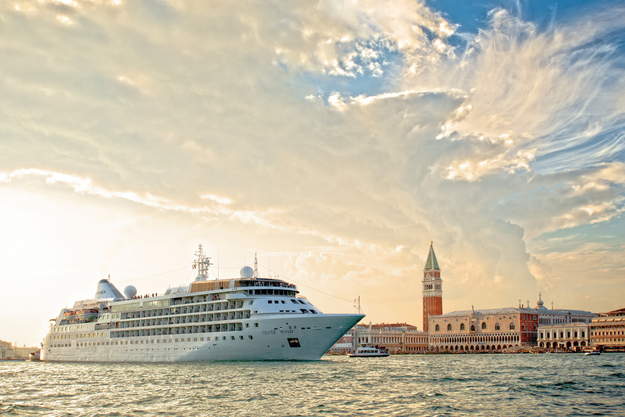 Image courtesy of Silversea Cruises
If luxury is what you're after, then Silversea has you covered. The line has six small- to mid-sized ships (no more than 540 passengers), maintaining a sense of intimacy and romance. The all-inclusive ships offer a number of on-board pursuits -- from culinary demonstrations to dance and exercise classes -- to keep guests entertained while at sea.
Other highlights include movie screenings, concerts, guest speakers, and a boutique casino. Whether you opt to cruise the Mediterranean or visit Northern Europe and the British Isles, Silversea guarantees personalized shore excursions and expert guides to get you closer to the heart of the places you visit.
Regent remains one of the top all-around choices for luxury European cruise honeymoons. Along with superior service, the line offers all-inclusive fares (yes, that means wine, beer, and cocktails are complimentary), plus unlimited shore excursions. Another reason to love Regent: it has one of the only fleets with all-balcony, all-suite ships.
Expect gourmet restaurants and lounges, a fitness center, spa, theater, casino, and swimming pool. European itineraries criss-cross the Mediterranean, from the Greek Isles to the Italian and French rivieras, while Baltic voyages cruise to bucket-list sites like the Norwegian fjords.
Few luxury cruise lines can top this ocean, river, and yachting leader. Couples can take their pick among the two flagship ocean vessels, Crystal Symphony and Crystal Serenity, or river cruise vessels that include Crystal Mozart, Crystal Ravel, Crystal Bach, and Crystal Mahler. As a service-centric luxury European cruise line, Crystal offers complimentary shore excursions, butler service, 24-hour in-room dining, unlimited Wi-Fi, and more. So expect your journey to be packed with all the creature comforts.
As the first river cruise line marketed specifically to millennials, U by Uniworld is upping the ante for luxury European cruises. Each of the 120-passenger, matte-black ships -- The A and The B -- are outfitted with roof decks, a farm-to-table restaurant, spa, and more.
Couples can choose to ply the Seine, the Rhine, or the Danube rivers. Each itinerary focuses on longer stays in popular ports of call, allowing you to connect with locals and experience vibrant nightlife in bucket-list cities like Paris, Vienna, and more. But you'll have to pry yourselves away from the ship to do so: there are on-board mixologists and DJs to keep the party going, while state rooms come complete with water views, Bluetooth sound systems, and BeeKind amenities.
This luxury river cruise line gives passengers the chance to float past beautiful city skylines, historic castles, and sweeping vineyards. For example, a scenic float down the Moselle River takes you to the heart of German wine country, into small towns like Bernkastel, Cochem and Trier.
Each ship features comfortable state rooms and suites, plus locally sourced cuisine, a fitness center, Sky Deck whirlpool, and more. Whether you dream of getting lost in a vineyard, exploring a hilltop castle, or meeting friendly locals at hole-in-the-wall pub, a journey with Avalon will never disappoint.

In case you missed it:
How to Know if a Honeymoon Cruise is Right for You
Editor's Note: Updated copy by Katie James Watkinson, April 2019