Vietnam Honeymoon Stories
Emily & Sam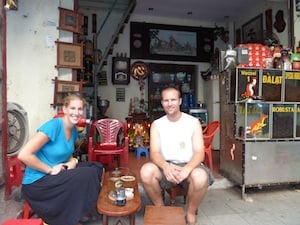 We flew out of Chicago two days after our wedding night on July 4th and arrived 24 hours later at our hotel in Hong Kong. This was only the first stop on our five-country, five-week tour of Asia that would take us through China, Malaysia, Thailand, Cambodia, and Vietnam. We originally chose Asia because we wanted to go somewhere affordable (once we got there anyway), with excellent food, new cultural experiences, and some time at the beach. I hoped to ride an elephant and see Angkor Wat, and Sam wanted to see orangutans in the wild after sampling Thai and Malaysian curries.
Isabel & Luis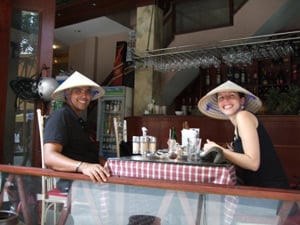 It was over a hot bowl of pho (beef noodle soup) in the Little Saigon shopping center outside Washington, DC that the idea sparked: we need to take a trip to Vietnam! Based on the food alone our honeymoon destination practically chose itself. To many Americans, going to Vietnam is kind of shocking, as most people think of it as an underdeveloped country still recovering from the war. But hey, we're not your average stay-put couple that goes to traditional places.
Amy & David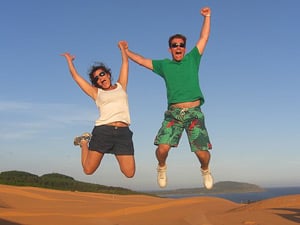 I started with the travel books 9 months before the wedding. Every day on the New York City subway I'd be carried away to Vietnam, always prepared with post-it notes, pencils, a Rough Guide and a Lonely Planet. Narrowing down the cities we wanted to visit during our two weeks was going to be a huge challenge, because everything sounded amazing. After weeks of research, we finally nailed down a rough itinerary, and announced our trip on Traveler's Joy.