Honeymoon by Train: 9 Unforgettable Rail Journeys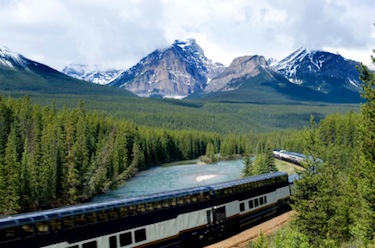 Leave behind the hassles of airplanes and car rentals on your upcoming honeymoon. With the ability to experience luxurious accommodations, amazing culinary events, and breathtaking scenery, plus the chance to hop on and off at some of the world's most iconic destinations, train travel can be immensely rewarding, romantic, and eye-opening. It can transport you to places - and even eras - better than any other mode of transportation. For an unforgettable journey on your upcoming honeymoon, consider these nine amazing train excursions departing from all over the world.
Venice-Simplon-Orient-Express
While the original Orient Express is no longer in service, newlyweds can still indulge in a similar experience on board the Venice-Simplon-Orient-Express. The scenic and luxurious journey features vintage cabins that convert from daytime seating into deluxe bedrooms, plus amazing cuisine, onboard entertainment, and more. The classic two-day trip goes from London to Venice and winds through France's picturesque countryside and the Swiss Alps.
Napa Valley Wine Train
This memorable excursion takes riders through scenic Napa Valley wine terrain in masterfully restored vintage rail cars. The antique train makes a 36-mile journey through the heart of the valley and offers regional food, fantastic wines (including tastings), and unparalleled panoramic views. Guests can also book winery packages that include gourmet lunch or dinner on board, your train fare, and a private group tour of Napa's finest wineries.
Isle of Man Steam Railway
This historic railway on the Isle of Man was a major inspiration for Rev Wilbert Awdry to write "Thomas the Tank Engine." Set on a charming British island in the middle of the Irish Sea, the steam railway enables passengers to step back in time through its original locomotives and carriages stemming from 1874. On the journey from Douglas to Port Erin, the train winds through beautiful countryside, including forests, grasslands, and farms.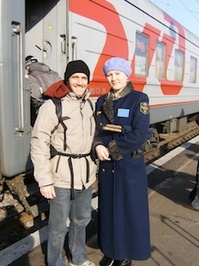 Trans-Siberian Railway
This groundbreaking and oft-referenced railway is the longest in the world and transports passengers between Moscow and the Pacific port city of Vladivostok, with options to Beijing, China, as well. Simply, the journey is one of the most memorable travel experiences in the world.
Perfect for adventurous couples, you'll span seven time zones, visit historic stations, meet countless new friends, pass by gorgeous scenery, and have the opportunity to hop off at "must-see" destinations. To get a great impression of the journey, read about Allison and Martin's amazing experience in our Real Members section.

Canadian Rockies - VIA Rail Canada
Put the Canadian Rockies in your front lap with an unforgettable rail journey in western Canada. Take the 720-mile trek between the Canadian Rockies and the North Pacific Coast (i.e. Jasper to Prince Rupert) and whiz past white-capped mountains, glacial rivers, jagged canyons, and great stretches of wilderness. "Touring Class" packages include three meals a day and access to a dome car featuring 360-degree views.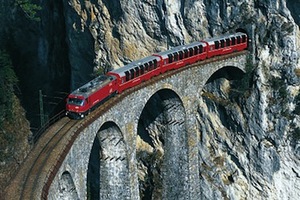 Swiss Alps
Switzerland has one of the world's greatest rail networks, with many routes taking passengers up into picturesque mountain terrain. The Bernina Express is a fantastic journey that begins with a bus trip in sunny Lugano along the shores of Lake Como before starting up in Tirano and climbing high into the Swiss Alps. The trip passes through charming small towns and boasts amazing views of glaciers, waterfalls, forests, and mountains. The route finishes in eastern Switzerland in the scenic towns of Davos, Chur, and St. Moritz.
Mexico's Copper Canyon
Comparable to the Grand Canyon in the American Southwest, Mexico's Copper Canyon is a fascinating natural wonder and quite the enchanting destination. For a most memorable and intimate experience, take the Chihuahua al Pacifico Railway, also known as "El Chepe", and make your way past rugged canyons, dense forests, and cascading waterfalls. The tracks cover 39 bridges, 86 tunnels and climb as high as 8,000 feet to unforgettable vistas.
Classic Grand Canyon Railway
Enjoy historic train travel on a vintage train from Williams to Grand Canyon National Park. Pass through pine forests and dry desert on your way to the South Rim of one of the world's greatest natural wonders. Whether you stay for the afternoon or a few days, there are seemingly endless activities on the agenda once you arrive, including mule trips, hiking, river excursions, and museum excursions.
The Blue Train South Africa
The Blue Train is an elegant and romantic five-star luxury passenger train in South Africa that takes travelers between Pretoria and Cape Town (roughly 1,000 miles). This "magnificent moving five-star hotel" features butler service, lounge cars, observation cars, and superb guest suites with marble tiles and gold fittings. The scenic route zips passengers through the amazing South African countryside and features incredible meals paired with regional wines.
Got any other classic train journeys to add to the list? E-mail us at blog@travelersjoy.com or tell us on Facebook.