Picking a honeymoon destination is one of the most exciting decisions in the entire process of getting married. But in an age of endless sharing on social media, how can you keep your once-in-a-lifetime trip from feeling like a carbon copy?
Head to any of these destinations for a uniquely magical honeymoon - your social network is sure to be ripe with intrigue.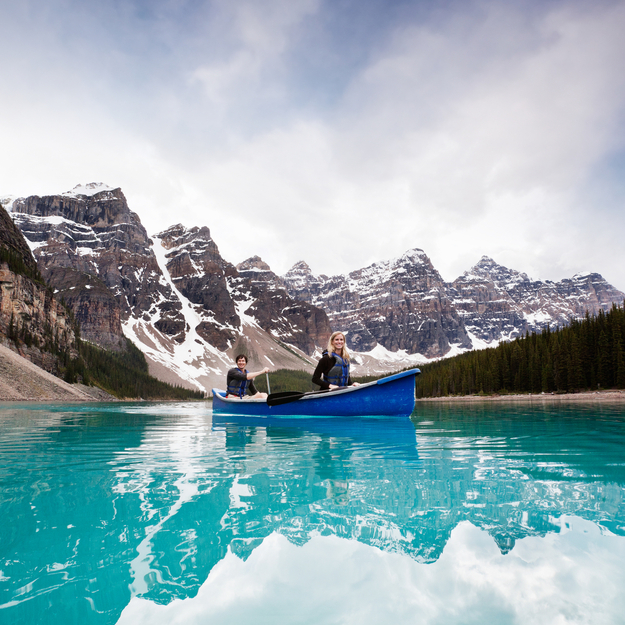 Banff, Canada
Western Canada contains some of the world's most majestic mountain scenery, and Banff - the highest town in the country - is the best place to soak in those Canadian Rockies views. Encompassed by Banff National Park, inside the region of Alberta, Banff is abundant in wildlife and offers seasonal outdoor pursuits like skiing, hiking, kayaking, and even natural hot springs. After a day's worth of adventure, enjoy Banff's charming downtown, lined with cozy cafes, snug pubs, stylish boutiques, and world-class restaurants.
When To Go:
Banff can easily be considered a year-round destination, but at its heart this popular Canadian region is a two-season destination. Nature lovers will want to come in the summer months between June and August when warmer weather allows for long days of hiking, biking, wildlife spotting, and general outdoor recreations. If winter sports are your fancy, center a honeymoon in the prime snowfall months between December and February.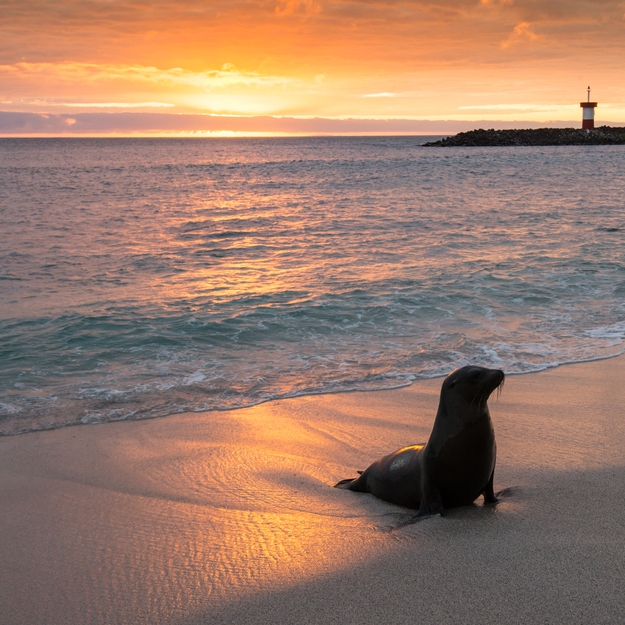 Galapagos Islands
This volcanic archipelago in the Pacific Ocean off Ecuador's coast is one of the world's greatest destinations for wildlife viewing. With no natural predators, hundreds of animal species (many of which are unique to the Galapagos) roam the land and sea freely and even welcome human interaction. Get up close and personal with tortoises, sea lions, penguins and more in between scuba diving, snorkeling, and kayak excursions. Lounging on a pristine, white sand beach is a perfectly acceptable option, but booking with a tour company like Adventure Life is the best way to experience all that the Galapagos have to offer.
When to Go:
Thankfully, the wildlife across the Galapagos can be seen year-round, with very few species ever migrating off of the islands. Still, it's best to consider what kind of trip you envision when preparing for a honeymoon to this South American island region. Looking for scuba diving, beach trips, and reliably warm weather? Best to visit between December and June.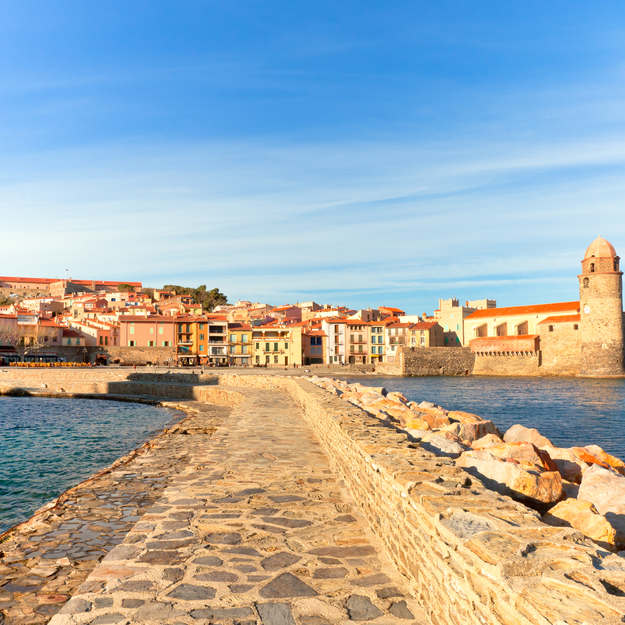 Collioure, France
While Paris understandably shines as a honeymoon destination, and the Côte D'Azur steals the spotlight of South France destinations, nearby Collioure of the Côte Vermeille is a picture-perfect Mediterranean paradise that flies under the radar. Where the Côte D'Azur attracts a chic, see-and-be-seen kind of crowd, Collioure is a more low-key choice, long favored by artists from Matisse to Picasso for its old town charm and secluded natural pleasantries. Rent a fisherman's cottage in this historic seaside village and spend your days cycling through the streets, grabbing fresh food from the markets, touring castles and museums, and dining like a true French holidaymaker.
When to Go:
This French destination predictably swells with visitors during the summer months of June, July, and August. While the weather is comfortable year-round (between 50 - 80 degrees Fahrenheit on average), summer months offer idyllic heat and prime swimming conditions. Visit in the spring to enjoy the very best that the region has to offer, especially sailboat excursions, at a considerably more affordable rate.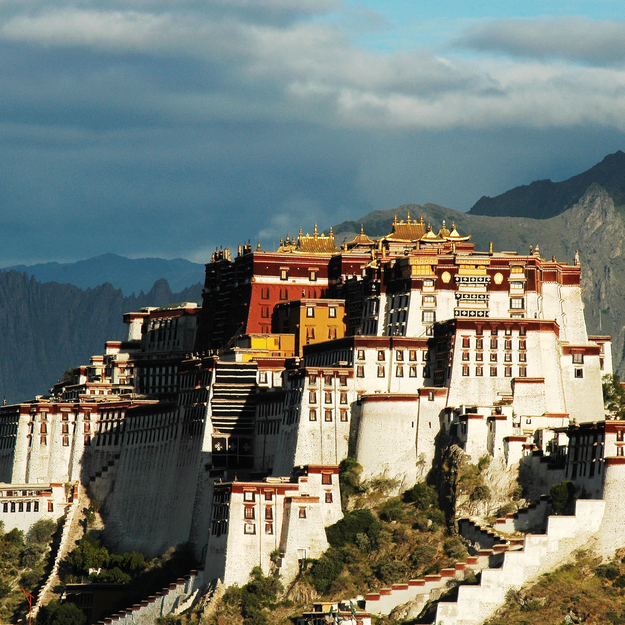 Lhasa, Tibet
Tibet is a spiritual and sacred land that has long been off-limits to tourists. Traveling to the country known as "the roof of the world" still requires a fair amount of due diligence, but the payoff is well worth it. Capital city Lhasa (which literally translates to "land of the Gods" in Tibetan) is the perfect place to observe and practice Buddhist life and philosophies while soaking in the serenity of the city's surrounding nature. Massive public parks and palaces, colorful markets, religious monasteries and more await exploration during a spiritual honeymoon journey in Lhasa. Have a glance at how we spent 7 days in Tibet, visiting Lhasa en route to Everest Base Camp.
When to Go:
While general thin air and low oxygen might deter some travelers, those that are willing to acclimate to Tibet's environment are in for a one-of-a-kind experience. Summer months (June-August) constitute Lhasa's high season when most travelers rush to the country's capital to enjoy warmer weather and higher oxygen. Surrounding seasons of spring and autumn also present opportunities for outdoor excursions such as hiking, mountain climbing, or general sightseeing, with far fewer crowds.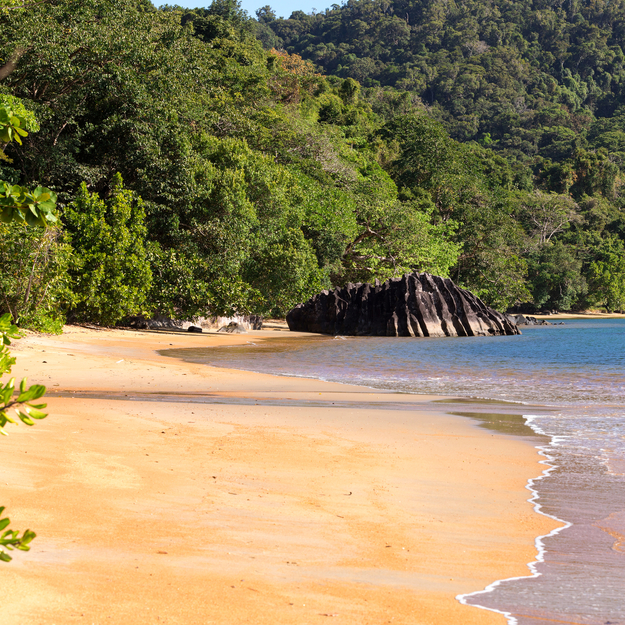 Madagascar, Africa
This island nation off of Africa's eastern coast is the 4th largest island in the world and boasts the 3rd largest coral reef system - a perfect invitation for scuba diving enthusiasts. Its vivid, lush landscapes, beautiful beaches, and natural parks are the stuff of dreams. Rent a thatched bungalow on a private beach and just let your feet sink in the sand as time seemingly comes to a standstill. Hang with playful lemurs at Ranomafana National Park, spot humpback whales along the eastern coast, hike through deserts and rainforests, or take a romantic river tour on a wooden canoe. Madagascar is a wild playground perfect for outdoor enthusiasts.
When to Go:
When it comes to Madagascar, it's best to know when not to visit. January-March brings an obscene amount of rainfall across the island, and there are even cyclones that pose serious threats. Apart from these months, Madagascar is generally pleasant, with loads of sunshine and comfortable weather. Visit in May to take part in one of the island's biggest cultural celebrations, the Donia Festival. Head over in October to enjoy some of the warmest weather (perfect for hitting the beach) while also witnessing the natural beauty of baby lemurs. Keep an eye peeled for the cute newborns as they cling to their mothers' backs while soaring through the trees.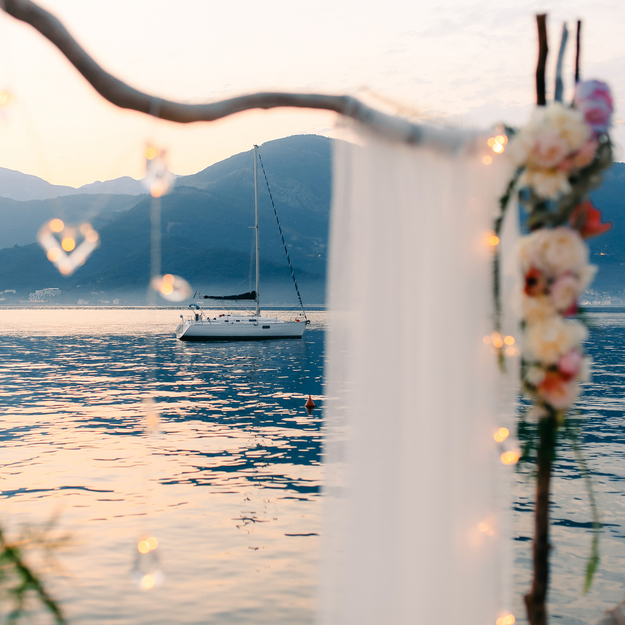 Kotor, Montenegro
When compared to honeymoon behemoths like France, Italy, Spain, Greece, and more recently Croatia, it's easy to understand how Montenegro can slip down the list of Mediterranean bucket-list destinations. Its unassumingness is only part of Montenegro's appeal - this Balkan country boasts stunning mountain ranges and historic medieval villages, and the city of Kotor (part of the Kotor Bay) along the Adriatic Sea is its highlight natural attraction. Wander the Old Town, enjoy long lunches on cobbled back alleys, go swimming along secluded pebble beaches, and follow the city's fortified walls up for a hike to the Castle of San Giovanni for a sweeping panoramic view of this gorgeous coastal city.
When to Go:
As with many Southern European destinations, coastal Montenegro inflates with tourists during prime summer months of June, July, and August. Visit this gem of a medieval city during the shoulder months of May or September to reap the best of sun rays and swimming weather, minus the massive crowds.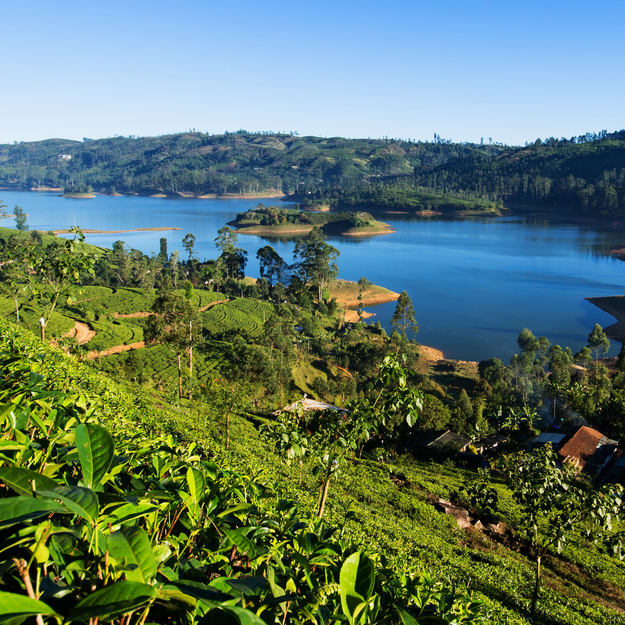 Hatton, Sri Lanka
While the Southeast Asian island nation of Sri Lanka continues to garnish attention in the honeymoon conversation, it's still far removed from the mainstream's radar. Capital city Colombo offers a crash-course on Sri Lankan culture and the southeast Yala National Park is a prime spot for safari excursions. But it's Sri Lanka's tea country in the misty highlands of Hatton that provides the perfect backdrop for a dreamy honeymoon. Spend your days drinking in those endless views while sipping tea in between massage sessions, pool dips, and pleasant strolls through tea fields. Check out our ideal 7 Days in Sri Lanka for some inspiration that spans the entire nation.
When To Go:
The lush greenery of Sri Lanka's tea country is no coincidence. This highland region receives the most rainfall in the entire nation, and the odd shower can be expected year-round. Take the train from capital city Colombo to enjoy Hatton at its warmest and driest between January and April, when daytime temperatures hover right around an agreeable 80 degrees Fahrenheit.

In case you missed it:
Breaking Down the Decision of When to Go on Your Honeymoon