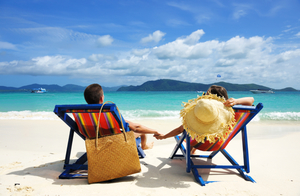 Whether for the car, plane, or just lounging on the beach, dive in to our latest honeymoon music playlist.
Featuring a variety of classic tracks and newer alternative tunes, this collection of tunes will be a perfect addition to your honeymoon mix.
Vacationer - Paradise Waiting
Otis Redding - (Sittin' On) The Dock of the Bay
Fitz and The Tantrums - Get Away
Leon Bridges - Smooth Sailin'
Bob Marley & The Wailers - Sun Is Shining
Josh Rouse - I Will Live on Islands
Lindsay Buckingham - Holiday Road
Van Morrison - Bright Side of the Road
Ray Charles - Hallelujah I Love Her So
Queen - You're My Best Friend

*Got a song you think we should add? Tell us at blog@travelersjoy.com or on Twitter using #honeymoonplaylist and we'll add it to the mix!

In case you missed it:
Traveler's Joy Honeymoon Playlist v.4: Greatest Summer Songs
Traveler's Joy Honeymoon Playlist v.3
Traveler's Joy Honeymoon Playlist v.2