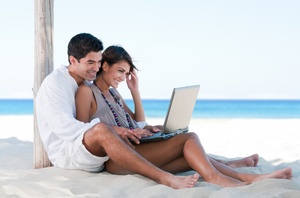 You know how you and your fiance aren't perfect, but you are perfect FOR EACH OTHER? It's the same with your honeymoon registry. There isn't one perfect universal honeymoon registry list, but I would love to help you discover the perfect honeymoon registry list for you. (Don't worry, this will be a lot easier than discovering that your fiance was perfect for you!)
Travel
A great place to start is with your travel. How are you going to get to your destination? Add the gift of airfare. I suggest listing your airfare by breaking down the cost of the flight into $100 increments or into 100 mile increments. If you're renting a car, list the car, as well as an upgrade (hello convertible!). If you're driving to your honeymoon location, add a gift of gas money, travel snacks, or new tunes for your mp3 player.
Accommodations
Next, list your accommodations! Add a gift for your resort, hotel, chalet, campground, etc. It is a good idea to list the gift as the cost each night or you can break the cost down even more if your guests have a more limited budget.
Activities
Don't forget to include awesome activities! What activities are you most excited about doing on your trip? Many times it is better to break down the cost of these per person. Remember to list both your active (snorkeling, zip line, skiing, hiking, etc.) and relaxing (such as a massage and spa, beach chairs, drinks, and nightlife) activities.
Food
Now comes arguably the best part. Be sure to list some gifts of breakfast in bed, coffee stops, lunches at local cafes and cantinas, a trip to a local farmers' market for local fruit, snacks when you are on-the-go, and romantic dinners. Use these to really experience some of the local culture and fun!
Taking a Closer Look
Now take a look at your registry. Do you have enough gifts available so all of your guests will have choices? Is there a good variation of prices? You should have several gifts at the smaller end of a gift budget ($15-$30), a lot in the middle ($35-$75), and some larger gifts ($100 and up) as well. You want your guests to find a variety of options that fit their budget, but also allow folks with a large budget to not purchase everything on your registry before other guests see it. What price points are you missing?
Extras
Now add gifts that are "extras" in these prices. These could be souvenirs, sunscreen, maps and guidebooks, butler service, a new book to read, upgrading accommodations or travel, a new outfit for the trip, fresh flowers for your room, frames and photo books for your honeymoon photos, and even champagne! Use the additional gifts to really show off your personality and the little extras that will make your honeymoon truly special.
You have now created the perfect list for your honeymoon registry! If you're looking for another easy place to find great honeymoon registry ideas, check out the TJ's Instant Registry options (right there when you log into your Traveler's Joy member account page). You'll discover featured registry lists for numerous worldwide destinations that generate an expert-curated list of gifts for you.
Happy travels!

In case you missed it:
Honeymoon Q&A with a Four Seasons Concierge