Traveling to the Greek Isles for your upcoming honeymoon or anniversary trip? Don't miss these four must-do activities on the island of Santorini.
Home to authentic villages perched high atop cliffs, numerous soft sand beaches, and some of the world's most unforgettable sunsets, this picturesque volcanic island ranks as one of Greece's most treasured locales.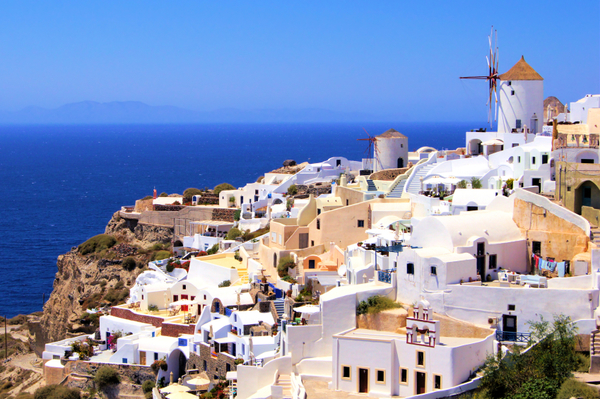 Exploring Fira and Oia -- Both of these gorgeous and historic towns are truly distinct and offer a great number of activities, sights, and charming places to visit. Fira is Santorini's capital and boasts some fascinating museums (definitely check out the New Archeological Museum while in town), tons of rooftop restaurants, and well-preserved cathedrals. Oia is a very traditional Greek settlement and has been carefully rebuilt following an earthquake in 1956. Take one of the staircases down to the tiny fishing village of Ammoudi along the waterfront and watch fisherman load up their boats from one of the nearby fish taverns.
Sailing -- Arrange a charter and head out onto the open waters of the Aegean. Through Santorini Sailing, book a half-day cruise, sunset sail, full day cruise, or overnight cruise. You'll head out on a 40-foot catamaran and sail past red and black-sand beaches, visit hot springs, swim and snorkel, and even cruise next to a volcano.
Wine Tasting at Sunset -- The island is known for its Assyrtiko grapes, which produces some very distinct but excellent dry white wines. Head to Santo Wines high atop the caldera cliffs just south of Fira for a tour and wine tasting. Time your visit to catch the sun just as it dips behind the distant mountains, painting the sky different shades of red, orange, and yellow.
Hiking -- Santorini offers a number of spectacular hikes suitable for any level. First, walk along the path linking Fira to Oia. The six-mile trek traces the rim of the caldera and boasts outstanding views. A second option is to hike the trail from Kamari to ancient Thira. The route, though steep in places, is highlighted by a freshwater spring, cave, historic church, and many other beautiful sights.

*The previous active pursuits all appear in our exclusive Santorini honeymoon destination guide, one of 45 total locales now covered by TJ with expert travel tips, hotel recommendations, restaurant picks, and can't-miss experiences.

In case you missed it:
2014 Winners Announced for TJ's Annual Honeymoon Story Contest