Highlighted by the ultimate spot for sunset cocktails and a national park excursion loaded with world-class snorkeling pursuits, these five experiences and destinations should be at the top of every honeymoon must-do list for the Florida Keys.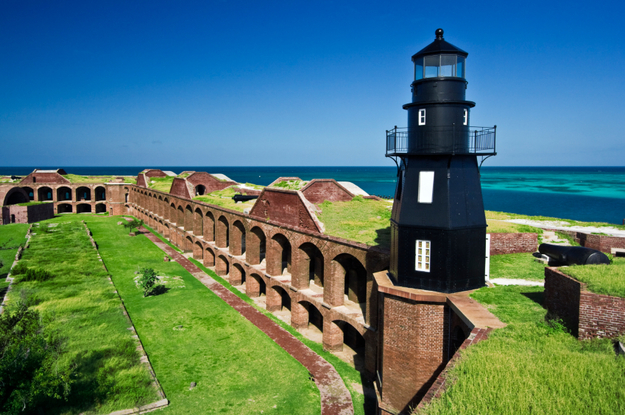 1. Eat
Hogfish Bar and Grill
This is fresh seafood at its finest. Start with the "Killer" Hogfish Sandwich, a must-try menu item. The specialty dish features fried hogfish, melted Swiss, and mushrooms on Cuban bread. Meanwhile, with picnic tables, a thatched roof, and scenic marina setting, the restaurant's laid-back ambiance will be much welcomed after an active day exploring the Keys.
Stock Island. www.hogfishbar.com.
2. Drink
Louie's Backyard
When it comes to drinks with a view, it doesn't get much better than Louie's. Snag a waterside seat on the deck together, order your favorite drinks, and watch the sun slowly sink into the sea.
Key West. www.louiesbackyard.com.
3. Stay
The Marquesa Hotel
Looking for exquisite B&B-style accommodations? Look no further than this charming boutique property. Stand-out features include luxurious guest rooms, lush gardens, two swimming pools, and Cafe Marquesa, one of Key West's top-rated restaurants.
Key West. www.marquesa.com.
4. Explore
Dry Tortugas National Park
Located just 70 miles west of Key West, the park consists of seven tiny islands and crystal-clear waters. After arriving via seaplane or ferry, hit the water to explore amazing coral formations and get up close to diverse marine life. Once back on dry land, take a tour of impressive Fort Jefferson, a massive military fortress constructed during the 19th century. For a truly romantic and unforgettable experience, spend the night camping out under the stars.
Dry Tortugas National Park. www.nps.gov/drto
5. Visit
Ernest Hemingway Home & Museum
A must-see attraction for all visitors to Key West. Situated in the center of Old Town, the site was once the home of the Nobel Prize-winning author. Highlighted by dozens of meandering cats and meticulous grounds, the museum has informative tours every day of the year.
Key West. www.hemingwayhome.com.

In case you missed it: