We love it when TJ couples share their honeymoon stories and photos from all over the world. From journeys on the Trans-Siberian Railway to fjord exploration in Iceland, it's amazing to read about those first few adventures that newlyweds take together. This week we've assembled a few of our favorite stories from Hawaii, focusing on the islands of Kauai and Maui. We hope you enjoy them as much as we have!
Their once-in-a-lifetime trip featured luxury accommodations on the gorgeous Coconut Coast, a Jeep rental, and incredible sunrises each morning. The newlyweds also used their TJ registry to embark on a catamaran tour of the Na Pali Coast, which turned out to be their most memorable honeymoon excursion.
Said Mirelle, "Being with each other and sharing these experiences was the perfect way to begin our married life together."
These newlyweds packed in quite a variety of adventure activities while on their Hawaiian honeymoon, most notably horseback riding, skydiving, scuba diving, and off-road ATV tours. They even wrote a honeymoon poem, which we thought was a creative way to summarize their experience.
"We didn't need toasters or a new fancy knife, just a romantic trip for me and my wife."
Corey & Bobby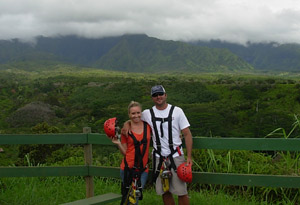 Although residents of Hawaii, Corey and Bobby still decided to take their honeymoon to the Garden Isle of Kauai. It turns out they had the trip of a lifetime. Honeymoon highlights include scenic hikes in Waimea Canyon, thrilling zip-line tours, and lounging at beautiful Kalapaki Beach.
"Kauai is truly a lover's paradise and great compromise for both the husband and wife's needs when it comes to honeymooning."

Are you planning a honeymoon trip to Hawaii? Recently return from your ultimate getaway to the Aloha State? Visit our Facebook page and tell us about your travels!