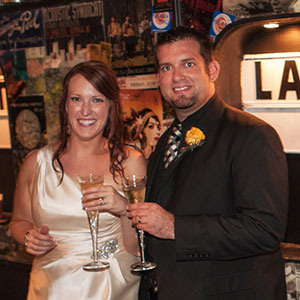 Congratulations to Lauren and Tyler, winners of this year's Traveler's Joy Honeymoon Story Contest. The newlyweds, who recently traveled to Arizona for their once-in-a-lifetime getaway, have won $500 towards a first anniversary trip! Click here to read their amazing honeymoon story.
Thanks to everyone who shared their honeymoon stories. Once again, we received more than 500 submissions! Meanwhile, stay tuned as we'll post the Top 30 stories in the coming months.
Read below for a few highlights from their extraordinary trip.
"Winding our way up, we crested the mountain getting our first glimpse of the green valley and red cliffs rising up on the distant horizon. We began our descent down the other side of Mingus Mountain, drawing closer and closer to our destination. We stopped to take in the view at an overlook. The red, rocky cliffs that flanked us framed our view of the lush valley perfectly.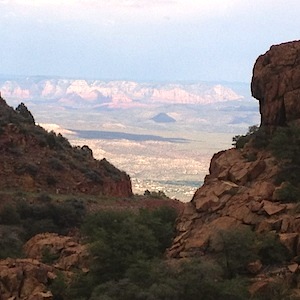 It was a beautiful day, the only blemish a dark cloud speeding over the mountain from the direction we had just traversed. Partially blocking the sun, it's thunder rattled down the rocks into the valley. Instead of running for cover, we simply watched in awe. It is monsoon season in the high desert. These storms spring up in a flash, pour down life-sustaining rain, and disappear into the desert summer.
We piled back in the car to finish our journey down the hill, coasting and curving back and forth. Tyler readied the camera. We knew it was just around the bend. The green sign sped toward us, reassuring us that we had finally arrived at our honeymoon destination. It read, 'Entering Jerome, Elevation 5246, Founded 1876.' Jerome, Arizona. The billion-dollar copper camp. The mile-high city with 50-mile views. The most vertical city in the United States. The wickedest town in the west. Our home for a week."
You can check out Lauren & Tyler's honeymoon registry page by clicking here.